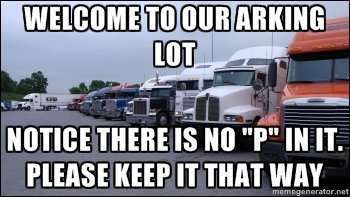 It's no secret there are a lot of foreigners on the road today. There are a multitude of cultural differences, and often communication is difficult. These differences are to be expected in a country like America, where unless your family is a member of an indigenous tribe, we were all immigrants at one time. I don't have a problem with the people who come here legally to have a better life, that's kind of the whole idea. What I do have a problem with is when people come to America illegally for a better life and refuse to speak, or acknowledge, the language.
I'm not going to lie — I'm one of those people who get insanely angry about having to "press one for English" when I'm attempting to contact my local cable company. I know it's probably selfish, and if I were an immigrant, I'd probably appreciate the effort of the cable company to make it easier to take my money. But the fact remains, we're in America and the national language is English and it should be spoken and understood by those operating commercial vehicles on American highways.
We were at a hole-in-the-wall truck stop in North Carolina. The most distinguishing characteristic of this particular place was a huge blood stain on the sidewalk beside the building. Either someone lost a whole lot of blood on that sidewalk, or a wildebeest gave birth to a herd there. Regardless, it was a pretty seedy place and I was sticking close to George.
It was still full daylight, and as we were walking in, I saw a guy standing with his back to the lot, between the first two trucks in the row. I couldn't figure out what he was doing, until I heard the pee hitting the ground. The guy was less than ten yards from the door of the building, where there was a fully functional bathroom. I was immediately angry about his lack of respect for the places we have to live. It's my personal opinion that the places we park and sleep are no different than our own yard at home, and we treat them as that.
"WHAT THE HELL ARE YOU DOING?!!!"
The guy jumped about 10 feet off the ground and peed all over his own leg, which I found to be a perfectly acceptable karmic occurrence. He then started screaming at me in some form of hieroglyphics, and shaking his free fist while shoving himself back into his pee-pants with the other. His fist-shaking did not deter me. I was mad.
"YOU'RE A HUNDRED FEET FROM THE BATHROOM, TAKE YOUR BUSINESS THERE!!! WE DON'T PEE INDISCRIMINATELY IN THIS COUNTRY!! AND IF YOU'RE GOING TO CUSS ME, DO IT IN ENGLISH!!!"
The guy became oddly silent, and I realized George was standing behind me, giving his best hard-ass look. Pee-pants got back into his truck and pulled the curtains. I'm fairly certain he climbed into his bunk and prayed the giant red-headed guy wasn't coming to rip the door off and drag him into the street for cussing his wife in hieroglyph.
"You can't just scream at people, babe. I don't like it either, but you never know when you're going to run up on crazy. He probably had no idea what you were angry about."
"Well next time, I'll draw the idiot a picture. With crayons."
Sometimes, tolerance isn't my strong suit.