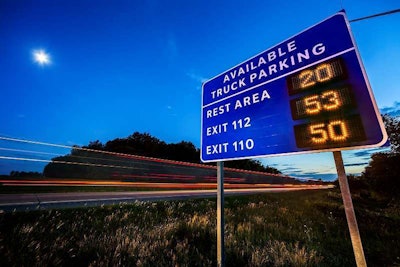 A system that will use road signs, smartphone apps, websites and in-cab messaging to allow drivers to find parking availability in real-time took a step toward nationwide deployment this week, announced infrastructure firm HNTB.
The group says it has partnered with Truck Smart Parking Services Inc. to expand a system it recently deployed in Michigan. The Truck Parking Information and Management System, as its called, uses digital cameras and sensors to collect data at both public and private facilities to track parking availability in real-time, HTNB says.
Parking availability then is displayed on roadsigns, in a smartphone app, in-cab messaging systems and on TSPS' website.
In addition to rest areas, HNTB says it has agreements with truck stops to allow them to collect data via cameras and sensors there, too.
HNTB and TSPS announced last month they had deployed the system along a 129-mile stretch of I-94 in Michigan.
That corridor has one of the highest volumes of truck traffic in the region, HNTB says, with about 10,000 trucks using the stretch of highway daily. However, there are only 158 parking spaces along those 129 miles, HNTB says.
The system is in a preliminary phase through December and is acting as a test to an expanded rollout, HNTB says.
No information about the timing of the nationwide expansion was offered, but HNTB project manager Eric Morris said the system is scalable and can be deployed "quickly and efficiently" at both public and private facilities. "Our ultimate vision is a ubiquitous, multi-state, corridor-focused network that covers a truckers' route from origin to destination," he said.