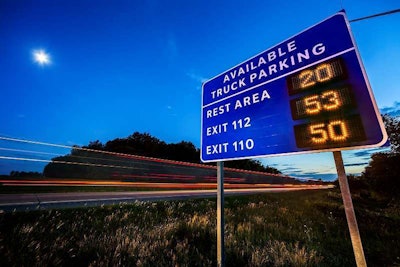 U.S. officials are testing SmartPark in Tennessee in hopes of expanding the real-time parking data and reservation system to other freight corridors.
The Federal Motor Carrier Safety Administration recently began a six-month feasibility test at the Interstate 75 northbound rest area near Athens. Truckers now can access real-time parking information before reaching the site at mile marker 45.
Tennessee DOT crews are adding parking spaces to the old state highway patrol's truck inspection station, located near Cleveland at northbound mile marker 23. After SmartPark become operational there, troopers also will continue using it as an inspection station at their discretion, TDOT stated.
The FMCSA initially tested the concept using video imaging and magnetometer in Massachusetts before succeeding with a combination of Doppler radar and laser scanning in Tennessee.
In "upcoming days," when SmartPark's Cleveland location comes online, truckers will be able to make reservations, TDOT said.
One way SmartPark disseminates real-time parking data is through dynamic or variable electronic message signs. These interstate signs indicate if parking is available, limited or unavailable for both locations. When both sites are operational, these signs will be seen before the entrance ramps at mile markers 23 and 45, as well as at the 18, and 42 markers.
Minimal information is required for registration, which allows reservations up to 24 hours in advance.
Truckers may hold up to five spaces each at the 39-slot Athens lot and at the 26-space Cleveland lot. Reservations hold a space for two hours of use at Athens, but permit parking for 11-hour periods at Cleveland.
More information is available by:
*Downloading the SmartParkUSA mobile app, operational on iOS and Android.
*Calling the voice response system at 1-844-SMARTPK and
*Visiting smartparkingusa.com
Meanwhile, the Federal Highway Administration has funded a similar but separate project along the Southwest Michigan's I-94 corridor.
Last September, the state's transportation department activated the I-94 Truck Parking Information and Management System. The TPIMS assesses truck parking availability and delivers real-time parking availability information to truckers.
MDOT shares parking availability through dynamic roadside signs, as well as
* Its Mi Drive traffic information website at michigan.gov/drive
* The Truck Smart Parking Services website, which offers Smartphone applications, available trucksmartparkingservices.com
* A fleet of pilot trucks equipped with on-board connected vehicle equipment.
Here'a an information video produced about Michigan's system: