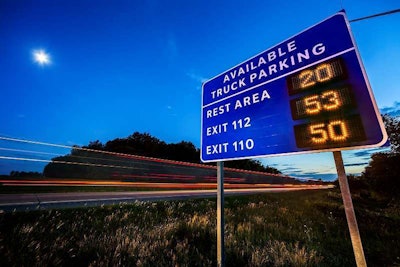 A $25 million federal grant to address critical truck parking issues has been awarded to 8 contiguous Midwestern states to develop a range of real-time parking information infrastructure. Electronic message signs such as those deployed along I-94 between the Indiana border and Marshall, Mich., are likely to be utilized in many states, in addition to traveler information websites and smartphone applications.
"Our infrastructure and location makes Indiana a national transportation hub and a global distribution powerhouse," said Indiana Department of Transportation Commissioner Brandye Hendrickson. "Indiana's rest areas and private truck stops have responded by adding truck parking. Maximizing use of this parking along I-65, I-70 and I-94 will improve safety by keeping large trucks off the shoulders of rest areas, ramps and other nearby roads."
Where the 8 states stand in Overdrive's parking rankings
Stay tuned for full coverage of the parking issue within the next month. As part of that planned coverage, Overdrive analyzed data from the federal Jason's Law Truck Parking Study and, in tandem, conducted its own survey asking readers to name states where the parking problem was worst. According to resulting rankings, in addition to reader rankings combining parking spaces measured by both mile of National Highway System within a state's borders and estimated truck vehicle miles traveled, here's where the eight states involved in the recently announced collaborative parking-info-sharing effort stand. Notably, only one of the states, Ohio, shows up in top half of ranked states showing the biggest truck parking problems. The remainder rank in the bottom half of states in the continental U.S.No. 19: Ohio
Weighted rank measure: 21.8
**16.3% public spaces
**Overdrive survey parking difficulty rank: 21

No. 25: Michigan
Weighted rank measure: 23.6
**21.9% public spaces
**Overdrive survey parking difficulty rank: 27

No. 26: Kansas
Weighted rank measure: 26.4
**6.8% public spaces
**Overdrive survey parking difficulty rank: 40

No. 28: Kentucky
Weighted rank measure: 27.2
**15.3% public spaces
**Overdrive survey parking difficulty rank: 26

No. 29: Wisconsin
Weighted rank measure: 27.2
**10.5% public spaces
**Overdrive survey parking difficulty rank: 36

No. 31: Minnesota
Weighted rank measure: 30.2
**14.7% public spaces
**Overdrive survey parking difficulty rank: 38

No. 34: Iowa
Weighted rank measure: 33.2
**9.5% public spaces
**Overdrive survey parking difficulty rank: 37

No. 40: Indiana
Weighted rank measure: 36.2
**14.9% public spaces
**Overdrive survey parking difficulty rank: 25
Michigan implemented its first Truck Smart Parking segment beginning in September 2014 last year on I-94 from the Indiana state line to east of I-69, including both rest areas and most of the private truck stops along the route and utilizing road signs strategically placed to share space availability. MDOT plans, with the aid of around $3 million of this federal grant, to expand the system to other corridors in the state.
"MDOT is very excited for the opportunity to expand TPIMS already deployed along I-94 in southwest Michigan to other states" in the region, said Connected Vehicle Specialist Collin Castle. "Designing a scalable solution that other states can use to meet their needs has been one of MDOT's goals from day one."
In an interview conducted in October, Matt Junak of infrastructure firm HNTB, a primary partner in the Michigan system, noted his firm was working directly with Wisconsin (with nothing deployed as yet) as well as Minnesota, mentioned above. Also, Junak said, Kansas was in the process of assessing truck volumes through the state and contemplating "some kind of real-time information system."
Unlike the highly visible road signs showing available spaces by exit in the Michigan real-time info-sharing project, some of these other projects contemplate other ways of dissemination. In Michigan, too, a test is under way with the James Burg Trucking fleet, running regularly between Detroit and Chicago, that Junak said has transponders installed in the fleet's trucks to share the same parking data with drivers.
Outside of the Midwest region, in Florida, he added, HNTB is working with FDOT on a project in the I-95 and I-4 corridors that is increasingly looking like it will involve road signs but only to share non-truck-stop-facility information. "One of the big things we strategically did here in Michigan [was to recognize that the] biggest problem was not that there was not enough physical space for parking."
Rather, Junak adds, the problem there "was the lack of information" about where space was available.
Rest areas along the I-94 route covered under the program in place there showed "fewer than 200 spaces in five rest areas." Private lots, however, had "a little more than 1,000 spaces, probably enough" to meet parking demand. Along the route, you can see the rest areas from the road, but not so some of the truck stops. Strategic placement of the signs in advance of the rest areas, showing information likewise for adjacent or nearby interchanges that have parking, has helped drivers know their options, though not all of them. After initially participating, TA Petro, Junak says, has pulled two of their facilities out of the program. "They noted they were exploring some of their own ideas," Junak adds.
A small 15-space lot across from one of the TA sites also was cut from the program.
There are many other such projects under way around the nation — stay tuned for further reporting.
The Midwest-states collaboration enabled in part by the federal grant, says MDOT, showcases the region's "understanding that truckers have a need to find safe parking, regardless of state boundaries. Providing truckers with the means to make well-informed parking decisions should increase safety and efficiency."
In addition to the road signs in place and transponder outfitted in the Burg fleet, MDOT uses a number of high-tech methods of sharing parking availability information, including the Mi Drive traffic information website and the Truck Smart Parking Services website and smartphone applications.