An information-distribution system to be deployed first on the I-4 and I-95 corridors by the Florida Department of Transportation will aim to distribute parking-availability data to professional drivers in real-time. The FDOT is being supported in its efforts to build the system by a $1 million Accelerated Innovation Deployment (AID) grant from the Federal Highway Administration, likewise a DOT "Fastlane" grant worth more than $10 million.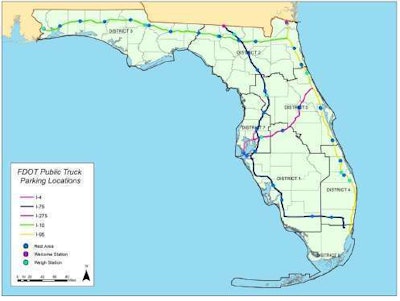 The real-time information system, called the "Truck Parking Availability System" (TPAS) by FDOT, remains in an early design phase and will comprise projects eventually along I-10 and I-75 in addition to I-4 and I-95. Project facilities will comprise public parking locations at places like the state's welcome centers, weigh stations and rest areas. At the rest areas and welcome centers, in-pavement sensors will detect the presence of vehicles in an occupied parking space, whereas at weigh stations, entry and exit will be monitored to calculate the availability at parking areas.
Closed-circuit cameras as the former locations will verfiy parking availability, and FDOT traffic management center employees will periodically monitor the system for accuracy, according to FDOT.
Information on availability will be distributed in a variety of ways, including via dynamic roadside signs of the kind now deployed on I-94 in Michigan and planned for a bevy of other Midwest states following Michigan's lead. Likewise, as previously reported in this December 2015 feature on the parking crisis so evident in many areas of the country, Florida plans distribution through some in-cab equipment and via FDOT's "Data Integration and Video Aggregation System (DIVAS) providing information to the FL 511 website and apps as well as third party data feeds."
The project, now under way, follows the state's exploration of its truck parking needs in the wake of the Jason's Law provision within the 2012 MAP-21 highway bill legislation, so named for the trucker Jason Rivenburg, killed during a robbery while parked in a nontraditional location in South Carolina in 2009. In Overdrive's parking-availability rankings, based on a combination of data culled from the Jason's Law Truck Parking Survey and our own reader surveys, the state ranked fairly high for lack of needed truck parking space, No. 11 on the scale (where No. 1 indicates the state with the worst avaialbility). Florida, by the state's own measure, experiences truck overflow parking at some rest areas, while others are much less utilized, which it notes pointed to a need for info-availability dissemination.
FDOT's beginning deployment also follows pilot tests on I-10 at the Leon County Rest Areas west of Tallahassee and I-95 in the Jacksonville area.
Read more about the project in the FDOT spring newsletter.