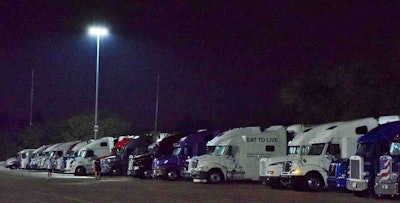 Rhode Island will build a new, state-of-the-art travel plaza and welcome center with the help of a $9 million Transportation Investment Generating Economic Recovery grant from the U.S. Department of Transportation.
The grant means the federal government will cover approximately 75 percent of the $12 million project if state officials decide to move forward with its proposal.
The Rhode Island DOT is proposing to build the new facility at exit 1 on I-95 in Hopkinton, near the Connecticut border. The project includes a 6,000 square-foot welcome center with restrooms, food options, convenience shops, bike amenities and tourism information; a park and ride facility for up to 200 vehicles serving RIPTA and intercity bus operators as well as tourists and carpoolers; a RIPTA bus hub with shelter; an intercity bus hub serving regional destinations; and up to 10 fueling stations that will include alternative fuels and electric vehicle stations.
"This is an opportunity to build a first-class travel plaza that offers visitors and local residents new, convenient retail, food, fuel and travel options," said Sen. Jack Reed (D-RI), the ranking member on the Senate Transportation-HUD Appropriations Subcommittee. "We want to ensure it's a state-of-the-art facility with modern amenities that helps travelers stay connected while also showcasing all the state has to offer."
In 2011, the state closed an outdated welcome center that wasn't able to offer the same amenities the proposed travel plaza can. The proposed center would fill a 100-mile gap in travel plazas along I-95.
Rhode Island currently has the lowest number of truck parking spaces per 100 miles of National Highway System, according to the 2015 federal Jason's Law truck-parking survey report. Overdrive survey results showed readers ranked the state 11th worst for parking nationwide. Overdrive's blended rankings taking into account these measures — as well as parking spaces per estimated annual truck vehicle miles traveled from the Jason's Law survey and report — show Rhode Island at No. 2, behind only California, for parking need.
Stay tuned in the coming weeks for more comprehensive coverage of the parking issue.