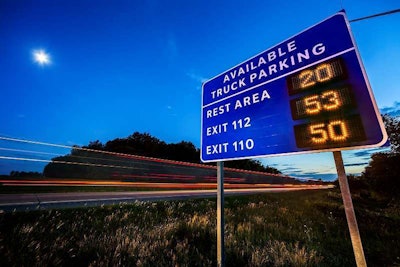 A recent study conducted by Kansas transportation officials is being used in the state to find ways to help truckers find open parking spaces.
The Kansas Department of Transportation and the Kansas Turnpike Authority conducted the study last year to find ways to improve the state's freight network, especially along major freight corridors, including I-70, I-35 and the Kansas Turnpike.
In the Kansas Statewide Freight Network Truck Parking Plan released earlier this month, KDOT and KTA said truck drivers were spending up to 30 minutes a day looking for parking. That time makes drivers, trucking companies and Kansas agricultural and manufacturing interests less competitive, the study concluded.
"Where appropriate parking cannot easily be found, drivers often are forced to park along the sides of highways, ramps or in the lots of closed or abandoned businesses, creating safety concerns for other motorists and themselves," the report states.
The report adds that with freight volumes projected to significantly increase over the next decade, along with the number of trucks on the road, the problem will only get worse.
Based on findings from the study, KDOT and KTA came up with a list of four recommendations for improving truck parking in the state. The recommendations include locating new or improving existing public and private truck parking; overcoming barriers to using existing formal/legal parking facilities in urban/rural areas; identifying information and technology services to help truckers make better parking decisions; and creating partnerships to improve parking facilities and amenities.
To implement the recommendations, Kansas may be able to use a $25 million federal Transportation Investment Generating Economic Recovery (TIGER) grant given to Kansas and seven other Midwestern states to to develop a multistate truck parking information and management system (TPIMS). The agencies said the grant will be used for electronic message signs, traveler information websites and smartphone apps to help truckers find safe parking.
The full report on the study by KDOT and KTA can be seen here.