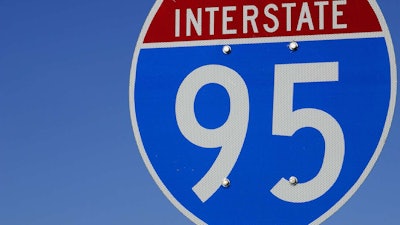 The Florida Department of Transportation last month began deployment of a system to provide truckers with real-time updates on available parking spaces. Florida's Truck Parking Availability System now provides truckers real-time parking data on I-95 and I-4 in certain counties. Once installed on I-10 and I-75, the system will track 2,300 parking slots statewide by late 2018.
On June 26, electronic signs in Brevard, Flagler and Seminole counties began displaying running totals of available parking slots at five rest areas and two weigh stations on I-95 and I-4. The signs provide truckers with instant updates on available parking, using in-ground sensors that detect if a parking spot is in use.
The state designed and researched TPAS through a federal grant, following two years of researching available technologies. It will begin operation on I-75 by fall at Marion County rest areas and Sumter County truck comfort/weigh-in-motion stations.
Additionally, late this year TPAS will be available at the I-75 Broward County rest area and on I-95, at St. Lucie County rest areas and Martin County rest areas and weigh-in-motion stations. That's also installation should be finished at I-10 rest areas and weigh-in-motion stations located in Escambia County (including the Florida Welcome Center) and Santa Rosa, Okaloosa, Holmes, Jackson, Gadsden, Leon, and Jefferson counties.
Here's a graphic from the Florida Department of Transportation detailing how the system works: