Trucking news and briefs for Tuesday, July 27, 2021:
Minneapolis enacts truck parking ban
The Minneapolis City Council voted Friday, July 23, to enact a ban on truck parking within the city limits. The ordinance passed by a 12-1 vote.
Beginning Jan. 1, 2022, any vehicle weighing more than 26,000 pounds or with a registered gross weight over 26,000 pounds will not be allowed to "stop, stand or park on any street" in the city unless the vehicles meet the following conditions:
The truck is "actually and expeditiously engaged in the loading or unloading" of people or materials.
The truck is stopped or parked at the direction of a police officer or traffic control agent.
The truck is in a zone with signage authorizing parking of vehicles of increased weights.
Violations of the ordinance will result in a $100 fine during 2022; a $150 fine during 2023; and a $250 fine beyond 2023.
The ordinance also directs city staff to look for sites zoned appropriately for the development of commercial truck parking facilities in the city; engage with the League of Minnesota Cities, metro cities and regional partners to discuss truck parking challenges in Minneapolis-St. Paul and to consider potential policy recommendations; and to deliver a report to the Minneapolis City Council in the fourth quarter of 2022 on developer feedback in attempting to build truck parking in the city, the first year's experience with enforcement, and the results of efforts to find regional solutions to truck parking.
[Related: Missouri guv vetoes bill with towing protections for truckers]
John Hausladen, President and CEO of the Minnesota Trucking Association, expressed disappointment in the council's decision and emphasized the need for bringing more safe parking to the city, rather than taking it away.
"The Minnesota Trucking Association is extremely disappointed with the action of the Minneapolis City Council [Friday]," he said. "It not only bans on-street parking for commercial trucks, but it provides no meaningful city resources to address the need for safe truck parking. We should be looking for ways to provide more safe parking for truck drivers, instead of pursuing a policy that would diminish an essential industry and do real economic harm to the city."
[Related: The key limitations of truck parking info delivery systems]
Popular Tennessee truck stop closed after fire
The Tennessean Travel Stop in Cornersville, Tennessee, off of I-65 is closed temporarily following a fire on July 19.
According to Nashville-based news outlet WKRN, the fire started in the truck stop's kitchen and spread quickly. No injuries were reported.
The truck stop, on its Facebook page, said it plans to rebuild in the future.
"The Tennessean has proudly welcomed truckers, travelers, and locals 24-7 since 1974," the post says. "While our doors may be temporarily closed due to the fire, our hearts are overwhelmingly filled by the support and prayers for our wellbeing. We are truly blessed, thank you! Please know we are committed to rebuilding a bigger and better Tennessean Travel Stop as soon as we can."
Florida-based driver awarded Highway Angel wings for fighting truck fire at fuel stop
Paul Annen, a Tampa, Florida-based truck driver for Melton Truck Lines, has been named a Highway Angel by the Truckload Carriers Association for his actions to fight a truck fire while making a fuel stop.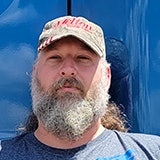 Annen and his student driver were traveling east on I-40 near Palestine, Arkansas, and pulled into a Love's Travel Stop to refuel when they saw a truck on fire.
"There was this plume of black smoke," Annen said. "I drove over toward the truck and stopped a safe distance away. There were several people standing around, watching it burn."
He grabbed a fire extinguisher and did what he could to help. Annen said he aimed the fire extinguisher at the flames coming from under the truck around the differentials, and someone handed him another extinguisher when his was empty because "I looked like I knew what I was doing." Annen leaned on his experience of having been a firefighter on aircraft carriers when he served in the Navy.
All told, six fire extinguishers were used. Annen emptied three himself but was unable to completely douse the flames.
"Then the airbag blew and made everything worse," he said. All he could do at that point was back away and wait for the fire department to arrive. "We didn't know what he was hauling or whether it would explode, but I believe our efforts prevented the fire from becoming significantly worse," Annen added.
For his willingness to assist, TCA presented him with a certificate, patch, lapel pin and truck decals. Melton Truck Lines also received a certificate acknowledging their driver as a Highway Angel.