Trucking news and briefs for Wednesday, June 15, 2022:
Two Pennsylvania rest areas closing temporarily
The I-79 southbound and northbound rest stops near the Crawford-Erie county line in Pennsylvania will be closed for 10 days so paving can be done on the ramps and parking lot.
The rest areas closed Monday, June 13, and, weather permitting, will reopen June 24.
Work at the rest stops is part of a two-year project on nearly 11 miles of I-79 in Crawford and Erie counties, including paving the northbound and southbound lanes from milepost 154 in Hayfield Township, Crawford County, to milepost 165 in Washington Township, Erie County, and rehabilitating 10 bridges.
OTR Capital's rebrand, new small fleet/owner-operator support efforts
The Georgia-headquartered OTR Capital factoring company is rebranding as OTR Solutions commensurate with an expansion in service offerings to small fleet and owner-operator customer base, in addition to its business with brokers.
The company was founded in 2011 as a financial services and factoring provider dedicated to improving cash flow for motor carriers. The launch of the OTR Solutions brand, the company said, better defines what carriers, brokers and industry partners have come to expect from the company. Along with the new brand, OTR Solutions is offering several new services, including most prominently what it's calling "Elevate," branded domains and customized websites for carriers.
CEO Fritz Owens noted traditional OTR services in "capital and back-office support will remain a critically important piece of carrier success in the market, but the complexity and unprecedented advancement of the transportation industry over the last several years now requires additional tools and solutions, and OTR Solutions is committed to providing them."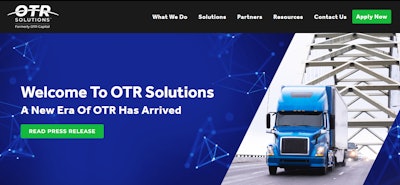 In addition to the launch of the Elevate domain service, OTR is adding:
An expansion of OTR's "Bolt" product to allow carriers to receive "direct to debit" payments;

A "driver safety rating scorecard" tool that will allow carriers to monitor CSA SMS scores;
An "OTR Solutions Forum" where carriers can trade notes on best practices with their industry colleagues, identify opportunities, and find new ideas for achieving success;

Expanded availability of OTR's fuel-advance app to allow carriers to receive advance financing in today's high- fuel-cost environment; and

The $9 Lumper Advance, which for a low and flat fee of $9 will provide advance financing of lumper fees.
Former OOIDA government affairs manager hired by ATA
The American Trucking Associations on Wednesday announced Michael Matousek has been hired as director of the ATA Government Freight Conference.
"Mike has a wealth of experience on Capitol Hill and in the trucking industry," said ATA President and CEO Chris Spear. "He has a strong reputation in the industry and in Washington for delivering results, so we are very fortunate to be able to add him to the ATA team."
Prior to joining ATA, Matousek represented the industry with the Owner-Operator Independent Drivers Association after several years as a professional staffer on Capitol Hill.
"I'm very excited to come to an organization with as strong a stature as ATA," Matousek said. "Helping ATA's members navigate their relationship with the federal government as a customer will be an exciting challenge I'm eager to take on."
Mack announces calendar contest winners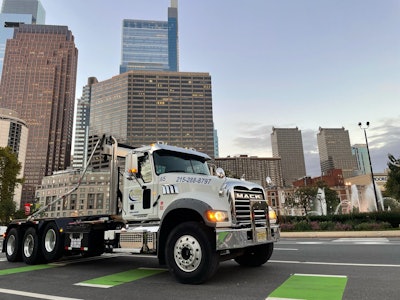 Mack Trucks has announced the winners of the 2023 Mack Trucks Calendar Contest. Each of the winning entries will have a month to themselves in next year's Mack calendar.
Thousands of Mack fans and followers voted online to choose the winning Mack trucks from among the nearly 200 submissions in seven separate categories. The winners will participate in a professional photo shoot set up by Mack.
"We are honored to feature our customers and celebrate them and their Mack trucks in this special way," said David Galbraith, Mack Trucks vice president of brand and marketing. "We'd also like to thank our fans from all over the world who voted through our social media channels. This contest gives Mack customers a way to show their enthusiasm for Mack trucks and strengthen their connection with the Mack brand."
Mack truck owners submitted photos of their trucks to the Mack Calendar Contest in seven categories: Mack Anthem, Pinnacle, Granite, LR, TerraPro and MD Series, plus an additional category for legacy Mack models that are no longer in production but still hard at work.
To be eligible for the calendar, each truck, including the legacy models, must currently be in operation in a business or trucking company; the truck must be in routine use; and trucks may not be collector or show trucks that are no longer licensed for commercial use.
The winning entries in each category are:
Mack Anthem
Savage -- Wilmington, California
Rizzuto Transportation -- Calhan, Colorado
Mack Pinnacle
Cookie Carriers Inc. -- Butler, Indiana
O/O Scotlynn Inc. -- Burlington, Ontario, Canada
Mack Granite
Spartan Enterprise Inc. -- Greensboro, North Carolina
Tri-State Waste and Recycling -- Philadelphia, Pennsylvania
Mack TerraPro
Trident Waste -- Charleston, South Carolina
Mack LR
Florida Express Environmental -- Ocala, Florida
Mack MD
Larouche Remorquage -- Quebec City, Quebec, Canada
Flowmark Vacuum Trucks -- Kansas City, Kansas
Legacy Truck Models
1986 R Model -- DePaul Trucking Equipment, Conshohocken, Pennsylvania
1983 R Model -- Laborie Landworks, Beaver City, Nebraska
Stevens Transport requests pre-CDL exemption
Stevens Transport has applied for an exemption from Federal Motor Carrier Safety Regulations that require a commercial learner's permit holder to be accompanied by a CDL holder in the passenger seat while in operation.
The waiver, if granted, would allow a CLP holder who has passed the CDL skills test but not yet received their CDL to drive a Stevens truck while accompanied by a CDL holder who is not necessarily in the passenger seat.
"The exemption will allow Stevens to immediately employ a qualified driver to transport freight while the driver's CDL documentation is being processed by the driver's state of domicile," the company said in its request. "Stevens recruits and develops driver candidates through the Stevens Driving Academy and several affiliated commercial driving schools that provide CDL training in a number of states, including Colorado, Louisiana, Georgia, Florida and Tennessee."
Similar requests have previously been granted to several carriers, including C.R. England, CRST Expedited, Prime and more.
FMCSA will accept public comments here through July 14.
[Related: Owner-operator requests exemption from parts of the hours of service]
C.R. England's pre-CDL exemption renewed
C.R. England, which has had its pre-CDL exemption allowing CLP holders who have passed the CDL skills test to drive with a CDL holder in the truck but not necessarily in the passenger seat since 2015, had the waiver renewed by the Federal Motor Carrier Safety Administration for another five years.
In its request for renewal, the fleet said that in the six and a half years that it has operated under the exemption (from mid-2015 through the end of 2021), 17,249 drivers used the exemption and traveled more than 150 million miles. During that period, 52 injury and no fatal crashes occurred.
C.R. England added that its overall crash rates have declined since 2015, with a 10% reduction in total crashes and a 38% reduction in injury crashes.
"FMCSA is unaware of any evidence of a degradation of safety attributable to the current exemption for C.R. England drivers," FMCSA said in its renewal notice. "There is no indication of an adverse impact on safety while operating under the terms and conditions specified in the initial exemption or exemption renewal."