Trucking news and briefs for Tuesday, July 26, 2022:
Researchers conducting I-80/94 truck parking app pilot program
Researchers from the Texas A&M Transportation Institute (TTI) are teaming up with The University of Wisconsin-Madison and the ParkUnload app to conduct a truck parking pilot study to better understand how truck drivers use existing parking spaces and to test the benefits of using a mobile parking app.
Funding for the study is provided by the Federal Motor Carrier Safety Administration under a cooperative agreement through the agency's FY20 High Priority grant program.
Select truck parking spaces along Interstates 80 and 94 will be painted green and signs instrumented with truck parking technology will be installed.
These devices will communicate with the ParkUnload app when a driver's phone is in close proximity to the parking zone. Once the app detects the marked zone, the truck driver can park and check-in to the parking space on the app to let other drivers see information on remaining spaces. Signs will also provide drivers with additional information.
"Insufficient truck parking presents a safety hazard for all highway users when drivers park in unauthorized locations, drive when fatigued or drive past their hours of service to find safe parking," said Brian Routhier, transportation specialist from the FMCSA Technology Division. "We're hoping this study will provide a better understanding of the truck parking needs along these corridors and whether a truck parking app is beneficial to drivers."
Drivers who travel along the I-80 and I-94 corridors can get started and participate in the pilot in just three steps:
Download the ParkUnload app
Park and check-in to the parking space in the app
When leaving, check-out in the app
"For the pilot to work, we need drivers to download the app and check-in when they park in a designated parking space," says TTI Senior Research Scientist Jolanda Prozzi, lead researcher on the study. "If we can collect actual, on-the-ground information, then we can better understand, plan for and prioritize truck parking investments."
[Related: Fleets, operators at odds over truck parking crisis]
ATBS releases 'Quick Guide to AB 5' ebook
Trucking business services provider ATBS has released a new ebook that gives owner-operators a rundown of California's AB 5 independent contractor law and how it impacts trucking.
The "Quick Guide to AB 5" ebook offers a history of how AB 5 came to be, along with potential solutions for owner-operators in the state, including the "two-check system" and more, based on what the business services provider is hearing from fleet clients who lease with owner-operators.
Other potential options ATBS' guide mentions include moving out of California, getting your own operating authority and driving for a trucking company's brokerage division, becoming an employee, and more.
[Related: California just doesn't get it, or maybe just doesn't care]
WIT: Female driver workforce grows to over 13%
The percentage of professional truck drivers who are female has increased to 13.7% in 2022, an increase of more than 3% since 2019. This is according to new data highlighted in the WIT index, which was recently released by the Women in Trucking Association (WIT).
According to the 2019 WIT Index, women made up more than 10% of over-the-road truck drivers, an increase of almost 30% over the 7.89% seen in the WIT Index in 2018. The increase came after an industry-wide push to hire more women drivers in response to the capacity crunch in 2018.
"We believe that you can't change what you can't measure, so we have initiated the WIT Index to monitor the growth of women's involvement in transportation careers over the years," said Ellen Voie, president and CEO of WIT. "The double-digit data regarding female drivers is encouraging as we move toward a more gender-diverse driving force. We anticipate these numbers to continue to increase in the coming years."
In addition to making up 13.7% of the driver workforce, WIT also found that women make up 33.8% of C-Suite executives, 39.6% of company leaders, 31% of boards of directors, 74.9% of HR/talent management, 3.7% of technician roles, 44.7% of dispatchers and 40% of safety roles.
Voie spearheaded the launch of the first WIT Index in 2016.
This data underlying the recent index update was gathered from January through April of 2022 from 180 participating companies and percentages are reported only as aggregate totals of respondents.
The full report can be found here.
Driver recognized for rescuing man after motorcycle crash
The Truckload Carriers Association has named Richard Wade from Aiken, South Carolina, a Highway Angel for rescuing a man whose motorcycle crashed and went down a 100-foot ravine. Wade drives for Purdy Brothers Trucking out of Loudon, Tennessee.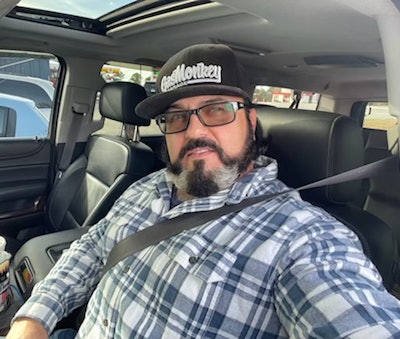 On May 21, around 1:30 p.m., Wade was traveling north on I-81 near New Market, Virginia, when he noticed a group of Christian Bikers traveling together. After they passed Wade in his truck, he saw the bike in the back having mechanical problems.
"The whole front end just gave way, and it pulled him into the guardrail on the left-hand side of the road," Wade said. "Its tire just folded inward, and the bike flipped -- it threw him over the rail and down into the gorge."
Previously, Wade had a long career in law enforcement, fire services and as an EMS medic in an ambulance, and his training instantly kicked in. "I just did what I knew how to do," he said.
Wade safely stopped his truck, called 911, and climbed down the embankment to offer aid.
"When I saw it happen, I feared the worst for the guy, but I also knew I could help him," Wade said.
The crash victim had severe injuries, and Wade communicated the man's condition to the 911 operator.
"His head was facing down the hill with his legs up toward the hill, and his left leg was completely torn back," said Wade, adding that the man's left leg "was twisted like a corkscrew," and he was bleeding out. Other passersby stopped to help, and Wade led the effort, creating a tourniquet and keeping the crash victim talking.
"I just threw all caution to the wind," he said. "It's in my nature to run toward a fire."
Wade stayed with the rider, helping him stay awake, while waiting for Life Flight and EMS to arrive on the scene.
TCA presented him with a certificate, patches, lapel pin and truck decals. Purdy Brothers also received a letter acknowledging him as a Highway Angel.