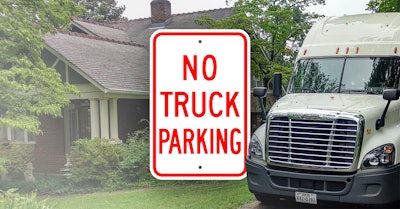 The shortage of truck parking on America's highways has long represented a crisis for the men and women behind the wheel, unsure if they'll find a safe place to sleep tonight while ferrying the nation's essential goods from coast to coast. But what happens when you can't even park your rig at home?
In 2022, this perennial issue seems to have shown its face more often, with operators facing local ordinances that forbid parking trucks in some residential areas, sometimes to the tune of a $1,000 daily fee. These ordinances, many of them new, starkly contrast the expressed needs of truck owners, who repeatedly name parking a top concern, likewise the federal Department of Transportation's long efforts, and millions in grants, to expand parking options.
Federal efforts are mostly focused around in-transit, just-off-highway options -- truck stops, rest stops, other alternative locations. For drivers who take the rig home, the walls can fee like they're closing in.
Look no further than Henry County, Georgia, where a semi-viral video showed armed codes-enforcement officers telling a driver he can't park his truck and trailer in his own driveway, leading to a tense standoff.
"According Henry County Code 3-16-55, you cannot park your commercial vehicle on the property, sir," the officer tells the cameraman.
Says the operator: "It's not blocking anybody, it's not bothering anybody."
He went on: "This is Georgia, you can't park a semi truck on the side of the highway, you can't park a semi truck on the side of the road. I run this semi truck across the country for things that you need in life. So you want me to pay to park my truck for a three-day weekend if I come home because Georgia won't let me park my truck anywhere when I have enough room at my house?"
But the officer didn't budge, and simply explained that if the truck wasn't moved, the driver would get a court summons and be subject to fines.
Elsewhere, in Florida, operators say they specifically moved to a town because they thought they'd be able to afford enough space to park their trucks during time off. Now, local officials say that was in fact not promised, the home owners are mistaken, and it'll cost $1,000 a day to keep their trucks parked on their own property.
"We moved here because of the space," driver Kemar Henry of Indian Trails, Florida, said at a town Board of Supervisors function, according to GoTownCrier.com. "It's why we're here."
Henry was one of several operators and family members in the community, which includes about 150 drivers, voicing their opinions about the county codes-enforcement crews.
"Many people are used to parking their trucks in their yards," said Indian Trail Improvement District Executive Director Burgess Hanson, according to the outlet. "Some of them say they were told they would be able to park there [when they purchased the property]. But no one has ever produced one piece of paper that says that."
Another local official stressed to the drivers and their families that the district doesn't handle zoning, that it's left to the county, and maybe the county should buy some land that allows for truck parking.
Up north in Bayonne, New Jersey, the City Council recently adopted an ordinance that banned on-street truck parking. In densely populated New Jersey, this leaves little room for independent drivers to park their trucks.
"We're a blue collar town, where are they going to park?" a local resident asked the city council, according to the Hudson Reporter.
"I don't know," Council President Gary La Pelusa responded.
In July of last year, Minneapolis' City Council also decided to ban truck parking, with the vote winning by a 12-1 margin.
The DOT, as part of its Trucking Action Plan, in part aimed at smoothing out the rough edges of the trucking trade to modernize the business into an attractive, attainable career path for a diverse swath of Americans, has set aside millions in funding for truck parking specifically.
"I've heard from countless truckers across the country about how the shortage of truck parking costs them time and money -- not to mention making our roads less safe and weakening our supply chains," said U.S. Transportation Secretary Pete Buttigieg. "We're using funds from President Biden's Bipartisan Infrastructure Law to help address truck parking shortages, and we're working with state and industry leaders to develop more parking that will improve safety and quality of life for our nation's truck drivers."
Bryce Mongeon, director of legislative affairs at the Owner-Operator Independent Drivers Association, urged local governments to engage with the trucking community and the DOT's own guidance on truck parking.
"For any government considering banning truck parking," he said, "we hope they would talk to the truckers in their areas whose livelihoods depend on safe and available parking. We would also encourage them to look at the recent work USDOT has done on truck parking with its 'Truck Parking Development Handbook.' This was crafted with input from OOIDA, and it spells out the importance of providing for truck parking, and it actually gives state and local governments advice on how they can achieve this."
The recently distributed DOT Truck Parking Development Handbook largely focuses on truck stops, but mentions "time off," saying, "Independent drivers do not have a company facility for off-duty parking. They need a place to park while off-duty, but ordinances may prohibit parking at their home."
The handbook doesn't offer any definitive answers for a way forward, but does acknowledge the zoning issues at the heart of the conflict.
From the handbook:
"As freight activity and the vehicles that move goods and facilitate services have increased throughout the country, some communities have pushed back. Some cities have forced freight intensive land uses (warehousing, manufacturing, distribution centers, etc.) to move away from urban population centers in response to citizen complaints about noise and traffic. Pushing truck parking areas further into the suburbs or banning truck parking altogether can lead to additional truck traffic issues, reducing economic competitiveness and compromising the time-definite delivery needs of many businesses. By definition, freight-intensive land uses generate demand for freight movement, often requiring truck activity even when other modes are also used. Appropriate planning and policy can alleviate most community concerns and provide sound, proactive land use strategies."