Trucking news and briefs for Thursday, Aug. 25, 2022:
Texas DOT wants driver input on I-10 corridor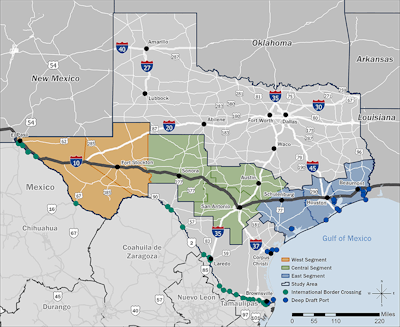 The Texas Department of Transportation (TxDOT) is conducting a study of the I-10 corridor across Texas, from the New Mexico state line to the Louisiana state line, and is asking for driver input on various aspects of the corridor.
A new survey open to the public, which is available in English and Spanish, is open through Sept. 6.
The survey is part of TxDOT's larger I-10 Corridor Study, which kicked off last fall and is set to continue through next summer.
TxDOT says the I-10 Corridor Study will examine currently planned transportation projects, analyze safety, connectivity, and mobility concerns, as well as identify short-, medium-, and long-term improvements to address the needs of the corridor.
Areas identified by TxDOT as key considerations of the study are:
Truck parking
Mobility and congestion
Costs and funding
Multimodal passenger and freight
Alternative routes and resiliency
Connectivity
Safety
Operations and maintenance
Asset preservation
The study is currently in its third of five phases, which is to identify projects and prioritize considerations. This fall, TxDOT will move into the fourth phase and prioritize projects, then next spring and summer, the agency will work to develop an implementation plan.
[Related: Trucking groups petition DOT for truck parking expansion]
Kenworth adds Lane Keeping Assist as option on Class 8 trucks
New Kenworth T680, T880 and W990 trucks are now available for order with the optional Kenworth Lane Keeping Assist, which was first introduced with the Kenworth T680 Next Generation in 2021.
Lane Keeping Assist uses camera input to identify when the truck is departing the lane and provides a "nudge" to help keep the truck centered in the lane. This feature requires the truck to be factory-equipped with the Bendix Fusion advanced driver assistance system. Lane Keeping Assist also includes Torque Assisted Steering, which provides additional torque to the steering column, helping to reduce driver fatigue.
Other Kenworth advanced driver assistance technologies available for select Class 8 models include Adaptive Cruise Control, Lane Departure Warning, Autonomous Emergency Braking (AEB) and Side Object Detection, provided by Bendix.
[Related: Old-school ways with new-school tools: Back to efficiency basics with advanced assist systems]
Love's launches annual Children's Miracle Network campaign Friday
Beginning Friday, Aug. 26, Love's Travel Stops will launch its annual campaign benefiting Children's Miracle Network Hospitals.
To support the campaign, customers can donate at every Love's Travel Stop or Country Store, Love's-owned hotels and participating Speedco locations through Sept. 30.
Love's partnership with CMN Hospitals began in 1999 and has raised more than $40 million for children across the country.
"CMN Hospitals provides amazing care for sick and injured children across the nation. We're proud to partner with them to positively impact kids' health," said Jenny Love Meyer, Love's chief culture officer and executive vice president. "Our team members and customers are incredible. They come together every year to help kids in their local area."
To donate, customers can purchase a paper balloon for $1, $5, or $20, round up a purchase to the nearest collar, or donate at the register. This is the first year customers can donate on the credit/debit card pin pad at Travel Stops and Country Stores, the company noted. Additionally, stores will hold raffles, fundraisers and sell CMN Hospitals merchandise to raise money.
Love's will show additional support for CMN Hospitals on Sept. 29 for National Coffee Day, when customers can purchase any sized coffee for $1 with all proceeds going to CMN Hospitals. Coffee purchases must be made through the Love's Connect app for the deal.