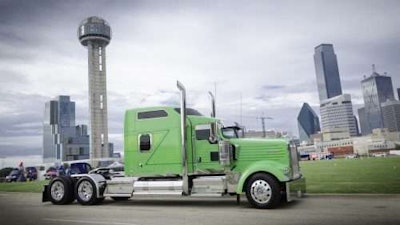 This profile is part of a multi-part series in which Overdrive is publishing stories on the five Pride & Polish Best of Show winners from the 2017 Great American Trucking Show in August.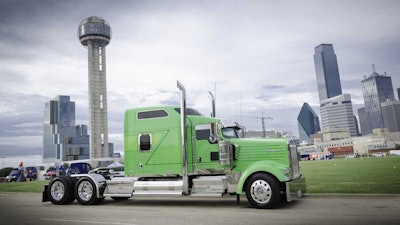 Wanting to go with something new that stands out from the rest of the Fleenor Bros. fleet, Kyle Cousins decided to stick with the bright green on this 2017 Kenworth W900 Icon he bought from Fitzgerald Glider Kits.
However, its striping was originally dark green, so he had it restriped by Thunder Grafix in Joplin to make the bright green pop even more. He also had the cab lights and sleeper lights shaved down, and flush bullet lights were installed. The interior matches the exterior, from the trim to the steering wheel.
After taking a month off to get shined up for GATS, "Poison Ivy" went back to work for the Carthage, Missouri-based fleet, driven by Chad and Jannie Claypool, hauling explosives and oxidizers out of Kentucky to New England.
The "Poison Ivy" moniker feeds off of the bright green color, Cousins says.
Click here to see the full list of winners from the 2017 GATS Pride & Polish show.