Five custom working show trucks left Dallas last week with top honors in the show truck landscape: Best of Show victors in the Great American Trucking Show Pride & Polish.
In addition to the five judge-selected winners, attendees also had a say, with on-site voters naming the People's Choice champion.
All six rigs and their owners were treated to an off-site photo shoot in the days following the show. See a selection of those photos below, along with a full list of winners from GATS Pride & Polish. Photos below are all by Jim Allen of 365 Trucking.
Best of Show, Limited-Mileage Combo | Bubba Branch's 2016 Kenworth T660 and 2018 Globe RGN trailer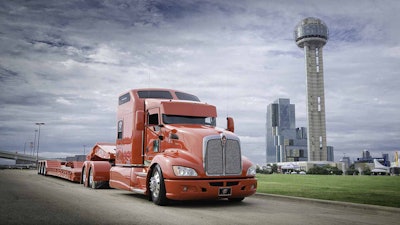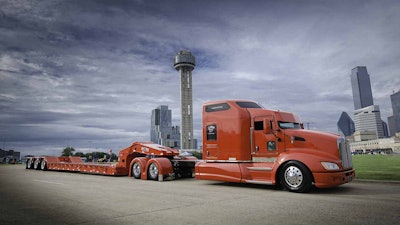 —
Best of Show, Working Bobtail | Chad and Janie Claypool's 2017 Kenworth W900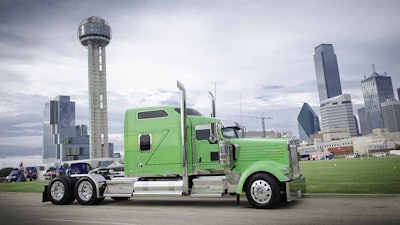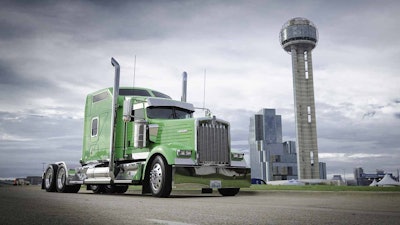 —
Best of Show, Working Combo | Jon Donadio's 1996 Kenworth W900 and 2018 East trailer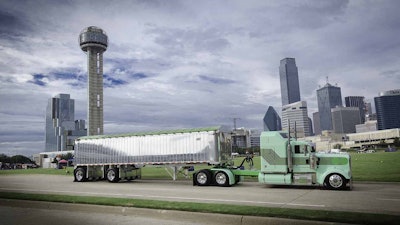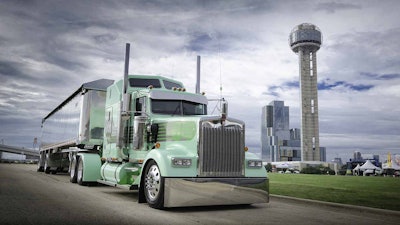 —
Best of Show, Limited-Mileage Bobtail | Jake LIndamood's 1988 Peterbilt 379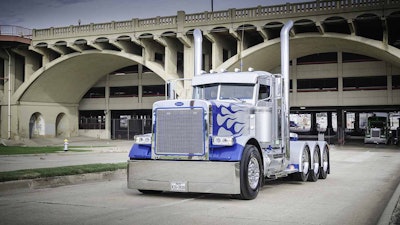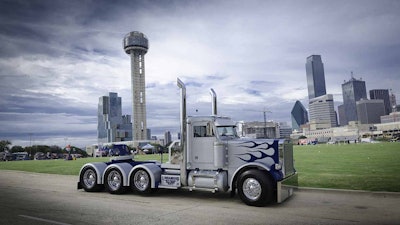 —
Best of Show, Builders Class | Mike Manuel's 2015 Peterbilt 389 and 2016 MAc trailer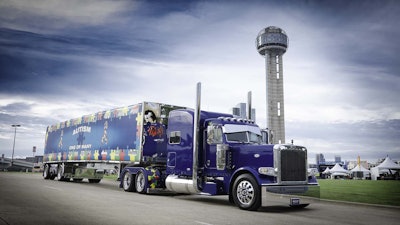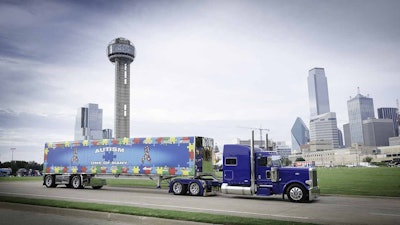 —
Best of Show, People's Choice | Bradley Wacks' 2016 International and 2017 Hyundai trailer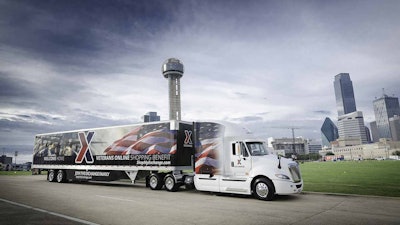 —
ANTIQUE – BOBTAIL
1st Place – Wade Wardlaw/Wade Wardlaw Welding, Woodville, TX; 1975 White & Copper Peterbilt 359 – "Wade's Pride & Joy"
2nd Place – Ethan Madden, Lytle, TX; 1984 Black & Purple Peterbilt 359
3rd Place – Danny Lee, Tylertown, MS; 1963 Candy Apple Red Mack B75
ANTIQUE – CABOVER
1st Place – Pablo Cuellar/David Schnautz, Pasadena, TX; 1973 Blue Kenworth K125 – "Kenny"
2nd Place – Ben Cadle, Augusta, GA; 1982 Blue, Black & Silver Freightliner Cabover
3rd Place – Darrell Caldwell, Jr, Mansfield, TX; 1989 Blue Freightliner Cabover – "Still Shakin'"
ANTIQUE – COMBO
1st Place – David Schnautz, Pasadena, TX; 1981 Blue Kenworth W900A/1982 Wilson Livestock Trailer – "A Dream Come True"
2nd Place – Geo Cuellar/David Schnautz, Pasadena, TX; 1985 Blue Kenworth K100E
BOBTAIL – NEW TRUCK (LESS THAN 50,000 MILES)
1st Place – Caleb Hammett/Hammett Excavation, Dodd City, TX; 2017 Silver & Red Peterbilt 389
2nd Place – Elias Torres/Lindamood Heavy Hauling, Irving, TX; 2017 Blue & Black Peterbilt 389
BOBTAIL – FIRST SHOW
1st Place – Corey Barnes/Brazos Dozer Service, Bryan, TX; 2004 Blue Peterbilt 379 – "Justified"
2nd Place – Bret Chastain, Flora, IN; 2005 White & Orange Mack CXN613 – "Every Dog Has Its Day"
3rd Place – Leroy Mills, Mansfield, TX; 1969 Gray & Red Peterbilt 359
BOBTAIL – 2005 & Older
1st Place – Brian Rudisell/Kuhnle Trucking, Newbury, OH; 2005 Green & White Kenworth W900 – "Gone Green"
2nd Place – Shane Boullion, Carencro, LA; 2001 Dark Rose Grey Peterbilt 379 – "Rosemary"
3rd Place – Delbert Jones, Sulphur Springs, TX; 1999 Red Kenworth W900 – "Cherry Bomb"
BOBTAIL – 2010 & Newer
1st Place – Chad & Janie Claypool/Kyle Cousins, Carthage MO; 2017 Green Kenworth W900 – "Poison Ivy"
2nd Place – Bob & Linda Caffee, Silex, MO; 2015 White Freightliner Cascadia – "Caffcadia 2"
3rd Place – Mike "Gunney" Faram/MC VanKampen, Ft Worth, TX; 2015 Black Peterbilt 389 – "Da Temptress"
COMBO – NEW TRUCK
1st Place – Gabe Rosenthal/Stevens Tanker, Dallas, TX; 2018 White Peterbilt 567/2018 MAC Pneumatic Tanker
2nd Place – Gabe Rosenthal/Stevens Transport, Dallas, TX; 2018 Black Kenworth T680/2017 Utility
COMBO – COMPANY TRUCK
1st Place – Dennis Durrant/Jade Transport, Winnipeg, Manitoba, CANADA; 2017 Green Kenworth W900
2nd Place – Bradley Wacks/Army & Air Force Exchange, Waco, TX; 2016 White International/2017 Hyundai Van
3rd Place– Dave Parker/Tri Corp Transportation, Aylmer, Ontario, CANADA; 2017 Black Kenworth W900L/2017 Great Dane Van
COMBO – OPEN
1st Place – Robbie Basse, Hinton, OK; 2016 Baby Blue & White Kenworth W900 Icon/2016 Fontaine Step Deck – "Baby Blue"
2nd Place – Joe Regalado, Von Ormy, TX; 2000 Blue Peterbilt 379/2018 Armourlite End Dump – "Blue"
3rd Place – Jon Donadio, Guilford, CT; 1996 Mint Green Kenworth W900/2018 East
INTERIOR – CAB ONLY
1st Place – Caleb Hammett/Hammett Excavation, Dodd City, TX; 2017 Silver & Red Peterbilt 389
2nd Place – Corey Barnes/Brazos Dozer Service, Bryan, TX; 2004 Blue Peterbilt 379 – "Justified"
3rd Place – Elias Torres/Lindamood Heavy Hauling, Irving, TX; 2017 Blue & Black Peterbilt 389
INTERIOR – OEM SLEEPER
1st Place – Chad & Janie Claypool/Kyle Cousins, Carthage MO; 2017 Green Kenworth W900 – "Poison Ivy"
2nd Place – Terry Aslinger, Marquand, MO; 1996 Blue Peterbilt 379/2013 Shipshe – "Zippy"/2015 Tremcar
3rd Place – Jon Donadio, Guilford, CT; 1996 Mint Green Kenworth W900/2018 East
INTERIOR – AFTERMARKET SLEEPER
1st Place – Bob & Linda Caffee, Silex, MO; 2015 White Freightliner Cascadia – "Caffcadia 2"
2nd Place – Dennis Durrant/Jade Transport, Winnipeg, Manitoba, CANADA; 2017 Green Kenworth W900
BEST INTERIOR – LIMITED MILEAGE OR BUILDERS CLASS
Mike Manuel, Front Royal, VA; 2015 Blue Peterbilt 389/2016 MAC Curtainside – "One of Many"
PAINT – BOBTAIL
1st Place – Caleb Hammett/Hammett Excavation, Dodd City, TX; 2017 Silver & Red Peterbilt 389
2nd Place – Chad & Janie Claypool/Kyle Cousins, Carthage MO; 2017 Green Kenworth W900 – "Poison Ivy"
3rd Place – Wes Ezell, Glen Rose, TX; 2017 Baby Blue & White Kenworth W900 – "Already Gone"
PAINT – COMBO
1st Place – Joe Regalado, Von Ormy, TX; 2000 Blue Peterbilt 379/2018 Armourlite End Dump – "Blue"
2nd Place – Robbie Basse, Hinton, OK; 2016 Baby Blue & White Kenworth W900 Icon/2016 Fontaine Step Deck – "Baby Blue"
3rd Place – Jon Donadio, Guilford, CT; 1996 Mint Green Kenworth W900/2018 East
BEST PAINT – LIMITED MILEAGE OR BUILDERS CLASS – BOBTAIL
Jake Lindamood/Lindamood Heavy Hauling, Irving, TX; 1988 Silver & Blue Peterbilt 379
BEST PAINT – LIMITED MILEAGE OR BUILDERS CLASS – COMBO
Bubba Branch/Dawes Contract Cartage, Waterford, WI; 2016 Viper Red Kenworth T660/2018 Globe RGN – "Pure Attitude"
ENGINE
1st Place – Brian Rudisell/Kuhnle Trucking, Newbury, OH; 2005 Green & White Kenworth W900 – "Gone Green"
2nd Place – Jon Donadio, Guilford, CT; 1996 Mint Green Kenworth W900/2018 East
3rd Place – Joe Regalado, Von Ormy, TX; 2000 Blue Peterbilt 379/2018 Armourlite End Dump – "Blue"
BEST ENGINE – LIMITED MILEAGE OR BUILDERS CLASS
Sid Calangelo/Kyle Cousins, Carthage, MO; 2008 Black & Red Kenworth W900/2017 Great Dane Van – "Ace In The Hole"