The 2022 Overdrive's Pride & Polish virtual competition came to a close Oct. 28, 2022, with seven trucks and their owners being named winners in seven categories.
Three finalists were chosen by Overdrive readers in each of seven categories over a three-week voting period that ended Oct. 3. Truck owners submitted 77 entries in multiple categories, and these entries received hundreds of online votes.
Catch more information about all of the winners and view all of the finalists in this story announcing all the finalists in each category and detailing the entries. Find plenty detail in the replay video of the awards presentation up top, too, with awards host Robb Mariani, past host of the "American Trucker" documentary series on the Speed Channel and now part-proprietor at SemiFreaks.com -- for anyone flat-out obsessed with trucks and trucking, as he is.
Without further ado, with a big congrats to all finalists, here are the 2022 Overdrive's Pride & Polish winners:
Limited Mileage | Marvin Graves, 1963 Mack B61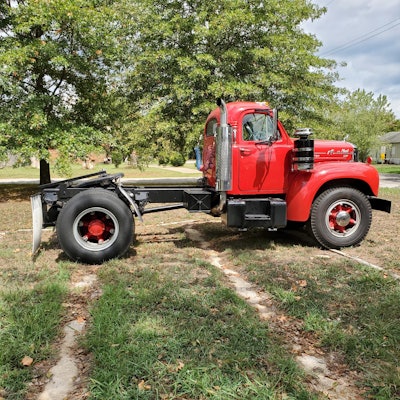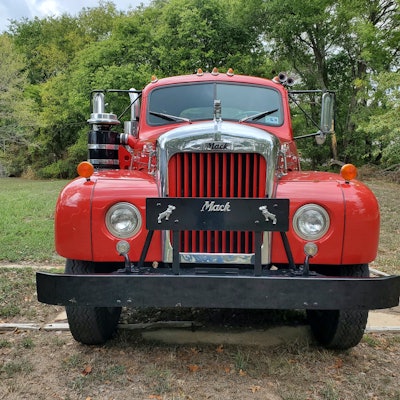 Interior | Rick and Terry Henderson, 2022 Peterbilt 389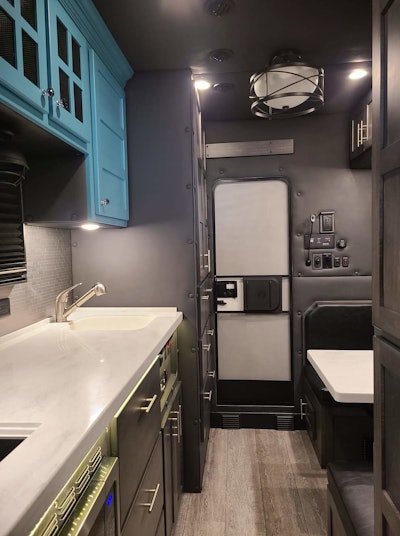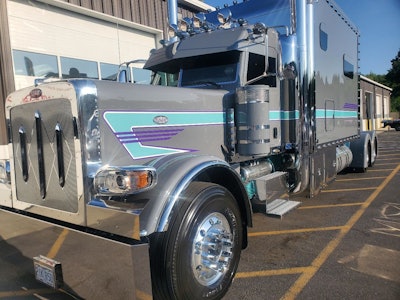 Antique | Gary Wasko, 1975 White Freightliner Powerliner, "Dirty Dozen"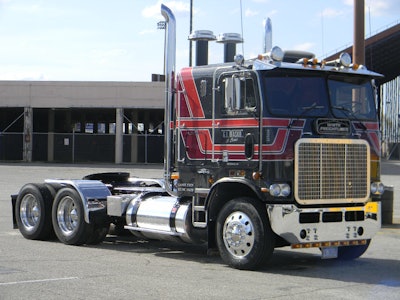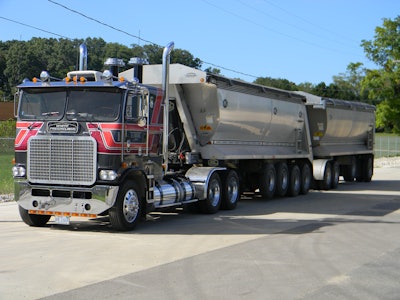 Working Bobtail, 2015 & Newer | John McCormick, 2021 Kenworth W900L, "Bandit"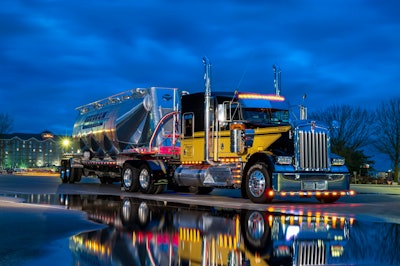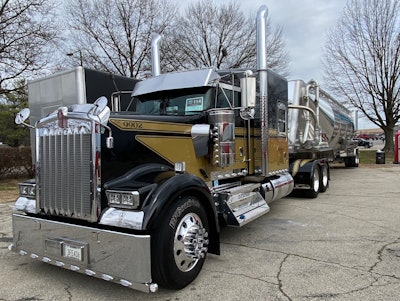 Working Combo, 2012 & Newer | Robert Hallahan, 2022 Peterbilt 389/2022 Great Dane, "Joke's on You"


Working Bobtail, 2014 & Older | Horace M. Goldman, 1987 Peterbilt 359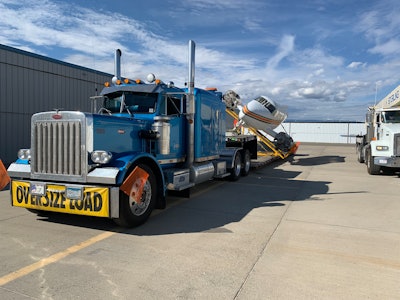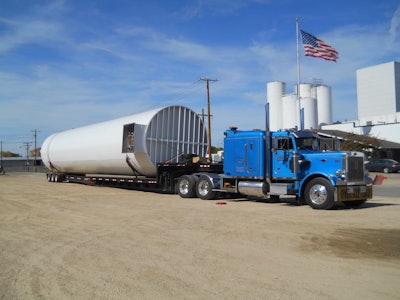 Working Combo, 2011 & Older | Mike Scherkenbach/Harold Smith, 2011 Peterbilt 389/2018 Great Dane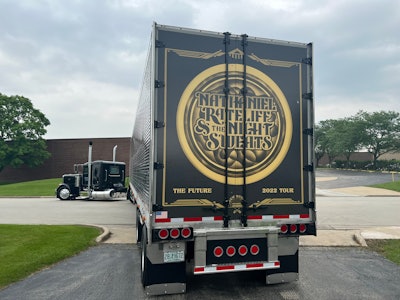 Video transcript:
Todd Dills
Here's a big thanks for joining us for the 2022 Overdrive's Pride & Polish final results. I'm Overdrive editor Todd Dills, and this year we ran the virtual competition a little bit later in the year than we have for the past couple of years. The physical, in-person show season this year has been back in force, of course, and we've been thinking of this year's online competition as a fine way to put a cap on that here at the end of October. Showcasing the work put in by truck owners all across the nation and the very best in custom rigs.
Throughout the summer months, dozens upon dozens of Overdrive readers entered their mostly working, show-ready rigs with photos that we then put up for a round of audience voting throughout the month of September. That's right, your owner-operator peers picked the winners here and, speaking of which, we've got the champs coming up here in seven categories. Four for working trucks, with two each for Bobtail and Combo classes delineated by year. There's one limited-mileage category for power units that experience less of the wear and tear of the road, which is also open to custom builders' showpieces. There's an antique category for anything older than 25 years, so the 1997 model year this time around, and a best interior class as well.
So, here we go. Again this year, to take us through it all, we've got trucking's biggest fan, Robb Mariani, past host of the American Trucker documentary series on The Speed Channel, and I hope you can find today via the site for all those just flat-out obsessed with trucks and trucking, semifreaks.com. Robb's going to run us through the final results, so without further ado, Robb, take it away.
Robb Mariani
And thank you Todd. And a big thanks to Overdrive Magazine, my favorite magazine from my childhood. Remember, it's the voice of the American trucker, and this is Overdrive's Pride & Polish Awards 2022. Let's get the show on the road and we begin with our first category, limited mileage. That is for those custom projects and builds that have trucks that aren't exactly working full-time.
And in the Limited Mileage category, the second runner up goes to owner operators, Duane and Jenay Rotert. The Roterts, who hail from Montrose, Missouri, and their 1972 W900 flat top double bunk is about killing me. Duane and Jenay tell us that the truck was purchased by Everett Rotert in 1973, and enjoyed a rebuild in 2017, and wow, what a powerhouse of a classic. Congratulations to the Rotert family. That is one great example of American Iron.
And the first runner up award goes to Kenny Wilson and his 1980 FLC120 Freightliner. I got a chance to see this truck up close and personal at Brad Wike's Southern Classic Truck Show a few weeks ago. Kenny was parked right next to our buddy Fred Alexander with his 1980 FLC and boy, what a show they put on. Saved from the Salvage Yard and ends up in a Netflix movie as an extra. Way to go, Kenny.
And rounding out the 2022 Limited Mileage category, we have a winner and it is Marvin Graves in his 1963 B61 Mack, no frills here. All awesome. This old Mack is now pulling for Jesus, as it is a member of the Truckin' Troubadours for Christ Truck Stop Ministry out of Cortez, Colorado. Can we get an amen on that? And congratulations.
Rolling along with the 2022 Overdrive Pride & Polish Awards, and the next category is going to be interiors. For the best in inside finishes and creature comforts.
The second runner up of Interiors, Mr. Robert Hallahan out of Lacrosse, Wisconsin, with his 2022 Peterbilt. The joke is on you. Robert took home some hardware last year with Pride & Polish in the limited mileage category, and looks like he's at it again, winning some more hardware.
And the first runner up goes to David Parmer of Georgia, with his '73 White Freightliner, Big Green Mean Machine. Very nice truck. David bought this truck off of eBay in '04, a late restoration in 2015, and right now this Detroit powered 13 speed big bad cab-over is the first runner up in interiors 2022 Pride & Polish. Way to go David.
And the winners of the P&P 2022 Interior class goes to Rick and Terry Henderson out of Rittman, Ohio, who run for Bennett. They decided they were going to put together this truck for this year's competition. My, my, my. They have a toilet, a shower, a kitchen. The only thing they don't have is a laundry machine, which they don't have to worry about because they basically just cleaned up the category of interiors. Congratulations.
And for the P&P 2022 next category. Oh, let's shift into old school, shall we? Anything 25 years and older, antique class.
Second runner up an antiques goes to Horace Goldman in his 1987, 359. Oh yeah, baby. Last year of the 359, giving way to the 379, another peak classic. Congratulations, Horace.
Climbing through the gears in the antique category for the 2022 Pride & Polish, we have, Oh boy, oh boy, a 1968 Peterbilt, Plum Krazy. Wayne Lucken out of Richmond, Minnesota. Oh baby, I am plum crazy about Plum Krazy. You know what I'm saying, brother? That old school, '68 Pete is killing me, bro. Five holes. You need five holes. Congrats. And how about that '75 Wilson?
Rolling into Overdrive in the antique class for the 2022 Pride & Polish Awards, we have a winner. Oh yeah, we do. A 1975 White Freightliner Powerliner. Congratulations, Gary Wasko. Powered by a 12 VDD and 391 rears, this baby hauls. Oh yeah. Oh yeah. Oh yeah. I'm pretty certain that we had this truck on American Trucker when we filmed the South Bend, and I'm still in love with it.
Overdrive's P&P awards roll on with these stars of the trucking world, the workhorses. Next category is the Working Combo, 2012 or newer. Second runner -up, hailing from Texas is Wally Daniels. This independent owner-operator bought this truck back in 2017, and in his words, it was pretty much a plain wrapper. No chrome, nothing special. Wally's 389 is hooked to a 2020 rampant 40 ton RGM. After many, many hours, and I'm sure a few dollars later, he has this sucker looking as good as you can get it and it matches his 2017 Harley Davidson. Nice job, Wally.
Hammering down in the Working Combo class, we have the first runner up out of Kingsport, Tennessee. It is none other than Gary Johnson and his Peterbilt, better known as The Hustler. The Hustler is hooked to a 21 XL specialized SDE100. To make things even more efficient, he's got a stage two PDI tuner. He's got about every possible light you can put on it, a Bruner four-door chrome headache rack, and he's even got a full polish by the Little Sister's Truck and Wash Polish in Barstow, California. Gary shoots and scores.
We are in Overdrive in the 2022 Working Combo, and it is none other than Robert Hallahan. The jokes on you, more like the dew is on you. Mountain Dew Green and Omaha Orange. There's nothing dry about that 2022 Great Dane Dry Van, and my word. He's got tons of goodies from Iowa Customs right down to Dynaflex pipes. Congratulations again.
Your winner. It's looking clean and green as we move on to the Working Bobtail, 2015 and newer in the 2022 Overdrive Pride & Polish Awards.
And the second runner up in the Working Bobtail, 2015 or newer goes to Mark Havens and his 2023 Peterbilt 389 EXHD. Ordered in the fall of 2021, it took 11 months to get this truck, and when Mark got it, he ordered it basically in its birthday suit. That's because Mark wanted to dress his baby and he did. Oh boy. Fenders, lights, bumpers. He's put everything into this. It's got full air ride discs all the way around. Heck of a nice truck, bringing the pride.
The first runner up in the Working Bobtail, 2015 and newer looks very familiar. If trophies were bacon, we are ready for breakfast. In fact, they'll serve it up in Rick and Terry Henderson's 2022 Peterbilt with a kitchen. Table for two, please?
Pulling up to the fuel island with the winner of the 2015 and newer Working Bobtail, your winner. Best Working Bobtail, 2015 or newer is the man, John McCormick with Bandit. The Kentucky-based McCormick has plenty of smokey details on this rig, plenty of light, roadworks bling, and a Valley Chrome 22 inch blind bumper. John and his Bandit are looking to steal the show.
P&P '22 downshifts into the Working Combo, 2011 and older. And your second runner up, leased owner-operator Chris Rose in his '07 Pete 379 hailing from Killen, Alabama, Chris is killing it with his 144 inch ARI big bump, aka Highway Hilton.
The show goes on with our first runner up, Jeffery Longcore and his '02 379. From the taillights to the headlights, this truck is a metaphorical blaze of awesome custom. From the spread axle Great Dane, to the badass fenders, Jeffery has just extinguished the competition. There's too much to list. Based in Michigan, Longcore has been a volunteer firefighter for 20 years and he has clearly ignited his passion for all things firefighter with this awesome rig.
And for the winner in the Working Combo, 2011 and older, we have a duet. Shomotion fleet owner Mike Scherkenbach and his driver, Harold Smith. When driver Harold Smith of Bulls Gap, Tennessee, was all set to retire, his boss, Mike at Shomotion, threw in the keys to this Pete, bought him a 2018 Great Dane trailer, and to me, that combination is music to my eyes. Note to self. I'm almost positive I was at that loading dock in Atlanta with Big Mike, a road show on American trucker. That Pete hits the winning note.
And that brings us to our final category, Working Bobtail, 2014 and older. Hailing from Taylorville, Nova Scotia, Brooke Taylor loves this 1996 Miss Kitty. She's even Cat powered with a 3406, and with 550 horsepower, Miss Kitty likes to roar. Congrats Brooke and Miss Kitty.
And first runner up is Charles J. Thomas with his 1995 Western Star Heritage. I love this truck. It is understated, but makes a heavy statement. One of the best sleepers ever to be on the market. Awesome truck.
And the winner out of Easton, Minnesota. It's once again Horace M. Goldman and his '87 Peterbilt 359. Always remember a 359 is a winner every time.
And that will polish off Overdrive's Pride & Polish awards for 2022. Big thanks to all of our drivers that have entered, and a big thanks to every single driver that's out there delivering America one load at a time. Without you, well, we don't even want to think about that. God bless. See you next year on Overdrive's Pride & Polish Awards.
Todd Dills
And for me and all of us at Overdrive, here's a big salute to the truck owners who participated this year. We're in the process of creating official award plaques for all winners and finalists to mail out in the coming weeks. Thanks also to Robb Mariani for running down the results and to you for tuning in. Keep your browser on, on overdriveonline.com in the coming weeks for profiles of all of the winners. That's overdriveonline.com/custom-rigs. And again, you can find host Robb Mariani over at semifreaks.com, where he's proprietor with North Carolina based small fleet owner, and similarly trucks obsessed builder, Brad Wike. I know they've got some video projects cooking for later in this year, and into 2023, so keep tuned. A final, massive congrats to all of our Pride & Polish winners and finalists. Anybody else looking forward to the 2023 show season? I know I am. We'll see you then.