After dozens of Overdrive readers submitted photos that made up nearly 80 total entries in one or more of seven categories in the virtual 2022 Pride & Polish competition, votes from readers have been counted and the finalists for each category have been determined:
Working Bobtail, 2014 & Older
Working Bobtail, 2015 & Newer
Working Combo, 2011 & Older
Working Combo, 2012 & Newer
Antique
Interior
Limited Mileage/Builders/Show
Overdrive's 2022 Pride & Polish truck beauty championship will conclude Friday, October 28, beginning at 5 p.m. Eastern time. Finalists were determined by Overdrive reader voting over a three-week period that ended Oct. 3. See all the finalist trucks below, with owner listings in each category.
Readers can fill out this form to receive an email reminder shortly before the broadcast of the finale on Oct. 28. Otherwise, navigate to Overdrive's YouTube channel or back to this page at 5 p.m on Oct. 28.
Here's a big congrats to all the finalists!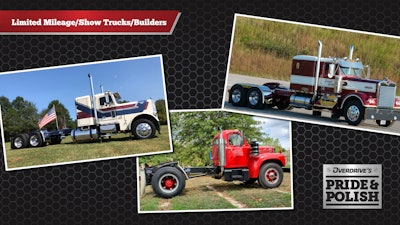 Covington, Georgia-based Kenny Wilson notes his project 1980 Freightliner has a 400 Cummins, 13 forward gears, and 3.70 rears, a stretched wheelbase to 280 inches and more.
Marvin Graves' classic Mack was originally purchased by the Colorado-based owner-operator from a ranch in Mississippi and now pulls a furniture trailer converted into a mobile chapel that's used for the Truckin' Troubadours for Christ truck-stop ministry out of Cortez, Colorado.
The Roterts' 1972 Kenworth W900 was originally purchased by Duane's father, Everett, in 1973 and has been kept in the family since then. It was rebuilt and repainted in 2017.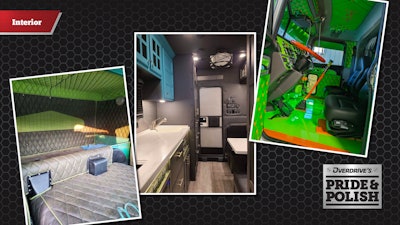 Owner David Parmer of Georgia bought his classic White Freightliner cabover off eBay in 2004 and drove it 887 miles home. He didn't start restoring it until 2015 and rebuilt the Detroit motor and 13-speed transmission, as well as the interior, shown above.
Rick and Terry Henderson built their truck for the 2022 season with a 144-inch ARI big bunk sleeper complete with shower, toilet and kitchen. "Basically everything but a washer and dryer," the Hendersons said.
Robert Hallahan noted about his 2022 Peterbilt 389's interior: All the Peterbilt logos around the truck inside and out are changed to Hallahan Transport logos, and the interior "includes a Rockwood floor and threshold plates with an EZ Pete interior, with 'Joke's On You' embroidered in the headliner," he said.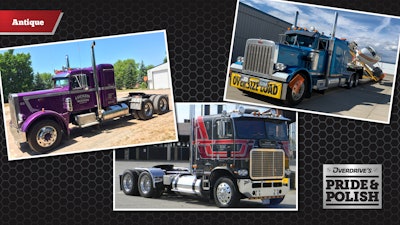 Richmond, Minnesota-based Wayne Lucken restored his 1968 Peterbilt 358 and painted the trailer just about five years ago.
Bridgman, Michigan-headquartered Gary Wasko was both the second and fifth owner of his classic White Freightliner. The Detroit-powered cabover features rack-and-pinion steering and more.
Owner-operator Horace M. Goldman has owned his pristine 1987 Pete 359 for 22 years.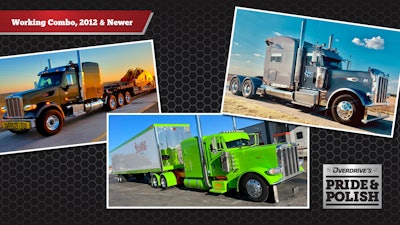 Kingsport, Tennessee-based owner Gary Johnson bought his 2021 Peterbilt 567 in January 2020. He's "added a complete Stage 2 PDI tuner, intake manifold and exhaust manifold to this already fantastic Cummins X15," he said, "giving it approximately 150 more HP, and 35% cooler engine temps along with a significant increase in fuel economy."
Hallahan's 2022 Pete 389, also a finalist in the Interior category, "was custom-ordered Mountain Dew Green with an Omaha Orange frame. It has an X15 Cummins, 18-speed, 3.36 rears, and a 300-inch wheelbase," he said. It features plenty of Iowa Customs parts, along with some additions from 12 Gauge Customs and more.
Palacios, Texas-based Wally Daniels purchased his 2014 Peterbilt 389 in 2017 and it was plain gray. "No chrome, no lights, nothing special. Lots of hard work and many hours later it's finally the way I want it," he said.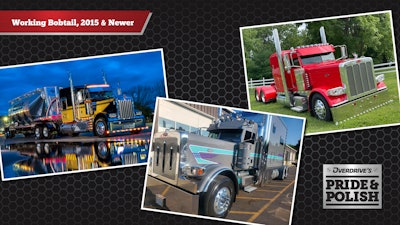 Kentucky-based owner John McCormick bought his 2021 Kenworth W900L in November 2020 and put it to work. He's added some cab lights, a drop visor, window chops, a bug shield and more.
Owner-operator team Rick and Terry Henderson, also finalists in Interior, are leased to Bennett Transport with their Midnight Oil Co. LLC business.
Shelbyville, Indiana-based Mark Havens ordered his 2023 Peterbilt 389 in September 2021 and got it after a long 11-month wait. He ordered it with no exhaust, cab lights, quarter fenders, rear flaps or bumper so he could customize it.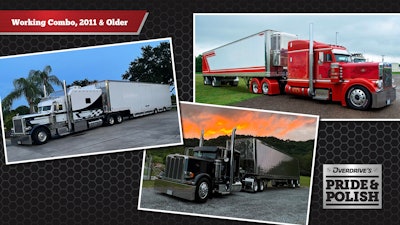 Killen, Alabama-based Chris Rose notes his 2007 Peterbilt 379 has a 144-inch ARI big bunk with "a full size bed and a drop down single bed, fridge, freezer, convection oven and bathroom with shower."
Operator Harold Smith, out of Bulls Gap, Tennessee, entered the 2011 Peterbilt 389 he drives, custom-built for Mike Scherkenbach, the owner of the Shomotion entertainment-haul fleet.
Lawton, Michigan-based Jeffrey Longcore has been a volunteer firefighter for close to 20 years. This rig, wrapped in firefighting images, he calls "a way for me to give back to so many who have served and fallen."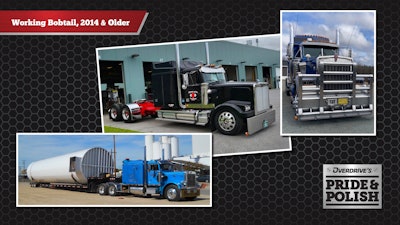 Owner-op Goldman, out of Easton, Minnesota, is also a finalist in the Antique class.
Charles J.Thomas notes his 1995 Western Star Heritage is powered by a Caterpillar engine with an 18-speed and features a 280-inch wheelbase and more.
Taylorville, Nova Scotia-based Brooke Taylor's 1996 Kenworth W900B features a rebuilt Cat 3406E that puts out 550 horsepower. He hauls containers mostly in the Maritimes of Canada and Maine.
Don't miss our announcement event 5 p.m. Eastern on Friday, October 28. Sign up to receive email reminders about it ahead of the event via this page.
---
For custom-equipment features delivered to your email inbox weekly, subscribe to Overdrive's weekly Custom Rigs newsletter via this link.