The few years since Overdrive met Rob Hallahan, then a one-truck owner-op, have been unqualified good ones as business goes.
Hallahan Transport ballooned in a few short years to a 12-driver, 9-truck fleet hauling mostly van freight and some refrigerated, which it pivoted to with a leased fleet owner when COVID hit last year. Hallahan was a semi-finalist in Overdrive's 2021 Small Fleet Champ award program last year, too, and can now add another trophy to the case.
His personal 2022 custom Peterbilt 389, "Joke's on You," is the first-place finisher in the Overdrive's Pride & Polish awards' Limited Mileage category: The rig gives him a new, appropriately stunning flagship for a business that friends have started calling a veritable Easter-egg basket for the pastels Hallahan's favored in past builds and other equipment acquisitions.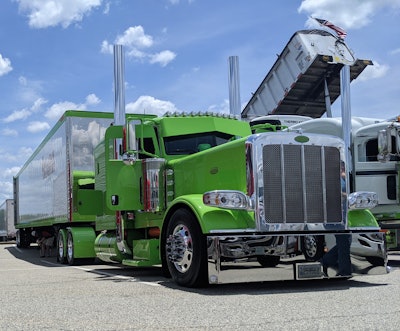 "I built the truck to show," he said, but also to serve the short-haul needs of a customer in his La Crosse, Wisconsin, home base. Otherwise, Hallahan in 2020 ceded his prior personal truck, a 2019 Kenworth W900L, to a driver and now works full-time in the back office to serve his own and drivers' needs, given the growth the company's experienced.
The long process of putting "Joke's on You" together delivered much-needed head-clearing opportunities amidst the very long days dispatching, invoicing, negotiating with brokers for his drivers and leased-on operators, and so much more. It started in September 2020 with an order from the Peterbilt factory, purposefully delayed to January to gain the 2022 model year designation, one of the truck maker's first for the year.
It was delivered early this year to Sioux Falls Peterbilt in South Dakota with a "grass burner" exhaust. The rig's Cummins X15's exhaust system features modified placement of the diesel particulate filter. The DPF sits behind the fuel tank on the passenger side now. Hallahan wanted to make sure steps / battery box on either side retained traditional symmetry to enhance the rig's old-school look, despite new-school emissions controls.
Sioux Falls Pete's work on the rig he lauds, in more ways than one. After removal, the dealer bought all the parts on the truck that were replaced from Hallahan, knowing the body shop could easily put those to work for other owners down the line. "They didn't have to do that," he said.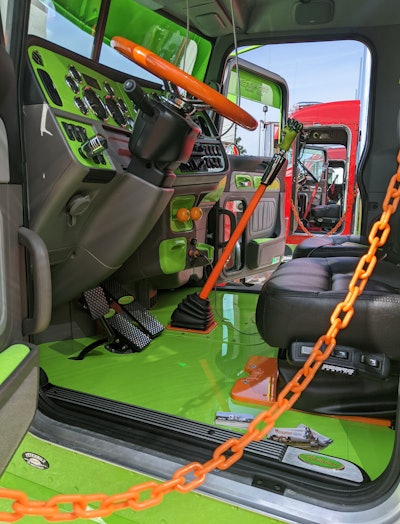 His hometown shop – River States Customz – contributed paint work and some other work after a few custom panels were delayed beyond the rig's time in Sioux Falls.
The unit was done just in time to debut with its first show this spring at the 75 Chrome Shop in Wildwood, Florida, minus the trailer. Limited Mileage, indeed: "It had 1,700 miles on it" at that show, Hallahan said, "because that was a 1,700-mile drive."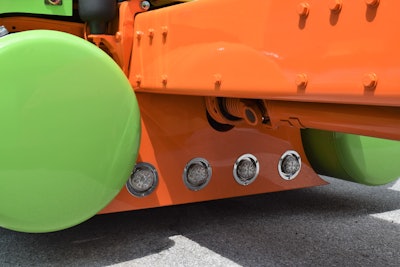 Since this time last year, Hallahan's added a few trucks but almost doubled the number of drivers with a fleet owner leased that has teams and reefer trailers, among other equipment. It's got him thinking more about adding support to shorten the long days he's been putting in trying to keep up with the business.
"It'd be nice to have an office manager," he said, someone to pick up part of the dispatch and/or load planning responsibility that sits squarely on his shoulders today. In some ways, though, he's "afraid to do that," and not simply due to the payroll expense. "I think that office people can screw everything up for you" just as easily as working with the wrong driver. The dispatcher might not approach the drivers with the same standard of care, a load planner isn't "going to negotiate like you negotiate," he added. "Will they be able to get the right rates or just get in a hurry and take anything they can and expect the driver to do everything at that rate?"
Perhaps the right person will come along for him – for now, Hallahan said, he's happy to be where he is with the success that he has. The new build no doubt sweetens that pot, too.
[Related: In worst of times, owner siezes opportunity – Hallahan Transport]