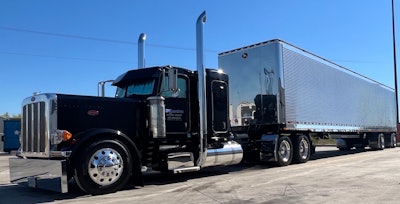 Michael Scherkenbach, owner of the entertainment-hauling Shomotion fleet, bought this 2011 Peterbilt 389 as a glider for his fleet.
After about 500,000 miles on the road, as he does with all of his fleet trucks, he pulled it off the road in favor of a new rig. Unlike most of his other trucks, though, he kept this one for himself, taking off the original sleeper and replacing it with a 36-inch coffin.
He kept the original wheelbase, but swapped out the tanks to give the truck a more uniform look. Its old-school look turned plenty heads in Overdrive's 2022 Pride & Polish virtual truck show competition, where it netted a victory in the Working Combo, 2011 & Older category. The rig is still powered by its original remanned 2000-built Cummins ISX, the first year of the ISX after the early Signature 600 engines.
Scherkenbach's plan had been to keep the truck around the Shomotion shop for himself to drive "when I do a couple trips a year," he said.
Yet in early 2022, one of the few owner-operators leased to Shomotion (most of Scherkenbach's drivers are employees), Harold "Bud" Smith, decided to sell his truck while it could fetch a pretty penny and retire.
"I agreed with him. Because the market was so hot on resale value, it was a good time to sell," Scherkenbach said. But it sold more quickly than either of them anticipated. "After that, I saw the year I had ahead of me and didn't want to lose his talent, so I basically said my offer was for him to drive" the 2011. And because of the smaller sleeper, he also offered to put Smith in a hotel room every night he was on the road.
Smith didn't bat an eye at that. "He said he's fine sleeping in it, and he's yet to take me up on getting a hotel," Scherkenbach said.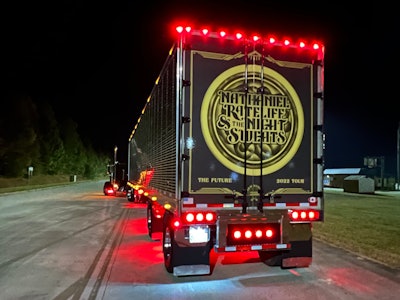 Smith's a 40-year trucking veteran, and has been in the entertainment-hauling business for about five years, four with Scherkenbach and Shomotion. He got a front-row seat for the pandemic's hardcore impacts on entertainers, particularly when it comes to the concerts where Shomotion specializes.
"[Scherkenbach] kept us busy during COVID hauling high-dollar freight," Smith said. "A lot of electronics and stuff like that. He never laid anybody off; the same crew is here. Michael is a handshake kind of guy -- he shakes your hand, and it's gospel."
The fleet was lucky to have already been an established carrier with FedEx Custom Critical, which "proved beneficial during that period," Scherkenbach said. His drivers switched to hauling medical supplies, baby formula and other shipments "going to obscure places."
"Our sales dropped 75%" during COVID, Scherkenbach added, but "three of our best years were prior to COVID. We were in a good place financially to weather the storm."
One saving grace for the Shomotion fleet came in 2021, when the Rolling Stones were among the first bands to go back out on tour -- with Shomotion hauling for them.
[Related: How one specialized hauler for some of the biggest names in popular music survived the early COVID lockdowns]
Smith's 'little baby' on the road again
When it came to jumping into Scherkenbach's personal truck, Smith said he was told that if he wanted to work part-time, "here's my little baby."
Smith now hauls solely for the Nathaniel Rateliff & the Night Sweats tour, giving him about six months on the road and six months at home. Smith said a normal day on tour typically consists of "helping Nathaniel's guys set everything up, and at the end of the night help them tear it down and get it in the trailer. We get loaded in, get everything set up, then I'll hit catering and go to bed. I'll get up about 45 minutes before the show's over, make sure the trailer is ready to go," then help take down the band's equipment and staging before "driving the other 400 miles and doing it all over again."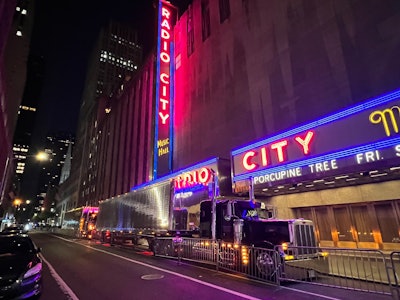 This year, Smith said the tour went all over the United States and into Canada. "It's pretty much about 250 days a year, if not a little more. It's a good life. I make a great living at it, even as a company driver."
He said he got on with the Rateliff tour after they contracted Shomotion for the hauling, "and I guess they like me, because they keep asking me back." The band he calls a "great bunch of guys from Nathaniel on down."
Smith singled out a special stop this year, when Rateliff and company played the Newport Jazz Festival in Rhode Island. Instead of playing their own music, the group played a set of Paul Simon's hits. "I spent four days in rehearsals listening to the band play Paul Simon music with Paul right there." A few weeks ago, Rateliff was doing an event for his Marigold Project charity in California, and Bob Weir of Grateful Dead fame sat in on vocals for four songs. Rateliff also plays Willie Nelson's Outlaw Festival.
"If you think about music history -- Bob Weir, Willie Nelson and Paul Simon, they're icons," Smith said. "And Nathaniel's friends with them. Where else can you see three pillars of the music industry?"
In his relatively short time hauling concerts, Smith has also worked on tours for Cher, Carrie Underwood, Dead & Company, the String Cheese Incident and others.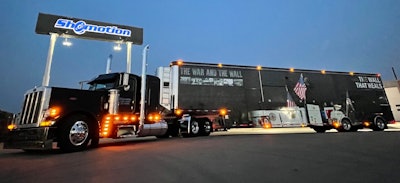 Based in Denver, Shomotion also does a good bit of local work for the Red Rocks Amphitheater.
The fleet consists of about 30 power units and close to 150 trailers, ranging from vans to flatbeds to conestogas. The company specializes in larger stadium tours, because they were one of few fleets in the entertainment hauling business that has enough trailers to handle such a large event. "We have the trailer capacity to handle 44 or 48 trailers on one stadium tour," Scherkenbach said. "That's what sets us apart is the ability to handle that much."