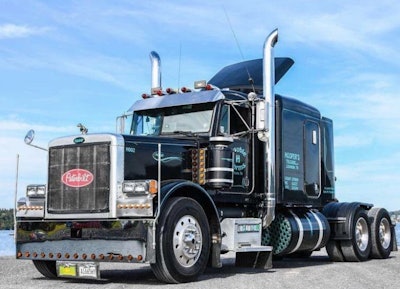 Charles Hooper bought this 1988 Peterbilt 379 in 1999 for just $2,000 with a blown motor, fixed it up and still uses it as his daily runner today. It's now powered by a 350-hp Cat 3406B with a 13-speed and 3:36 rears. The engine, transmission and rears were the biggest changes Hooper made to the truck when he bought it.
He also had it repainted and added the pinstripes, which were done by hand by Rick Harris Pinstriping. Peterbilt of Nashville did most of the paint work, while Kenworth of Nashville painted the tanks. Hooper says the truck was one of the first 379s off the assembly line and still had a lot of 359 features, including 29-inch fuel tanks.
Harris runs under his own authority, Hooper's Trucking LLC, out of Lebanon, Tennessee, pulling railroad containers and 53-foot dry vans mostly to Cincinnati and back.
Click here to see more photos of reader uploads or to submit your own.