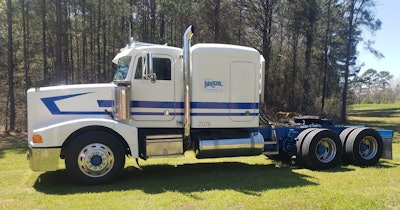 Mark Wicker bought this 1994 Peterbilt 377 in 2018 as a log truck without a sleeper. He's since completely rebuilt it within the past year, including stripping the paint, adding FLD120 headlights, adding custom cabinets in the sleeper, and hardwood floors in the front and back of the cab. Under the hood is a 5EK 3406E Cat with a Bully Dog turbo, a new Eaton-Fuller 18-speed and 3:90 rears. Wicker is currently leased to Mercer Transportation pulling flatbed, hauling mostly lumber in the southern Midwest.
Wicker plans to do a frame stretch from 242 inches to 265 inches in the future, along with "additional improvements in shiny things," he says. All the work on the truck, including the body work, paint, cabinets, floors and more, has been done by Wicker himself.
Click here to see more photos of reader uploads or to submit your own.