Trucking news and briefs for Wednesday, Feb. 17, 2021:
FMCSA allowing states to continue extending CDL, med cert expirations
In addition to extending the COVID-related hours of service waiver through the end of May, the Federal Motor Carrier Safety Administration is also extending the period for which states can choose to extend the validity of CDLs and CLPs through May 31. The waiver was set to expire Feb. 28.
The agency says many truck drivers have been unable to renew their CDLs or CLPs or provide medical certificates to their states due to staffing issues at state driver licensing agencies. Drivers have also been unable to make appointments for physical exams to obtain their medical certificate, FMCSA adds.
The extended waiver now permits but does not require states to extend the validity of CDLs and CLPs due for renewal since March 1, 2020. It also waives the requirement that drivers have a medical exam and certification, provided they have proof of a valid medical certification and any required medical variance issued for a period of 90 days or longer and expired on or after Dec. 1, 2020.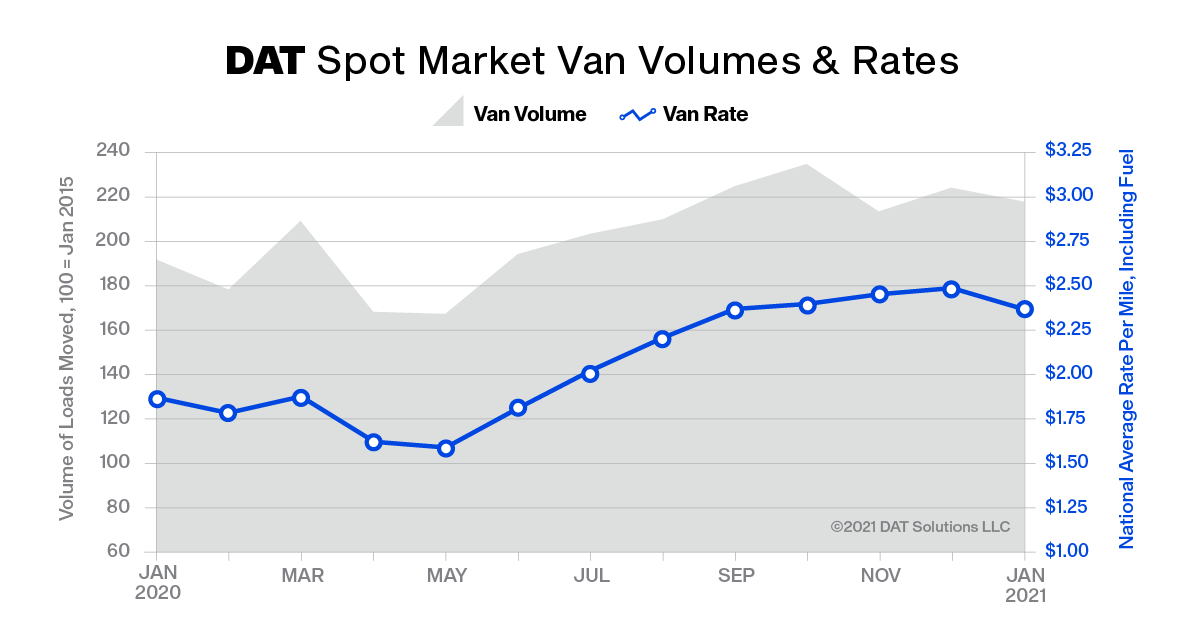 Van rates hit an inflection point in January | The dry van load-to-truck ratio averaged 4.3 in January, according to DAT Freight and Analytics, operator of the DAT load board network. That's down from 4.8 the previous month. A ratio of 4.3 means there were 4.3 available loads for every available truck on the DAT network. The van ratio was 10.4 percent lower in January compared to December but 95% higher than the ratio in January 2020, as might be evident from increased volumes show in the chart. January saw the arrival of the inflection point where contract rates are now consistently higher than spot rates for the first time since July. The spot van rate averaged $2.36 per mile nationally in January, down 11 cents compared to December and 49 cents higher compared to January 2020. At $2.12 per mile, the average line-haul van rate (the total spot rate minus fuel surcharges) fell from end-of-year highs. Reefer volumes fell 3.5% from December to January. The national average reefer load-to-truck ratio fell to 8.2, still five times higher than April's record low of 1.7 loads per truck. The national average spot reefer rate was $2.61 per mile, down 7 cents compared to December yet 37 cents higher year over year. National flatbed load-to-truck averaged 47.9 in January, the highest since the summer of 2018. January flatbed volumes were up 3% compared to December and down 9.5% year over year. The national average spot flatbed rate was $2.50 per mile, 1 cent higher than December and 33 cents higher than January 2020.

Bridgestone increasing tire prices
Bridgestone announced this week it will increase prices up to 8% across its full portfolio of Bridgestone brand commercial truck tires and Bandag retreading in the U.S. and Canada. The new pricing will take effect April 1.
The price adjustment "is a necessary step as Bridgestone continues to manage increased business costs including escalating transportation and raw material costs that are forecast to continue into the second half of the year," the company says.