Trucking news and briefs for Wednesday, June 9, 2021:
Rhode Island fleet owner ordered to pay $632K in restitution
Michael Chaves, the owner of Rhode Island-based CAT Transportation, has been ordered by pay $424,598 in restitution to his victims and $207,270 to the Internal Revenue Service after using another person's identification without his or her permission to falsify motor carrier registration documents.
According to the Department of Transportation Office of Inspector General, Chaves was sentenced on March 10 to two-and-a-half years in prison, three years of supervised release and a $1,000 special assessment.
OIG says Chaves used another person's identification to falsify Federal Motor Carrier Safety Administration documents to hide an affiliation with a company under a federal out-of-service order. He also generated false documents to show compliance with FMCSA rules and regulations, OIG adds.
Mack adds automated manual transmission to concrete pumpers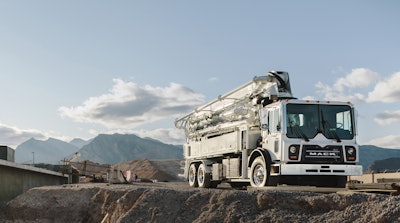 Mack Trucks customers can now order a Mack mDrive HD automated manual transmission in Mack TerraPro cabover concrete pumpers powered by the 13-liter Mack MP8 engine.
Fully integrated with the MP8 engine and Mack axles, the 13- and 14-speed mDrive provides concrete pumper drivers improved performance, productivity, safety and uptime.
Mack customers requiring pumpers with longer booms, starting in the 30-meter to 40-meter range, prefer bigger pumps and higher horsepower to power the pumps to move concrete through the boom. The mDrive HD paired with the MP8 engine, delivering up to 505 horsepower and 1,860 ft.-lb. of torque, is a proven combination, providing durability and power where high horsepower is necessary.
The transmission features split-shaft PTO functionality, receiving output directly from the transmission, creating higher torque for large auxiliary equipment like concrete pumps. It also features ruggedized internal components, including stronger gears and synchros and is built to withstand the rigors of jobsites and frequent shifting often found in construction applications. The 13- and 14-speed mDrive HD AMTs feature low-ratio creeper gears that enable improved startability and ultra-low speed maneuverability.
Great Dane recalls dry van trailers
Great Dane Trailers is recalling approximately 50 model year 2022 Champion dry van trailers equipped with air disc brakes, according to National Highway Traffic Safety Administration documents.
In the affected units, the brake caliper mounting bolts may not be sufficiently tightened, allowing the bolts to loosen, which can reduce braking effectiveness.
Dealers will inspect and tighten the caliper mounting bolts for free. Owners can contact Great Dane customer service at 1-877-369-3493. NHTSA's recall number is 21V-383.