Trucking news and briefs for Thursday, Aug. 26, 2021:
Two I-10 closures planned in Arizona this weekend
A closure of eastbound I-10 near Phoenix Sky Harbor International Airport this weekend, Aug. 27-30, will require drivers to use a lengthy detour as crews continue initial work to remove rubberized asphalt and set up work zones for the I-10 Broadway Curve Improvement Project. A separate project will close both directions of I-10 west of Willcox, Arizona.
Eastbound I-10 will be closed between the Arizona State Route 51 "Mini-Stack" interchange and U.S. 60 from 10 p.m. Friday, Aug. 27, to 4 a.m. Monday, Aug. 30. All eastbound I-10 on-ramps between Third Street and U.S. 60 will also be closed. The westbound U.S. 60 on-ramp to eastbound I-10 will be open as part of a detour route. Heavy traffic and delays can be expected.
This will be the sixth and final I-10 weekend closure within an initial series of restrictions needed to allow construction to begin on the project that will add new lanes and other significant improvements along the freeway over the next 3.5 years. Two currently unscheduled closures of U.S. 60 near the I-10 interchange also are anticipated this fall. Other closures and lane restrictions for the project will be scheduled as needed.
To detour, drivers on eastbound I-10 in the downtown Phoenix area will exit onto eastbound Loop 202 (Red Mountain Freeway) and travel east to southbound Loop 101 (Price Freeway). Drivers will continue south on Loop 101 to westbound US 60 to access eastbound I-10 beyond the closure.
Another I-10 closure, which involves both directions of the interstate to the west of Willcox, will also take place this weekend as part of a bridge deck replacement project.
Both directions of I-10 will close at Exit 336, which will require drivers to detour onto the exit and entrance ramps, from 6 p.m. Friday, Aug. 27, to 6 a.m. Monday, Aug. 30.
Drivers should prepare to reduce their speed as they approach the work zone and exit I-10.
[Related: Roads 511: Dynamic highways information in real time]
FMCSA wants to know how many trucks are operating under COVID emergency declaration
The Federal Motor Carrier Safety Administration is requesting emergency approval from the White House Office of Management and Budget to collect information from motor carriers using the COVID-19 hours of service waiver.
The waiver has been in place in some form since mid-March 2020, allowing carriers and truck drivers providing direct relief to the ongoing emergency to operate outside of normal hours of service regulations. The emergency declaration has been extended several times over the last year-and-a-half and is currently set to expire Aug. 31. It's unclear whether the agency will extend the waiver again.
FMCSA said that neither the emergency declaration nor the regulations covering emergency declarations require that motor carriers and drivers operating under the declaration report their operation to FMCSA.
"As a result, FMCSA does not know how many motor carriers or drivers are relying on the Emergency Declaration," the agency said in its request to OMB.
FMCSA added that with the "unprecedented period" that the waiver has been in effect, the agency feels it is necessary to seek information "on the number of motor carriers and drivers relying" on the waiver "to evaluate the need for future extensions or modifications."
The agency requested that OMB approve the information collection request within seven days.
[Related: COVID hours exemption not valid just because you're hauling food]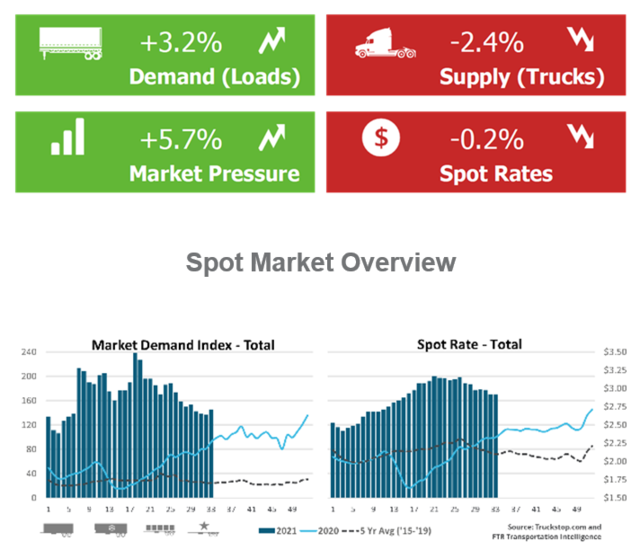 Spot market demand improves in last week | After preceding weeks of either relatively flat or down demand momentum, last week's spot market metrics tracked by Truckstop.com and FTR Transportation Intelligence saw rates move a hair down on average, with lower flatbed rates offsetting actual gains made by dry vans and reefers. At the same time, market pressure rose for carriers on increased numbers of loads and fewer posted trucks.