Trucking news and briefs for Wednesday, Sept. 1, 2021:
More COVID emergency waivers extended
In addition to the emergency COVID relief hours of service waiver that was extended through November, the Federal Motor Carrier Safety Administration has also extended other COVID-related waivers dealing with licenses and medical certificates.
Related to commercial driver's licenses, FMCSA is allowing, but not requiring, states to extend the validity of CDLs that expired on or after March 1, 2020, beyond the allowable eight-year maximum period. Under the waiver, states have the discretion to determine whether, due to COVID-19, there is a continued need to extend the validity of CDLs that expired on or after March 1, 2020. States can now extend CDL validity through Nov. 30. The waiver also applies to commercial learner's permits that were due for renewal on or after March 1, 2020.
FMCSA is also allowing states to continue to allow CLP holders to take the CDL skills test without waiting 14 days after the issuance of the CLP.
The agency is also extending the waiver from the requirement that CDL and CLP holders have a medical exam and certification, as long as the driver has proof of a valid med cert and any required medical variance issued for a period of 90 days or longer and that expired on or after June 1, 2021.
Hino debuts Class 8 hydrogen fuel cell truck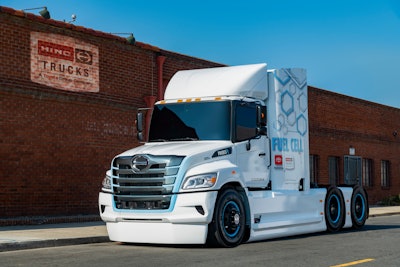 Hino Trucks debuted Tuesday its Class 8 hydrogen tractor at the 2021 ACT Expo in Long Beach, California.
In October 2020, Hino unveiled its Project Z – a development path to zero emissions Class 4 through Class 8 trucks, leaning on partnerships with technology leaders in advanced electrification drive systems. Hino itself is a subsidiary of Toyota.
Powered by a hydrogen fuel cell electric drivetrain, the Hino XL8 prototype is the first fruit of that effort.
"It's amazing what our team has been able to accomplish in a relative short period of time," said Glenn Ellis, Hino Trucks senior vice president of customer experience. "We are looking forward to validating the performance, reliability and efficiency of our hydrogen fuel cell electric system in the XL Series chassis."
Since the Project Z announcement last October, Hino Trucks Senior Vice President of Vehicle and Parts Sales Bob Petz said the company has received significant interest from customers, "and now we have something tangible to show them in our prototype FCEV."
Hyliion unveils improved hybrid powertrain
Electrified Class 8 powertrain developer Hyliion Holdings Corp. is unveiling an improved model of its Hybrid system at the Advanced Clean Transportation Expo in Long Beach, California.
The Hyliion Hybrid eX is the updated version of the company's hybrid powertrain, which offers fleets a lighter option that's easier to install, service and operate.
The Hybrid eX features a number of improvements over Hyliion's earlier Hybrid configuration, including a consolidated battery box aimed at streamlining the installation process; reduced net system weight, allowing for greater payload; new e-axle for improved efficiency; new automatic traction-assist and updated control interfaces for an improved driver experience; and more.
"The launch of the enhanced version of our Hybrid powertrain is a major milestone in our Hybrid commercialization process and reflects the ongoing work we are doing to innovate for the benefit of commercial fleets and the environment," said Thomas Healy, founder and CEO of Hyliion. "We expect these improvements to make the Hybrid that much easier for fleets to adopt, while also helping them to achieve their ESG and emissions targets."