Trucking news and briefs for Monday, Nov. 1, 2021:
Congress again kicks the can on highway funding
Late last week, amid political infighting within the Democratic Party over infrastructure and budget reconciliation measures, legislators passed a bill to extend surface transportation funding through Dec. 3. President Joe Biden signed the extension into law Sunday, Oct. 31.
This is the second short-term reauthorization bill passed by Congress this term. The bill was first passed at the end of September to keep funding going through Oct. 31, after it was originally set to expire Sept. 30.
The extension keeps the Highway Trust Fund solvent through the new Dec. 3 expiration date.
Congress has been working to pass Biden's bipartisan infrastructure framework for months, but it has been held up by Democrats who want to pass it along with a budget reconciliation bill. The budget reconciliation bill, however, has been met with opposition from certain Democrats over the price tag, delaying potential votes on the bill. Last week, Biden announced a new Build Back Better Framework that nearly cut the cost of the administration's first budget proposal in half. Democrats are working this week to move toward a vote on both bills.
Maverick Transportation driver named PFJ Road Warrior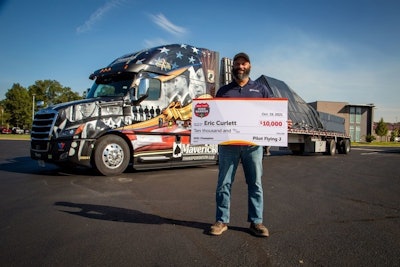 Eric Curlett, a 20-year Marine Corps veteran and current Maverick Transportation driver, was named the winner in Pilot Flying J's Road Warrior contest.
Each year, the Road Warrior is selected based upon story submission, including contributions to the trucking industry, safe driving history, miles driven and community involvement. This year, Pilot Flying J received thousands of nominations with stories about hardworking haulers from across the country.
Curlett has been with Maverick since 2015 and drives in its glass division. He was chosen as a Driver of the Month in 2018 and also drives a highly-coveted veteran truck aptly named, "Salute."
"Eric is great driver and an awesome mentor to other drivers," said Maverick President John Culp. "He is very deserving of this award and we are so proud that he is part of the Maverick team."
For winning the contest, Curlett takes home $10,000.
"After 20 years of faithful service in the Marine Corps, I knew the trucking industry had plenty of opportunities in any direction and found that open-deck trailers were the best fit for me," said Curlett. "To those that are looking to get into the industry, I recommend they research everything and don't hesitate to call companies and other drivers to get the information needed to make the decision that is right for you."
In addition to the $10,000 grand prize, Pilot Flying J awarded $5,000 to second-place winner, Eduardo Andrade, a father, grandfather, Army veteran and Master Driver for Baylor Trucking who has logged more than 2.5 million safe miles. The third-place winner, David Rosenquist, received a $2,500 prize in recognition of his 40 years as a professional driver with 5 million accident-free miles.
More than 200 Trail King step deck trailers recalled
Trail King Industries is recalling approximately 209 model year 2015-2020 TK70 AACS (all-aluminum center frame step deck), TK80 AACS, TK85 ACS (aluminum-steel combo center frame step deck), and AACS-38 trailers, according to National Highway Traffic Safety Administration documents.
In the affected trailers, the rear sliding-axle suspension beams may contact the frame reinforcement and crack, possibly resulting in the suspension beams coming loose or detaching from the frame bracket.
Dealers will add reinforcements between the hanger and the slide pan, and inspect and repair any cracks as necessary. Owners can contact Trail King's customer service at 1-800-843-3324 with recall number TK202105. NHTSA's recall number is 21V-813.