Trucking news and briefs for Friday, April 22, 2022:
Michigan rolling back spring weight restrictions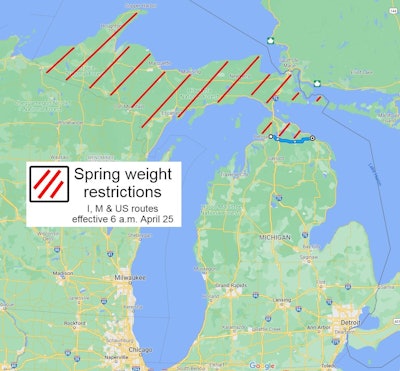 The Michigan Department of Transportation and local agencies are adjusting annual spring weight restriction areas.
Effective 6 a.m. Monday, April 25, weight restrictions will be lifted on all state trunkline highways from the southern Michigan border north to and including M-68 from the intersection with US-31 in the village of Alanson, Emmett County, east on M-68 ending at US-23 in Rogers City, Presque Isle County.
Frost restrictions are still in effect for the remainder of the state and will be imposed and enforced on all state trunkline highways north of the M-68 line. State routes typically carry M, I, or US designations.
MDOT determines when weight restrictions begin each spring by measuring frost depths along state highways, observing road conditions, and monitoring weather forecasts. Weight restrictions remain in effect until the frost line is deep enough to allow moisture to escape and the roadbeds regain stability.
[Related: Beware northern 'frost law' weight restrictions, especially in rural areas]
Love's continues growth with two new locations
Love's Travel Stops this week opened new locations in Pageland, South Carolina, and Moses Lake, Washington.
The South Carolina location offers 70 truck parking spaces, a Hardee's restaurant, five diesel lanes, four showers and more. It is the company's 12th store in the state.
The Washington store -- the company's sixth in the state -- offers 80 truck parking spaces, a Taco John's restaurant, nine diesel lanes, seven showers and more.
Driver named Highway Angel for helping fellow trucker after crash
The Truckload Carriers Association has named R.E. Garrison truck driver Mike Rivera, from Newport, Tennessee, a Highway Angel for stopping to rescue a fellow truck driver after his tanker truck flipped.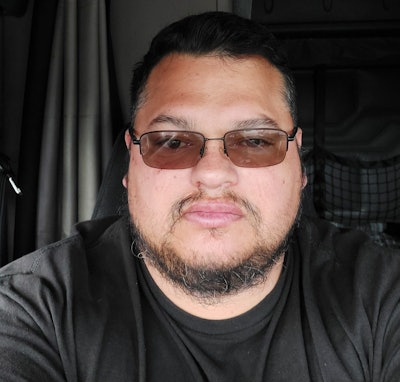 One night last fall, Rivera was driving his truck north on Route 301 just outside Gainesville, Florida, with his 12-year-old son, Nathan. A tanker truck was approaching them in the opposite lane, heading south. Just then, at an intersection, a car ran a red light, and the tanker truck swerved to avoid hitting the car. Despite the tanker truck driver's efforts, the car was struck.
"He rolled his truck, and he came and slid across in front of our truck," Rivera said. "I hit the brakes and the truck came to a stop, and I jumped out and went and mule-kicked the windshield, broke it, and we got the driver out."
Rivera said the driver had bumps and bruises but walked away from the accident. Once the driver was extracted from the truck, Rivera and other bystanders ran to the car the truck had hit to check on the driver, a young woman. Rivera said she was not seriously injured.
Once police arrived, Rivera said, "we even helped to block in some of the traffic for the Sheriff's Department."
Rivera is no stranger to putting himself in harm's way to help others. He has been a volunteer firefighter in Grassy Fork, Tennessee, since he was 16, and received medical training when he was in the U.S. Army.
"It was no big deal," Rivera said. "This is what we're supposed to do as drivers — we're the unsung heroes out here."
TCA has presented him with a certificate, patches, lapel pin and truck decals. R.E. Garrison Trucking has also received a letter acknowledging him as a Highway Angel.