Trucking news and briefs for Thursday, June 30, 2022:
Driver, three others charged in human smuggling operation that left 53 dead
The suspected driver in the grisly human smuggling operation in San Antonio in which 53 undocumented immigrants died has been charged for his involvement in the case.
Homero Zamorano Jr., 45, was charged with alien smuggling resulting in death, in violation of Title 8, United States Code, Section 1324.
According to court documents, on June 27, Homeland Security Investigations (HSI) responded to the scene of a human smuggling event involving a tractor-trailer and 64 individuals suspected of entering the United States illegally.
Laredo Sector Border Patrol provided HSI agents surveillance footage of the truck crossing through an immigration checkpoint, and the video showed the driver wearing a black shirt with stripes and a hat, which is the same clothing Zamorano was wearing when he was found in a field near where the truck was found.
Zamorano is charged by criminal complaint with one count of alien smuggling resulting in death. He is originally from Brownsville, Texas, but resides in Pasadena, Texas. If convicted, he faces up to life in prison or possibly the death penalty. A federal district court judge will determine any sentence after considering the U.S. Sentencing Guidelines and other statutory factors.
Also charged by criminal complaint is Christian Martinez, 28, who was arrested on June 28, in Palestine, Texas. He has been charged with one count of conspiracy to transport illegal aliens resulting in death.
According to court documents, a search warrant was executed on a cell phone belonging to Zamorano, and through investigation, it was discovered that communications occurred between Zamorano and Martinez concerning the smuggling event. If convicted, Martinez faces up to life in prison or could face the death penalty.
In addition to arrests of Zamorano and Martinez, Juan Claudio D'Luna-Mendez, 23, and Juan Francisco D'Luna-Bilbao, 48, both citizens of Mexico, were also arrested. According to court documents, the registration for the tractor-trailer used in the attempted alien smuggling event came back to a residence in San Antonio. SAPD officers set up surveillance on the residence and observed two males leaving in separate trucks.
After traffic stops on both trucks, the drivers were identified as D'Luna-Mendez and D'Luna-Bilbao. D'Luna-Bilboa was in possession of a handgun that was found in the center console of the truck he was driving. A search warrant was executed at the residence where additional firearms were located.
Both individuals were determined to be in the U.S. illegally and were charged by criminal complaint with one count of possession of a weapon by an alien illegally in the U.S. in violation of Title 18, United States Code, Section 922(g)(5). If convicted, both defendants face up to 10 years in prison.
[Related: Police: Suspected driver in Texas human smuggling operation 'very high on meth']
Bendix hosting ride-and-drive event in Ohio
Bendix will hold a regional Ride-and-Drive technology demonstration in Elyria, Ohio, as part of the 2022 season of its popular demo program.
The event will be held July 12-14 at Lorain County Regional Airport and will take place rain or shine, the company says.
Any fleets and dealers in the demo area, as well as drivers and driver trainers, are welcome to attend and participate. Advanced registration is requested.
During the event, participants will receive a firsthand view of advanced technologies in real-world scenarios that drivers encounter daily. Participants gain a better understanding of the performance and value these technologies can deliver, Benidx says.
Following a short safety briefing, attendees will move to the track to log time in the trucks with Bendix demo drivers. Each demo closes with a question-and-answer period facilitated by Bendix's technology experts.
Bendix will demonstrate the full spectrum of its tractor- and trailer-based safety technologies, including the flagship advanced driver assistance system, Bendix Wingman Fusion; truck, tractor, and trailer stability technologies; and the industry-dominating Bendix ADB22X air disc brake. The 2022 program will also showcase the Bendix Intellipark Electronic Parking Brake technology, as well as SafetyDirect by Bendix CVS, updates to the Bendix BlindSpotter side object detection system, and more.
Fleets and owner-operators should register using the links below.
Driver recognized as Highway Angel for helping at scene of truck fire
The Truckload Carriers Association has named truck driver Cindy Bliss, from Oklahoma City, a Highway Angel for springing into action when a truck traveling directly in front of her blew a tire, causing a fire to erupt. Bliss drives for Midwest Express out of Lenexa, Kansas.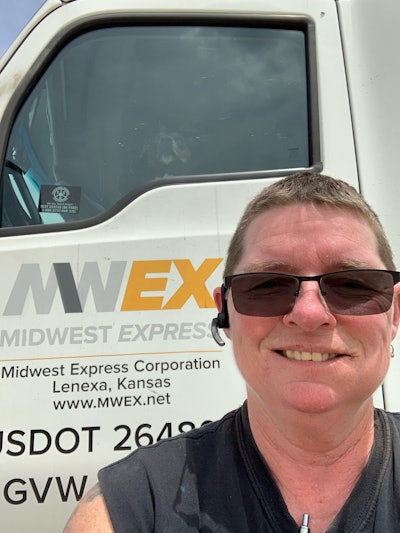 On May 1, around 11 a.m., she was driving in Nashville, Tennessee, when she witnessed the rear truck tires smoking on an 18-wheeler traveling in front of her.
"I saw the smoke," Bliss said. "I threw on my emergency flashers to keep people back."
She added that another vehicle also noticed the smoke and was able to motion to the truck's driver to pull over.
Moments later, Bliss pulled to the shoulder, as well. She said that she credits her military training, because as an Army mechanic, Bliss knew important steps to take in this situation.
She grabbed her fire extinguisher and ran to the truck to help defuse the fire. Unfortunately, both Bliss and others on the scene were unable to put out the fire, so she called 911, and instructed the truck driver to disconnect his truck from his trailer for safety.
In the end, it saved his load. The cargo was not damaged, and only the trailer exterior burned.
"It's the way my parents raised me," Bliss said in explaining why she stopped to help. "My mom said it's just in my nature."
TCA has presented her with a certificate, patches, lapel pin, and truck decals. The company has also received a letter acknowledging her as a Highway Angel.