Trucking news and briefs for Thursday, Jan. 19, 2023:
Refinery shutdown prompts eight-state hours of service waiver
The unanticipated shutdown of the Suncor refinery in Colorado, severe winter storms and high demand for gasoline, diesel and jet fuel have prompted the Federal Motor Carrier Safety Administration to declare a regional emergency, waiving certain hours of service rules for carriers providing direct support to the emergency.
The Suncor refinery was shut down following a fire that broke out on Christmas Eve and injured two workers. According to the company, the fire was put out in a timely manner, but the refinery will likely be down until March after the completion of maintenance.
FMCSA said its regional emergency declaration "addresses the emergency conditions creating a need for immediate transportation of gasoline, diesel and jet fuel and provides necessary relief."
Drivers hauling those fuels in Colorado, Kansas, Nebraska, New Mexico, Oklahoma, Texas, Utah and Wyoming are exempt from Part 395.3 (maximum driving time) of the hours of service regulations through Feb. 15, or until the end of the emergency, whichever is earlier.
Convoy launches new instant bid response feature
Digital freight brokerage Convoy has launched a new feature in the Convoy app that the company says will help carriers save time when booking loads.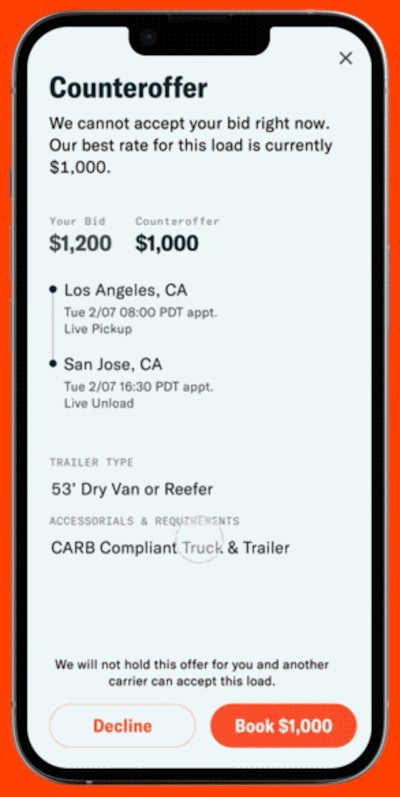 With the new instant bid response feature, carriers will receive immediate feedback and reduce the response time on bids submitted from hours to seconds. Through this upgrade, approximately 98% of bids on Convoy-sourced loads will be immediately accepted, countered, or rejected, providing carriers real-time flexibility to quickly book a load or adjust their rates and submit new bids.
The addition of in-app counteroffers provides real-time, actionable feedback on bids, reducing the risk of a carrier losing a load, Convoy said, adding that to date, engagement with counteroffers has been positive, with many bids receiving counteroffers that are subsequently accepted.
Convoy noted that instant bid response uses dynamic pricing models to quickly evaluate carrier bids and changing market conditions to determine which bids to accept, reject or counter. If a carrier's bid is rejected, however, there is no limit on how many times a carrier can bid on a load.
"Instant bid responses are an exciting evolution to the Convoy app experience for carriers," said Grant Goodale, Carrier Experience Officer of Convoy. "Providing real-time responses to bids was one of the most requested upgrades from the Convoy carrier network, and we're pleased to now be able to provide a better way for carriers to quickly and more effectively secure loads."
The new feature is rolling out throughout January to the 97% of carriers and drivers in Convoy's digital freight network who use the app to find, bid on, and book loads.
Overnight closure planned tonight for U.S. 95 in Las Vegas
Nevada Department of Transportation (NDOT) crews will close the northbound lanes of U.S. 95 at West Lone Mountain Road from 9 p.m. Thursday, Jan. 19 to 5 a.m. Friday, Jan. 20.
Northbound U.S. 95 traffic will be detoured to the Craig Road offramp, onto North Rancho Drive, and back to U.S. 95 at Rancho. The northbound U.S. 95 ramp from Craig Road will be closed during this time.
The overnight closure is required to remove falsework put in place for bridge construction over U.S. 95. Lone Mountain Road is being widened over U.S. 95 to provide increased capacity and more reliable travel times for drivers in Northwest Las Vegas.
Drivers are encouraged to use caution while traveling through work zones, and take alternate detour routes, if possible. NDOT works with Waze to inform the public about planned highway restrictions. Construction schedules are subject to change due to weather or other factors.
Public voting open for Highway Angel of the Year
Three truck drivers who performed heroic acts while on the job have been named finalists for the 2022 Highway Angel of the Year award by the Truckload Carriers Association.
Highway Angels are nominated by their employers, fellow professional truck drivers, or the motorists they've assisted and saved.
The finalists for the annual award are:
Kyle Uhrich, Trans-System: Uhrich rescued several crash victims from their burning vehicles and extinguished the fires as live ammunition was exploding as a result of the fires.
Richard Schjoth, Cheema Freightlines: Schjoth rescued two truck drivers whose truck crashed down a 75-foot embankment early one morning.
Zach Yeakley, CFI: Yeakley rescued six crash victims from a deadly, chain-reaction crash in dense fog that involved more than 45 vehicles.
The public is encouraged to cast their vote for the truck driver who best embodies the spirit of the program. The voting deadline is Friday, Jan. 27.
The winner of the 2022 Highway Angel of the Year Award will be announced during TCA's Annual Convention, Truckload 2023: Orlando, during the Awards Presentations & Lunch on Monday, March 6.
In addition to being recognized at TCA's Annual Convention and receiving a personalized crystal truck, the winner will receive a complimentary EpicVue satellite TV package that includes a 24-inch flat screen TV, a DVR, and a one-year subscription to more than 100 channels of DIRECTV programming, including premium channels such as HBO, Cinemax, Showtime, and the NFL Sunday Ticket.