Trucking news and briefs for Wednesday, Jan. 18, 2023:
FMCSA denies trucker's HOS exemption request
The Federal Motor Carrier Safety Administration, in a "Federal Register" notice to be published Thursday, has denied an exemption request from truck driver Ronnie Brown III that would have exempted him from five provisions in the hours of service regulations.
This is the second such denial in recent months, as the agency also denied a request from owner-operator Lee Schmitt in November.
Unlike Schmitt, who did not request to be exempt from the 11-hour daily drive time limit, Brown requested a five-year exemption solely for himself from the drive time limit, as well as the 10-consecutive-hour off-duty requirement, the 14-hour driving window, and the 60 hours in seven days and 70 hours in eight days cumulative limits, along with the electronic logging device regulations.
Brown said he "can safely drive and knows when he is tired and does not push beyond his limits of safety, regardless of the amount of sleep he gets or the length of drive time," adding that "always maintains a safe distance from other vehicles, has an excellent driving record, and has never been involved in a preventable crash."
FMCSA received 1,223 comments on the request, with 587 in favor of granting the exemption, 119 opposed and 515 offering no position.
In its denial, FMCSA said Brown "failed to establish that he would maintain a level of safety equivalent to, or greater than, the level achieved without the exemption." The agency added that it agreed with some commenters who said granting such an exemption for one driver "could open the door for a huge number of similar exemption requests. Such a result would be inconsistent with a primary goal of the HOS regulations," FMCSA concluded.
[Related: Owner-operator regroups after FMCSA denies hours of service exemption request]
Mack intros refreshed Granite model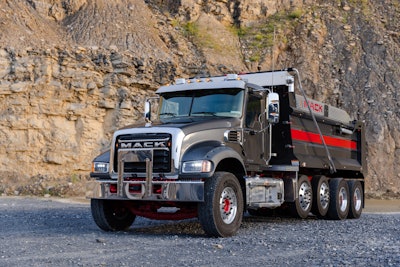 Mack Trucks debuted Tuesday an updated Mack Granite model at World of Concrete 2023, which features a new, more modern fascia with an updated chrome grille and self-heating LED headlamps that offer brighter illumination, improving forward visibility by up to 29% and peripheral visibility by up to 50%.
"The Mack brand is focused on building reliable, safe and comfortable products that help businesses maximize productivity," said Jonathan Randall, president of Mack Trucks North America. "The Granite refresh is an evolution of that DNA. The updated fascia not only looks great, but it also helps make the Granite safer to operate in a myriad of conditions and reduces strain on the operator."
Available for order in February, the new grille and air intakes modernize the look of the Granite, and the choice of two grille treatments offers customers another way to customize their vehicles, the company said. The standard grille features blacked-out cross bars surrounding the chrome Mack badge with the optional grille being all chrome.
Self-heating LED headlights round out the updates and add to the suite of safety features already on previous Mack Granite models. The integrated heating elements automatically sense the ambient temperature and turn on to keep ice and snow from building up in colder environments. An anti-fog coating prevents condensation in warmer, humid environments to improve visibility.
The new LED technology is designed to fully illuminate the road and jobsite, including the driver- and passenger-sides of the vehicle, to reduce eye fatigue, while helping operators detect objects sooner, Mack said. Safety is also improved during daylight driving through new, integrated amber daytime running lights that double as turn signals, making the truck more visible to oncoming traffic and on the jobsite.
The LED headlights are designed to be long-lasting through their high-impact polycarbonate lenses with additional hard coating protection to prevent cracking, scratching or damage to the headlight from road or jobsite debris.
In the event of damage, the headlight assemblies are designed to be easily replaced and are also backwards compatible with earlier truck models if current Granite owners choose to upgrade.
[Related: Given sky-high repair costs, used-truck warranties more valuable than ever]
Parking, restrooms, food options to remain open during W.V. Turnpike travel plaza renovations
Truck drivers traveling along the West Virginia Turnpike will still be able to stop, take a break, and pick up items for the road when the Beckley and Bluestone travel plazas shut down next month for a series of complete renovations.
West Virginia Gov. Jim Justice announced plans Nov. 18 for the renovation of the travel plazas, which will begin Wednesday, Feb. 1. Both travel plazas will be rebuilt from the ground up.
Jeff Miller, executive director of the West Virginia Parkways Authority, said that doesn't mean drivers won't be able to stop. "We will still be able to provide motorists a safe area to get off the roadway, park and rest, take a break," Miller said. "We will have those areas still open. We're fortunate at the Beckley travel plaza off Exit 45 that we do have Tamarack Marketplace located right there. They have a full-service restaurant, restrooms, retail, and grab-n-go area."
Miller said that beginning April 1, the hours of the Tamarack Marketplace, located next door to the Beckley travel plaza, will expand. The facility will open seven days a week from 9 a.m. to 7 p.m., a change from 6 days a week from 10 a.m. to 6 p.m.
Miller added that truck drivers will not have to look for alternative locations from Beckley and Bluestone for meeting, switching equipment, or fueling.
"The fueling operations, which do contain restrooms and sell snacks and beverages, will remain [open] almost through the entirety of the project," he said. "We will be able to keep all of the parking open, which is highly utilized for tractor-trailer parking."
Miller said the only time parking will be impacted will be during paving operations.
The newly redeveloped travel plazas will offer expanded food concepts, a 24-hour Mountain State Market convenience store, outdoor dining options, expanded parking for tractor-trailers and passenger vehicles, EV charging stations, separated vehicle and tractor-trailer fueling options, picnic area, and pet relief areas.
Construction of the new travel plazas is expected to be completed by late 2024.