Trucking news and briefs for Monday, Nov. 28, 2022:
ATRI seeks input from victims of predatory towing
The American Transportation Research Institute (ATRI) on Monday issued an open call for motor carriers and drivers that have been victims of predatory towing. The group opened a survey, which can be found here, to collect data on the impact of predatory towing in the trucking industry.
ATRI defines predatory towing as any incident in which a tow truck operator egregiously overcharges, illegally seizes, damages by use of improper equipment, or withholds release of a truck and/or cargo.
Recognizing its persistent negative impact on the industry, ATRI's Research Advisory Committee (RAC) identified the need to better understand this problem as a top research priority earlier this year.
[Related: Say no to legalized theft: More states should act to rein in abuse of nonconsensual tow fees]
"We all know that predatory towing is an issue, yet until now there has been no robust analysis on how, when, and where it happens or the impact of legislation designed to regulate these predatory practices," said Shawn R. Brown, Cargo Transporters Vice President of Safety. "By participating in ATRI's data-driven research, carriers will be helping to answer these questions and outline solutions."
The short survey asks carriers and drivers to share which types of predatory towing they deal with most frequently, what fees or delays they consider predatory, and in which states they have encountered predatory tows. It also seeks participants for a second round of more detailed data collection that will allow ATRI to quantify the frequency and operational impact of each type of predatory event. All data collected will be kept completely confidential.
[Related: Owner-operator Glenn Keller on a mission to combat predatory towing]
Rates bottoming-out process underway
The latest release of ACT's For-Hire Trucking survey, a monthly questionnaire aimed at for-hire trucking service providers, showed the Supply-Demand Balance index increased as volumes ticked up, and freight rates continued to decline.
"The reading reflects a loose trucking market and a late stage in the freight cycle," said ACT Research Vice President & Senior Analyst Tim Denoyer. "We believe the bottoming process has begun, and it's possible that supply factors -- including tight diesel inventories -- could shorten the downturn."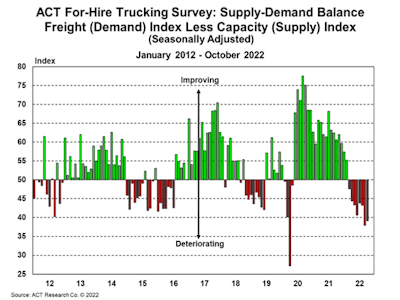 ACT estimates show spot rates are further below costs than ever before, "which could shorten the bottoming process," Denoyer said. "We also polled our fleet friends on contract terms and found some shippers pressing for more shorter-term contracts.
"The seeds of the next tighter environment are being sown as rising costs and falling spot rates threaten the viability of the significant small fleet capacity which has recently entered the industry," he added, "and for the mostly larger fleets in our survey, capacity growth has slowed for three straight months."
[Related: By the numbers: Migration back to leasing evident in mid-year analysis as spot rates crash]
Two West Virginia travel plazas undergoing renovations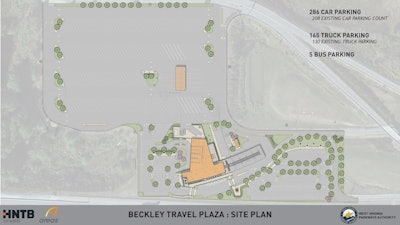 Two travel plazas long the West Virginia Turnpike will undergo a complete renovation and will close for nearly two years.
West Virginia Gov. Jim Justice announced plans Nov. 18 for the renovation of the Beckley and Bluestone travel plazas -- the plans for which were approved by the West Virginia Parkways Authority on Nov. 16.
The Beckley and Bluestone travel plazas will be closed beginning Wednesday, Feb. 1, 2023, to begin demolition and site redevelopment. Both travel plazas will be rebuilt from the ground up. The Morton Travel Plaza near Burnwell will remain open until renovations to that facility begin in 2025.
Construction of the new travel plazas is expected to be complete by late 2024.
In May 2022, the Parkways Authority approved the expenditure of $152 million spread over three fiscal years to revamp the Turnpike's travel plazas. Plans were based on results of a 2021 survey of Turnpike travelers, which included truck drivers who look to the travel plazas for safe and secure parking.
The newly redeveloped travel plazas will offer truckers and motorists expanded food concepts, a 24/7 Mountain State Market convenience store, outdoor dining options, expanded parking, EV charging stations, separated vehicle and tractor-trailer fueling options, a picnic area, and pet relief areas.
The Beckley Travel Plaza will offer a drive-through, increased restroom facilities, bus parking, and more.