Trucking news and briefs for Monday, March 13, 2023:
Bills supporting hydrogen infrastructure buildout reintroduced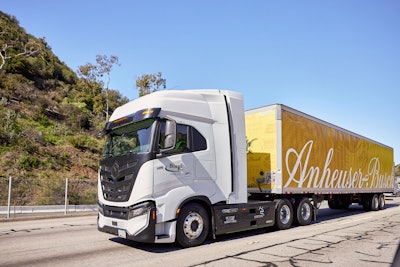 U.S. Senators Chris Coons (D-Delaware) and John Cornyn (R-Texas) on March 2 reintroduced their bipartisan Hydrogen Infrastructure Initiative, a package of four bills to support the adoption of hydrogen to power energy-intensive sectors. Senators Ben Ray Luján (D-New Mexico), Bill Cassidy (R-Louisiana), John Hickenlooper (D-Colorado), Lisa Murkowski (R-Alaska), and Martin Heinrich (D-New Mexico) are also cosponsors.
The Hydrogen Infrastructure Initiative is comprised of four pieces of legislation that provide targeted support to high-value end-use applications of hydrogen and the buildout of infrastructure needed to transport, store and deliver hydrogen. The initiative is focused on providing critical support for energy-intensive sectors for which hydrogen is particularly well-suited, namely maritime, trucking, and heavy industry, as well as the infrastructure that is needed to transport hydrogen from where it is produced to where it can be used and stored.
Priority is given to projects that will maximize emissions reductions to deliver the greatest environmental benefits. By lowering cost barriers and first-mover risks, the Senators said the package enables projects and partnerships that will move the United States closer to meeting the demands of a robust hydrogen economy.
Specifically for trucking, the Hydrogen for Trucks Act would support the demonstration of heavy-duty fuel cell vehicles and hydrogen fueling stations while collecting critical data to inform future investments in hydrogen trucking infrastructure.
The legislation would lower cost barriers and reduce risk for fleet operators interested in adopting hydrogen fuel cell vehicles by providing data and benchmarks, thereby incentivizing private investment and accelerating demonstration and deployment, the Senators said. In addition, the parallel adoption of vehicles and fueling stations will ensure their immediate utilization in the hydrogen economy.
[Related: Cautionary tale: Trucker advises federal reps on lessons learned from emissions systems' rocky rollout]
Navistar recalls 32,000 trucks over ECM, BCM issues
Navistar has issued two recalls affecting more than 32,000 International vehicles due to issues with the engine control module (ECM) and body control module (BCM), according to National Highway Traffic Safety Administration documents.
One recall affects approximately 27,972 model year 2022-2024 HV and MV trucks, and 2022-2023 IC Bus TC commercial buses. When the parking brake is applied, the automatic transmission is still in drive or reverse position, and the stationary power take-off (PTO) switch is engaged by the operator, the engine may rev and overcome the parking brake's ability to keep the vehicle from moving.
According to Navistar, there are 6,093 International HV models in the affected population, along with 21,710 MV trucks. The remaining 169 units affected by the recall are IC Bus models.
Dealers will update the Cummins ECM software, free of charge. Owner notification letters are expected to be mailed April 24. Owners may contact Navistar's customer service at 1-800-448-7825 with recall number 23504. NHTSA's recall number is 23V-120. The recall expands on a recall of more than 17,000 International trucks issued in 2021.
The other recall affects 4,199 model year 2018-2021 International HV, 2019-2021 RH, 2019-2022 MV, and 2022 International HX vehicles. A software error in the Body Control Module (BCM) may cause the parking brake to fail.
Navistar said there are 2,690 HV series trucks, one HX series truck, 1,491 MV series trucks and 17 RH series trucks in the suspect population.
Dealers will update the BCM software, free of charge. Owner notification letters are expected to be mailed April 24, 2023. Owners may contact Navistar's customer service at 1-800-448-7825 with recall number 23503. NHTSA's recall number is 23V-119.
Senators reintroduce bill to ease CDL access for military vets
U.S. Senators Deb Fischer (R-Nebraska) and Alex Padilla (D-California) last week reintroduced legislation to ensure veterans can utilize their GI benefits at new branches of commercial driver's license (CDL) schools whose primary institutions have already received regulatory approval.
Currently, if an approved trucking school opens a secondary facility in a new location, existing laws require the U.S. Department of Veterans Affairs (VA) and state regulators to deny the branch's ability to receive GI benefits for two years.
"Frustrating red tape is inhibiting some veterans from pursuing a career in trucking, which is vital to our modern economy," Fischer said. "I'm proud to reintroduce legislation with Sen. Padilla that will reverse unnecessary regulations and allow more veterans to take advantage of their well-earned GI benefits."
According to a press release about the legislation, there are an estimated 8,400 commercial driving programs approved for use by eligible veterans under the GI bill.
The Fischer-Padilla legislation would ensure CDL schools that offer courses at new branches do not have to wait two years if the primary institution has been approved by the VA and State Approving Agencies to receive GI benefits. By clarifying this two-year moratorium statute, the bill will allow veterans more accessibility to nearby CDL schools and lead to high paying careers in the industry, the senators said.
The bill was introduced March 8 and referred to the Senate Committee on Veterans' Affairs, where it would need to be approved before moving to the full Senate floor.