Trucking news and briefs for Wednesday, March 15, 2023:
Tijuana resident sentenced in double-broker identity theft scheme
On Feb. 24, the U.S. District Court for the Southern District of California sentenced Alexis Castillo-Padilla of Tijuana, Mexico, to 30 months in prison, three years of supervised release, $239,904 in restitution, and a $400 special assessment.
On Oct. 6, 2022, Castillo pleaded guilty to four counts of wire fraud related to a double-broker scheme.
According to the Department of Transportation's Office of Inspector General, an investigation revealed that from around 2015 until October 2017, Castillo led a double-broker scheme in which he stole the identity of an interstate carrier and agreed to make deliveries using the company's stolen identity.
Rather than delivering the loads, Castillo posed as a shipper and re-brokered the same loads to other carriers who delivered the freight. Castillo collected the payments for the completed deliveries but did not pay the carriers who actually delivered the loads.
[Related: Don't be a victim: How to guard both personal and business identity to prevent theft]
California court reverses AB 5 for Uber drivers, but not truck drivers
A California state appeals court on Monday upheld a ballot measure allowing apps like Uber and Lyft to treat their drivers as independent contractors, rather than employees.
The court found the ballot measure, known as Proposition 22, actually was constitutional, but did strike down a part of the proposition that limited gig workers' ability to organize and join unions. Uber and Lyft celebrated the victory in court, and their stock prices shot up a few points each on the news.
California voters backed Prop 22 in November 2020 when it won nearly 60% of votes in California. Prop 22 exempted app-based drivers from AB 5, meaning they could continue to work as independent contractors.
Meanwhile, the California Trucking Association still seeks an injunction against AB 5 in the lower courts, and the appeals court's recent ruling has no bearing or benefit for the trucking industry. California's deadline to respond to the challenge has been extended to March 29.
[Related: AB 5 protests: California doesn't get it, or maybe just doesn't care]
Mack accepting calendar submissions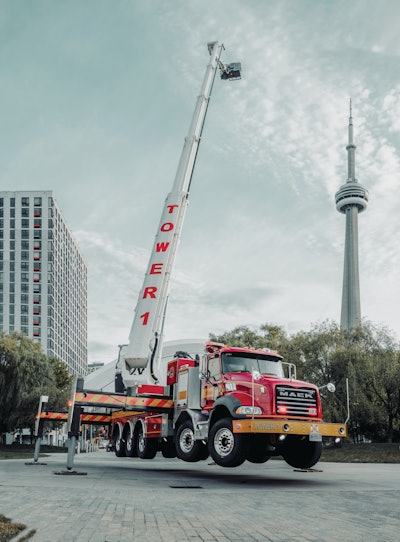 Mack Trucks is launching its Mack Calendar Contest for 2024. The contest is an opportunity for Mack customers to show off their Mack pride online, and if chosen, be featured in the 2024 calendar.
Mack customers can submit photos of their truck to be included in the voting.
For the first time, video submissions will also be accepted. Mack fans will be able to vote for their favorite submission on the contest website. The entries that receive the most votes in each category will be featured for one month in the 2024 Mack Calendar, earning glory and bragging rights with their peers.
[Related: Enter Overdrive's 2023 Trucker of the Year competition]
The entry period for the contest runs from March 15 through April 15, while the online voting runs from April 1 through April 30. Voters are allowed to vote once daily for their choice.
"This calendar contest is a fun way for Mack owners and operators to show what makes the connection with the Mack brand so special," said David Galbraith, Mack vice president of global brand and marketing. "The passion and attachment they have to Mack trucks is remarkable and demonstrates why this company remains so important to the trucking industry 123 years after its founding."
In addition to newly accepted video entries, several other enhancements have been added this year to the entry and voting procedures:
Video entries submitted along with a truck photo will receive 100 bonus votes
To celebrate Mack's sponsorship of the American Society for the Prevention of Cruelty to Animals, any photo entry of a truck with a dog will receive 100 bonus votes
Video entries that include a dog will net 175 bonus votes
Bonus Vote Days -- Mack's social media channels will post special promotions where daily votes could count for double or even triple points
All entries are eligible to be promoted to Mack's 600,000-plus followers across its social channels.
The contest is only open to trucks in revenue operation -- that is, trucks currently working and not collector or antique vehicles. The voting categories are aligned with Mack's truck models: Mack Anthem, Granite, TerraPro, Mack LR, Mack MD and Pinnacle, plus a legacy category for models no longer in production but still in revenue operation. Full contest rules and procedures are found on the contest website.
Winners will be announced in early May, and Mack Trucks will schedule a professional photo shoot for each winning entry for the calendar.
[Related: Running the lease roads to well sites with operator Edward Jackson of John McGee Trucking]