Trucking news and briefs for Monday, May 1, 2023:
FMCSA names members to new task force combating predatory leasing
The Federal Motor Carrier Safety Administration on Monday announced the nine members who will serve on the Truck Leasing Task Force (TLTF), which will evaluate lease agreements in the industry and their potential safety and financial impacts on owner-operators.
The TLTF will address areas that have long needed intense focus, FMCSA said, and will be tasked with providing best practices to assist drivers in assessing the impacts of a leasing agreement prior to entering into such agreement, and recommendations on changes to laws to promote fair leasing agreements. TLTF's work will contribute to FMCSA's efforts to ensure that drivers have access to fair leasing agreements, the agency added.
"The Truck Leasing Task Force addresses one of trucking's great challenges. Leasing can have a major impact on people choosing trucking as their career, and protecting drivers is of the utmost importance," said FMCSA Administrator Robin Hutcheson. "FMCSA is committed to addressing issues that may impact the recruitment and retention of drivers in the trucking industry."
TLTF members include representatives from labor organizations, motor carriers, consumer protection groups, owner-operators, and other businesses, as well as attorneys and educators.
The nine members who will serve on FMCSA's Truck Leasing Task Force are:
Tamara Brock, Brock Logistics, LLC and Lewis & Lewis Logistics, LLC (independent owner-operator)
Paul Cullen, The Cullen Law Firm, PLLC (attorney)
Troy Hawkins, TTOH Consulting & Logistics, LLC (independent owner-operator)
Jim Jefferson, Owner-Operator Independent Driver Association (consumer protection)
Joshua Krause, OTR Leasing, LLC (business)
Kaitlyn Long, International Brotherhood of Teamsters (labor organization)
Steve Rush, Carbon Express Inc. (carrier)
Lesley Tse, Animal Defense Partnership, Inc. (attorney)
Steve Viscelli, Ph.D., University of Pennsylvania (economic sociologist)
Women of Trucking Advisory Board meeting set for this month
The Federal Motor Carrier Safety Administration's Women of Trucking Advisory Board (WOTAB) will hold a virtual public meeting May 16 to discuss crime prevention for women drivers and barriers for women minority groups entering the trucking workforce.
The public is invited to attend the virtual meeting, and advance registration is required. Registration will be made available here at least one week before the meeting.
Oral comments from the public will be heard during designated comment periods at the discretion of the WOTAB chair and designated federal officer.
The meeting is set to be held from 10 a.m. to 4:30 p.m. Eastern time on Tuesday, May 16. The first part of the meeting will be a continuation of the board's November meeting, which covered crime prevention. The second item on the agenda covers barriers to the participation of women minority groups to entering the trucking workforce.
[Related: FMCSA's Women of Trucking Advisory Board has a lot to offer men]
Knight-Swift suddenly closes CDL schools
The National Tractor Trailer School, a CDL school owned by Knight-Swift, stopped enrolling new students on Thursday. The school, with locations near Syracuse and Buffalo, New York, and one in Phoenix, Arizona, told Overdrive they were "not even sure" exactly why the school had shuttered, but that its parent company made the decision.
Knight-Swift could not be reached for comment, but the company just reported a rough first quarter that saw profits dive more than 50%.
Company CEO David Jackson described in the earnings report "unusually soft demand experienced" throughout Q1, which he said had continued into April. Jackson said he expected that weakness in demand to "drive capacity from the market" and that the company was "already positioning ourselves to prepare for the impending freight recovery, including the announced transaction to acquire U.S. Xpress later this summer."
[Related: Get ready for the next downturn: It's right around the corner]
Waabi launches Million Mile Driver Advisory Board
Autonomous truck developer Waabi last week announced the launch of what the company said is the autonomous trucking industry's first Million Mile Driver Advisory Board.
Waabi said the board is meant "to give the world's most experienced truck drivers -- those who have safely driven over a million miles -- their long-overdue seat at the AV development table."
The company added that members of the advisory board have the "opportunity to help influence and shape the industry they have spent their lives in. Even more so, it's a chance for them to continue ensuring the roads and highways they have logged so many miles on remain safe, especially as new drivers take the reins."
The board currently has seven members:
Marcus Carter Sr., Warrior Logistics
Jack Fielding, Bison Transport
Larry James Holmes, U.S. Xpress/Variant
Anita Lee, Total Transport
Josh Nichols, Paper Transport
Steve Peters, Trimac
Jacqueline Vasquez, CRST
"Waabi wants to make sure every truck driver can stay safe and retire as a truck driver," the company said. "The Million Mile Driver Advisory Board is an important step toward a more intentionally transparent relationship with best-in-class drivers. We are peeling back the curtain of AV development and integrating their input and wealth of real-world expertise into our technology."
[Related: California lawmakers looking to ban automated trucks with no safety driver]
New venture seeks to provide battery charging, hydrogen fueling for heavy-duty trucks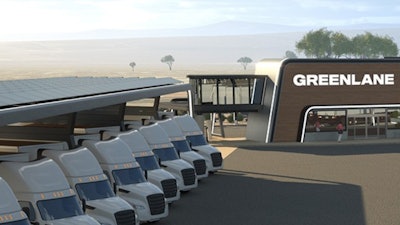 Daimler Trucks North America, NextEra Energy Resources, and BlackRock Alternatives, through a fund managed by its Climate Infrastructure business, has announced Greenlane, a new joint venture to design, develop, install and operate a nationwide, high-performance zero-emission public charging and hydrogen fueling network for medium- and heavy-duty battery-electric and hydrogen fuel cell vehicles.
Greenlane said it will address the growing need for a publicly available, nationwide electric charging infrastructure for commercial vehicles, especially for long-haul freight operations, and is a critical step toward developing a sustainable electric vehicle ecosystem across North America.
The more than $650 million joint venture has made significant progress since its inception in 2022, the companies said. Greenlane's first site will be in Southern California, and multiple additional sites are being acquired along various freight routes.
Dedicated software and hardware teams are working on developing a custom commercial vehicle reservation platform to provide fleet managers, dispatchers and drivers with what the company said will be an industry-leading customer experience.
The network of charging sites will be built on critical freight routes along the east and west coasts and in Texas. Greenlane said it will also leverage existing infrastructure and amenities while adding complementary greenfield sites to fulfill anticipated customer demand. Greenlane's initial focus will be on battery-electric medium- and heavy-duty vehicles, followed by hydrogen fueling stations for fuel cell trucks, with plans to expand access to light-duty vehicles in the future to serve the greater goal of electrifying mobility.
The company did not say when it expected to begin work on installations.