Trucking news and briefs for Tuesday, Aug. 15, 2023:
FMCSA investigation finds nearly 200 improperly inspected propane tankers
A Federal Motor Carrier Safety Administration investigation at Meeder Equipment Company Inc./Ransome Manufacturing in Fresno, California, found that 186 DOT-specification cargo tank motor vehicles had been improperly inspected by the manufacturer.
According to a joint notice from FMCSA and DOT's Pipeline and Hazardous Materials Safety Administration (PHMSA), the tankers were primarily MC-330 and MC-331 CTMVs used to transport propane.
FMCSA's investigation found that the tankers had been tested and inspected by a person who did not meet the qualifications of a "Registered Inspector." The affected units must be retested and reinspected by a qualified "Registered Inspector" to ensure they are compliant for hazardous materials transportation.
Federal regulations require that MC-330 and MC-331 CTMVs transporting propane must successfully undergo internal and external visual inspections, and leakage and pressure tests at certain intervals specified in the regulations. The inspections and tests conducted on the 186 tankers in question included internal visual inspections and pressure tests dating back to July 2018, and external visual inspections and leakage tests dating back to July 2022.
Anyone in possession of a potentially affected tanker should contact Meeder Equipment/Ransome Manufacturing to determine whether it's in compliance with hazmat regulations. The company can be contacted at [email protected] or by phone at (559) 485-0979.
FMCSA and PHMSA noted, however, that "no imminent safety vulnerabilities have been identified to date," so the agencies, through Nov. 10, will not be taking enforcement action against anyone using the tankers.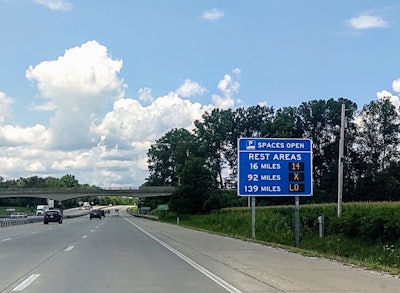 [Related: New site to reserve parking something of an 'AirBnB' for facilities]
Teletrac Navman launches new dual-facing AI camera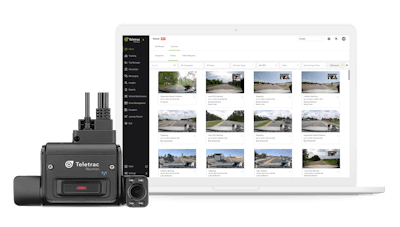 Teletrac Navman announced Monday the launch of its IQ Camera, an AI-powered, dual-facing dash cam that is integrated with Teletrac Navman's TN360 fleet management software to give fleet owners a unified view of their video and telematics data to better understand events and provide driver coaching.
The fully connected IQ Camera uses sensors and video AI to review every minute of drive time and understand driver behavior. Together with TN360, the IQ Camera pulls driver performance data into a single location, giving fleet managers a full view of performance so that they can implement reward programs and identify areas for improvement, the company said.
"The IQ Camera makes it easy for fleets to prioritize safety and protect drivers on the road. This new solution complements the existing range of video telematics offerings, that are all now fully integrated into TN360," said Mayank Sharma, Head of Global Product Management & UX at Teletrac Navman. "This gives customers the flexibility to choose the ideal camera solution that protects drivers, simplifies safety programs, and streamlines coaching."
[Related: Telematics beyond ELD systems: Promise, redundancy, and real expense/uptime benefits]
The IQ camera also allows fleets to be managed in real-time and takes coaching into the cab, with driver assistance and status monitoring. Its built-in Advanced Driver Assistance (ADAS) and Driver Status Monitoring (DSM) features, that include forward collision, tailgating, distracted driving and drowsy driving, provide real-time feedback to drivers so they can make instant improvements.
The dual-camera system is highly configurable and can help managers and operators garner better understanding of what has occurred with high-quality footage before, during, and after an event. Video data is automatically uploaded to the TN360 connected platform for immediate viewing, allowing managers to identify high-risk actions and provide transparent feedback to their drivers.
[Related: Can AI transform the prying eyes of in-cab cameras for the better?]
Maverik fuel stops now accepting Comdata
Western U.S. fuel stop chain Maverik announced Monday that fleets utilizing Comdata can now fuel up at its locations.
Drivers with fleet and fuel cards can enjoy the chain's wide range of amenities and fuel offerings for commercial fleets across 12 Western states, with more new stops in the works.
"Comdata offers fleet cards and fleet fueling services to thousands, and we're excited to now be able to serve even more customers on the road with the great food, products, value, service, and convenience that Maverik is known for," said Kerby Cate, Director of Commercial Fuels Marketing at Maverik.