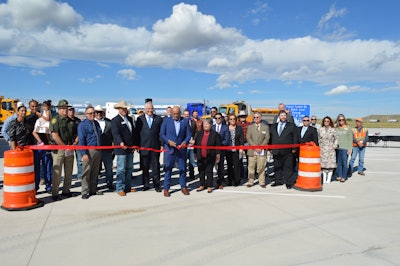 Wyoming DOT
Wyoming's treacherous stretch of I-80 has received a facelift and about 200 new truck parking spaces following the "winter from hell" that saw drivers stranded for days and road crews battling nightmare snowdrifts.
The new truck parking spaces at Quealy Dome (near mile marker 290) and at Fort Steele Rest Area (MM 228) between Laramie and Rawlins had a grand ribbon cutting ceremony, with state and federal officials in attendance, and even a shoutout from DOT Secretary Pete Buttigieg on Twitter. The stops are accessible from both east and west lanes.
The full project included more than just truck parking, with truck climbing lanes at Halleck Ridge (MM 250.5-252.5 eastbound) and at Cooper Cove (MM 279.5-281.5 westbound), as well as 12 miles of wildlife fencing, 6.75 miles of pavement overlay on I-80 at EB Halleck Ridge, and a new salt and sand storage building at Quealy.
The total cost? $34 million dollars. Even granting $14 million for the non-parking projects, that's at least $100,000 per truck parking spot.
Long Haul Paul Marhoefer, storied Overdrive contributor and one of the unfortunate few caught out in the snow on I-80 last winter, called the spots "a gain, but still suboptimal."
Sparsely populated states like Wyoming don't rank on the worst regions for truck parking list. Some truckers report easy pickings along I-80, but a serious winter storm can push that to the breaking point.
Some truckers stuck in that "winter from hell" period of frequent I-80 shutdowns early this year, where crews sometimes labored for half a day just to reopen the road for a few hours, did report a lack of food options.
Unfortunately, the new truck parking spots don't have food, or restrooms. The Quealy Dome spots are just 100 yards or so from the Akal Travel Center, run by small fleet owner Mintu Pandher and crew, profiled by Overdrive in 2018.
At Akal, drivers who brave the short walk (sometimes iced and snowed over) can grab some food, but according to LHP, drivers these days don't expect much. "It's the unfortunate reality, and this has maybe been exacerbated by COVID," he said. "Drivers are just sort of consigned to this new normal of in-housing" basic human needs.
[Related: Driver caught using tablet at highway speeds on I-80]
"About every driver I know that runs out there has some sort of makeshift toilet facility, a camping toilet or something, and you pack your food," he said. "The new normal is you can't assume you're going to have access to restroom facilities."
The situation is "much more fraught for women drivers," but still, said Paul, it's an improvement.
"I'm not doing cartwheels, but it's not nothing," he said. "I'm grateful to know there's more parking spaces there with or without restroom facilities."