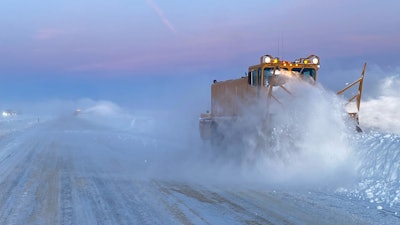 Wyoming DOT
Update: As of Wednesday morning, I-80 in Wyoming is open.
Original story follows
Wyoming's I-80 closed in large part on Tuesday despite round-the-clock efforts from road crews to clear the staggering snow drifts that have left drivers stranded and produced dramatic close calls on the interstate.
"Right now we still have closures on I-80 from Laramie all the way to Evanston," Wyoming DOT spokesperson Doug McGee told Overdrive on Tuesday. That means besides a short length in and out of Cheyenne, the entire mountain pass of I-80 has buckled under intense snow drifts.
On Monday, WYDOT hoped to have the road opened by the evening, but I-80 keeps closing mere hours after it reopens. "High winds continue to plague our maintenance operations," he said.
Monday saw winds reach 84 mph, according to the National Weather Service, which predicts 65-70 mph gusts for the next few days.
"One of the issues we're running into is that we spend 10-13 hours opening a road, we get it open, and usually within anywhere from two to six hours, there's a crash, so we have to close at least that side" of the interstate, said McGee.
As of Tuesday, WYDOT has temporarily given up on predicting a time to reopen.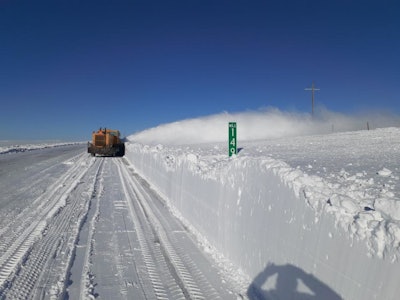 "The crashed and parked vehicles create more drifting, so even after the investigation, all this drifting snow that formed around the vehicle sometimes has to be dug out with front loaders and the vehicles pulled out with tow trucks," said McGee.
Footage and photos from the scene illustrate McGee's point in shocking contrast. Previously, McGee told Overdrive how snow drifts render Wyoming's stretch of I-80 impassable even without fresh snow. Incredibly dry, fluffy snow simply blows in the wind, leaving WYDOT's road crews a task akin to sweeping against an ocean tide with a broom.
Despite valiant efforts from road crews, Wyoming's regular inventory of plows isn't cutting it this year, said McGee. "Generally what we're seeing is that a standard plow operation goes by and throws the snow up," only to have it blown back into the road, if the wind so chooses.
"We have to bring in big rotary plows, that throw the snow a lot higher and further, but they move significantly slower," than normal plows drivers may be used to seeing. This necessitates bringing in "snow Cats with plows on the front to push the snow down to a depth where the rotary plows can get it," he said.
WYDOT is running front end loaders and bulldozers on shifts that would make your ELD blow a fuse, and the least populous state also suffers from a staffing shortage.
"We're short staffed, just trying to bring in other operations with their equipment, but in places we're working crews pretty thin, pretty much to the bone," said McGee.
WYDOT does all this work knowing that drivers are stuck and stranded. "We're certainly hearing from quite a few folks... truckers stuck in a location for various reasons, either they're between closures so they can't go back and reroute, or they're told by the company or dispatcher they have to wait," he said.
With just a few hour windows between shut downs, and driver hours regs and rest needs complicating matters, McGee acknowledged WYDOT was working as hard as it could to free up the roads.
Importantly, WYDOT requires drivers, especially professional drivers in big trucks, not to park on the side of the road or on ramps.
"The folks parked on the side of the road or on a ramp, they're actually impeding the plow operations. We need that shoulder area as a place to throw snow, to clear those ramps and roads," said McGee. "The challenge is, many of our communities have limited parking, especially if you're the size of a truck, there's definitely limited parking, but we do need folks to find somewhere to park that isn't in our system, possibly working with locals to direct them."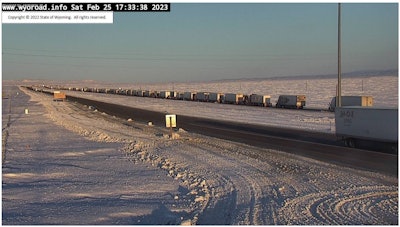 Ultimately, drivers on I-80 find themselves facing the "between a rock and a hard place" dynamic, much as WYDOT does. Images from the interstate show that there's really no way a truck could veer off to the side.
Wyoming Highway Patrol last week said it was undertaking search and rescue operations for stranded motorists.
Speaking directly to the professional driving public and Overdrive's readers, McGee said "when we do get the road open, I'm sure everyone is very frustrated, and people are trying to make up lost time, but we are asking people to please slow down, as soon as someone crashes, the road closes for everyone."