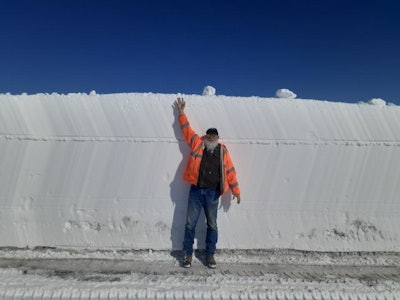 Wyoming DOT
Wyoming's beleaguered stretch of I-80 shuttered again on Monday due to snowdrifts and whiteout conditions, leaving drivers stranded for days in truck stops mostly concentrated around the Cheyenne area.
I-25, often closed alongside I-80, fared a little better, as it's currently open for most, but closed to "light, high profile vehicles due to gusting winds."
I-80 enjoyed precious few hours of operability this weekend, but as of noon local time, Wyoming's Department of Transportation predicts it will be three to seven hours before anything West of Cheyenne opens up.
I-80 in California, from Applegate to the Nevada state line, was also closed on Monday due to "zero visibility."
The constant shuttering of the major artery has turned local truck stops into temporary villages, with drivers telling local outlet The Cowboy State Daily the recent run of closures have left some stranded for days.
"It's a very tightknit community, if you will," OTR hauler Zayy Bullard told the outlet. "We're different people who have different experiences, you know. Sometimes I blow my horn at other truck drivers. But at the end of the day, we're still brothers and sisters in arms."
At the Antelope Truck Stop between Pine Bluffs and Cheyenne, the owner reported drivers stuck for "four or five days, some for almost weeks."
"People are stuck, they're not happy, but they can't open the roads because of too many accidents," the truck stop owner continued. "But that's mother nature, that's part of life."
Snowdrifts have created no shortage of dramatic dashcam videos.
Previously, Overdrive reported on what exactly makes Wyoming's stretches of I-80 and I-25 more prone to extreme weather events than other segments of the same highway.
Road closures along I-80 have become such a headache that the state's legislature has discussed rerouting the interstate between Laramine and Rawlings. Local media, however, suggested the project's estimated $12.6 billion cost would make the move untenable. A spokesperson for Wyoming's DOT said those discussed rerouting plans remained "theoretical," and nobody is seeking funding now.
"Wyoming is essentially a 400-mile long mountain pass" said the spokesperson, Doug McGee. "The average altitude is 6,000 feet. You won't find that anywhere else on I-80," said McGee. "The summit, near Telephone Canyon, is over 8,000 feet, so the consistently high altitude combined with long low temperatures and sustained high winds -- those three things combined to create a really difficult challenge."
McGee said that at that altitude, even without fresh snow, I-80 can white out in an instant with high winds and blowing snow.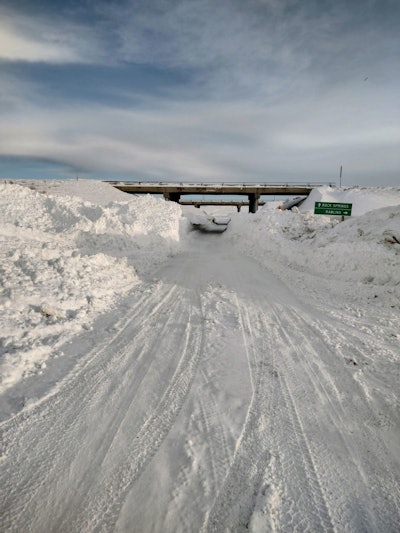 Though some operators might lose their cool when I-80 closes without any fresh snow, McGee emphasized Wyoming's DOT is thankful for truck drivers. "We certainly appreciate the truckers," he said. "Our economy rides on those wheels."
[Related: Roads 511: Highway information in real time]