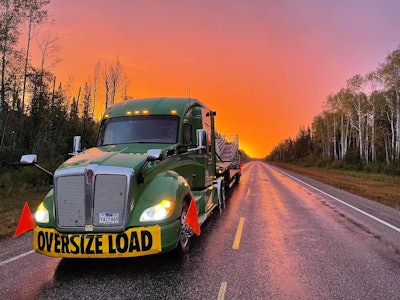 Professional Transportation Services owner Nick Hewitt came to PTSI originally as a commissioned freight agent on a handshake deal with the ownership at the time, following a couple decades in trucking, as an owner-operator and then dispatching for a different company in the Pacific Northwest, Ram Trucking. Ram's "still very much a going concern," he said. "We have a good working relationship with them" to this day, a testament to Hewitt's ability to manage long-term business connections in spite of past splits.
He spent years building business for then-all-owner-operator PTSI before, on December 1, 2008, with the Great Recession bearing down on the nation, the then-owners "called me and said, 'We've had a good run.'" They'd been in business out of Boise, Idaho, since 1979.
"We think it's time to hang it up," they said, with plans to shutter the business as of the first of the next year, exactly one month out. Hewitt and his wife, Ruth, got busy trying to plan for what they would do next. The next day the owners called again and offered to turn the company over to them "if you can pay off our receivables," as they put it.
As Hewitt told the story, "we needed to borrow $750,000 to make it fly."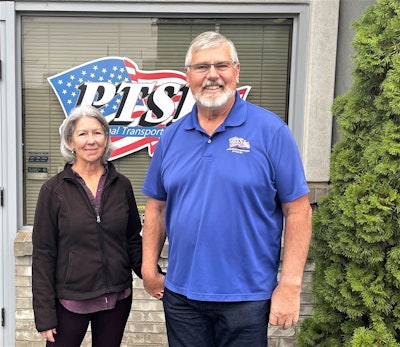 The reality of Hewitt's situation was on his side, there, though. By then, Hewitt alone was responsible "for 75% to 80% of all of PTSI's business," he said. Ruth put together a spreadsheet showing past performance and future projections, then took it all down to the bank. "We had everything in place by the first of the year, and on January 1 PTSI opened up under our ownership."
Today, the company operates a 10-company-truck fleet, with five owner-operators also leased on, pulling mostly platform freight on step decks outfitted with ramps for wheeled equipment. PTSI is among 10 semi-finalists for Overdrive's 2021 Small Fleet Champ award, whose winner will be announced next week in Nashville, Tennessee. .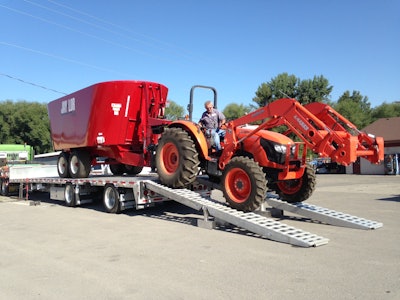 Nick Hewitt started his trucking career as a driver in 1977, having just turned 21 and let go from work as a machinist and welder in his native Virginia. He'd driven farm trucks growing up, so he figured he could handle whatever a trucking outfit threw at him.
Only Athey Trucking, now Athey Freightways, he said, would give him a chance. "They said go down to the DMV" to get his chauffeur's license. "Back then, I had just one question to answer – 'Have you driven such and such a vehicle over 500 miles?' I checked yes and got my chauffeur's license. It was that easy back then."
Athey put him behind the wheel of a 1962 Mack tractor with a triplex with owner Bill Athey's son, Joe, for a few night trips out. The first trip out went north to Bay Shore, Long Island, in New York to a bakery, "driving through the Bronx in this worn-out Mack," he said. Plenty in the way of sights, sounds, senses Hewitt won't soon forget. "Fourth night they turned me loose by myself," and he was off to the races.
Hewitt's done a little bit of everything in his long career, from graduating to truck ownership after a lease-purchase of a 1977 White Road Commander 2 tractor through North American Van Lines. There, he began to learn the ins and outs of the basics of the trucking. After bedbugging for a time, he set his sights on the company's smaller flatbed division. There, a "lot of the times you were left to get your own loads," he said, knocking on doors at this or that truck stop's brokers-alley customers.
At one in Fairfield, he got to know a Melton Truck Lines-affiliated broker/agent – Melton at the time was "around 600 trucks, all owner-operators," he said. He got a loan and paid off the North American lease-purchase – he found a cutoff with a tag-axle and turned the Road Commander into a three axle.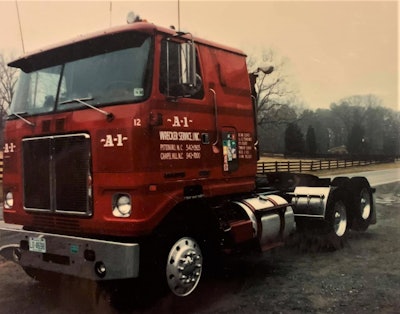 And off he went, running with Melton, where he got his first taste of managing more than just his own truck, learning bedrock money management would serve him well. An associate's Ford CL9000 tractor's 400-hp Cummins engine went down, and the friend couldn't afford the rebuild. Hewitt struck a deal with the operator to rebuild the engine on Hewitt's own dime, taking ownership of the rig while he was repaid.
When the rebuild was done, though, the associate owner-op was nowhere to be found, Hewitt said. "To this day, I haven't had any contact with him."
He hired a driver to take the wheel of his White and he hauled in the Ford for a time. Purchase of a 1979 Road Commander and another driver hire would follow to bring him up to three trucks in that early-mid-1980s period. Mechanical issues and other factors brought him back to a single truck after that brief time managing multiple units, and he joined Ram Trucking as an owner-operator.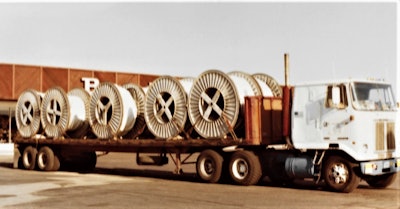 An operator friend had done coast-to-coast work with Ram when that company formed by splitting off from Vail Northwest, both companies headquartered in the Pacific Northwest. Hewitt, in a bid to get off the road, insisted on an interview after Ram's lone dispatcher quit. At first, "they said, 'No, you've got no experience. We've interviewed 10 people already'," and the company felt they'd found their new hire.
Yet he remained persistent, and "knocked their socks off" eventually in the interview process. "I got the job."
That set him off on a course to where he is today with PTSI, learning a variety of management lessons – often enough, what not to do – from the example of fleets he'd worked with in various roles. When he and Ruth took over PTSI in 2009, a small group of mostly Boise-based owner-operators came along with them originally, but they weren't replacing their trucks. Some of the owners were aging out of the business, as Hewitt put it. A myriad of small vehicle-related violations added up to get PTSI into a Conditional safety rating over time.
The best way to change that, he saw, would be to have more direct control over the maintenance of trucks operating under his authority. He took over four trucks from a fleet of 10 that was going bankrupt, and today PTSI operates 10 company trucks, with five owner-operators leased on, and a Satisfactory safety rating. "A group of dedicated outside trucks," Hewitt said, run freight secured through an affiliated brokerage with four commissioned sales agents spread out over the Western United States, and another in Florida. PTSI's brokerage takes a "small flat percentage out of every load and they're paid immediately," he added. "Between our brokerage and our trucking altogether, we're doing 9-10 million dollars a year" in revenue.
PTSI isn't experimenting with alternative pay methodologies, just sticking to miles pay as the base for its company drivers and leased owner-operators. But Hewitt's well-developed back-office processes ensure that "when we send a load information sheet" to an operator, in addition to pick and drop information, "all the pay they can expect is right there on the sheet – they know exactly what they're getting paid when they pick up the load."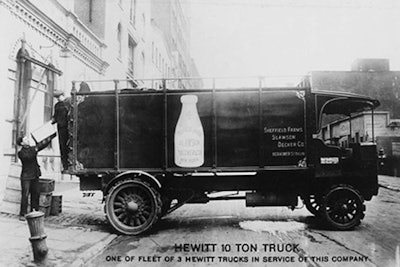 He and Ruth are paid a flat salary for their efforts – "I have drivers who make more than I do," Hewitt said – and the pair use a practical miles formula, not short miles.
All in all, drivers end up clearing $80,000 annually at least, some well over $90K, Ruth said.
"We work hard to take good care of them," Nick Hewitt said, paying 100 percent of all company driver benefits. That includes health, dental, life and vision insurance.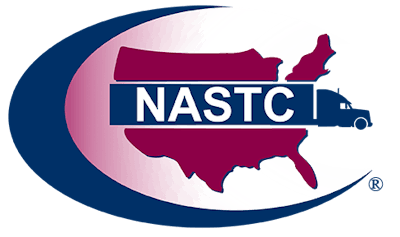 Hewitt's fleet continues in the platform space where he found his home as an owner-operator in the late 1970s, hauling mostly 53-foot low-profile step decks with ramps for wheeled equipment, much of it oversized. They haul lumber and machinery of various kinds.
The company trucks are all 2019-'20 Kenworths. Hewitt runs them typically under a Fair Market Value lease and trades before warranties run out. "Something we're focused on is trying to reduce our carbon emissions," Hewitt said, with those newer power units outfitted with battery-powered APUs by Idle Free. "Super-singles are on all the tractors."
The fleet's fuel average, even hauling heavy as much as they do, is 7.2 mpg.
They've got a good maintenance and sales partner in Pape Kenworth.
"In 44 years of trucking I've dealt with all kinds of shops all over the country," he said of the dealer. "I've never had a shop support me the way Pape Kenworth has. … Right now they've got a truck in there that swallowed the valves," he said in September. "They've moved heaven and earth to find parts."
At 65 years old, Hewitt still gets out and drives himself, providing that wear-all-hats example for his company's operators, and serves on the boards of a couple of different nonprofit organizations as a way of giving back to the wider community.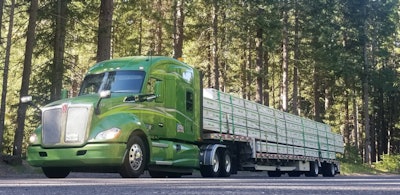 [Related: Eight-truck reefer fleet Triple R Trucking rewards owner-ops for clean inspections, miles]