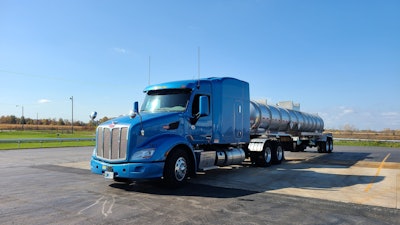 Just before 9 p.m. Eastern Time on Feb. 3, 2023, a Norfolk Southern freight train derailed in East Palestine, Ohio, about a quarter-mile west of the Ohio-Pennsylvania state line. Twenty of the affected cars contained hazardous materials like vinyl chloride, ethylene glycol, ethylhexyl acrylate, butyl acrylate and isobutylene.
Some cars caught fire while others spilled their load into a nearby ditch that feeds Sulphur Run, a stream that joins Leslie Run and eventually empties into the Ohio River.
When it comes to hazardous waste, customers -- and especially the Environmental Protection Agency -- want a specialist. That's where Vickery Transportation comes in. "We moved some of that hazardous water and rain-collection hazardous water out of there," said Tony Shinn, Grammer Logistics vice president of operations.
Based in Columbus, Indiana, Vickery Transportation, a subsidiary of Grammer Industries, provides hazmat services from upwards of 250 points of origin all over the midwest, northeast and southeast, and brings it all back to a Waste Management deep-well injection site.

While not necessarily a specialist in train derailment, Vickery Transportation is one of the front-line carriers for Waste Management, the largest waste services provider in the U.S. "It's mostly water and acids," said Shinn. "It's not necessarily always hazardous to people. You could touch it with your hand and it wouldn't hurt you, but it's more an environmental hazard."
Grammar Logistics has approximately 500 drivers all over the country, but Vickery Transportation, the in-house carrier for Waste Management, lays claim to 19 and three support employees: a terminal manager, a terminal coordinator and a part-time material handling consultant. Vickery's one of five semi-finalists for Overdrive's Small Fleet Championship, in the 11-30-truck division.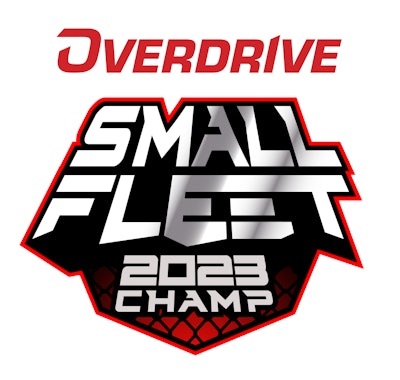 Being a specialist has the advantage of rate protection. Shinn noted hauling hazardous waste is a "good rateable business," and it's allowed the carrier to dodge a lot of the volatility seen in industrywide freight markets.
The debt-free outfit posted more than $4 million in revenue last year, and seeks to ensure that its income -- about $1.7 million last year -- finds its way down to its safest drivers. The company provides health insurance to all of them. Drivers have $500 quarterly safety bonus potential and receive $200 for violation-free roadside inspections. Safe driving awards based on mileage are also in the cards.
[Related: LNL Trucking minds the pennies, stacks up dollars in profit -- owner Larry Limp's strong financial foundation]
Drivers are paid a percentage of the linehaul revenue -- it starts at 25% and steps up 1% after year one, three and five. Compensation at the Vickery terminal year-over-year is approximately $100,000, Shinn said.
The company's driver turnover rate, Shinn said, is 0%, as loads are consistent and home time plentiful.
"We still have drivers from when we purchased the place in 1999," he said. "Drivers don't quit at Vickery. They retire as far as our company drivers go." He added that Vickery hasn't hired a driver in more than 12 months because it's not had any vacancies.
In the last three years Vickery's added one truck to its fleet, but more could be on the horizon as Waste Management expands and business picks up with infrastructure improvement spending.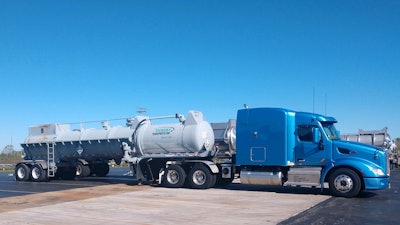 The Waste Management terminal Vickery services is shared by other carriers, and can handle upwards of 125 loads per week -- about 50 of which come from Vickery. Shinn said Waste Management is in the process of opening another injection well later this year, which would boost its capacity nearly another 50 loads per week.
In the fourth quarter this year and first of next year, the company intends to grow by "let's call it, 15%-20%," Shinn said.
Vickery touts its safety record and CSA scores, and has the performance to back it up. The carrier hasn't had a single driver placed out of service during the current 24 month period visible in their Safety Measurement System profile with 75 inspections, and its vehicle out of service rate of 4.1% is more than five times lower than the average of more than 22%.
Woody Atwood, insurance agent with Marvin Johnson & Associates, noted that Vickery is "run like a truly professional trucking operation," and as a former provider of the fleet's insurance coverage "they never presented any issues for my agency or the insurance company. The info needed was always delivered on a timely basis and they were quick to respond to any recommendations made to them."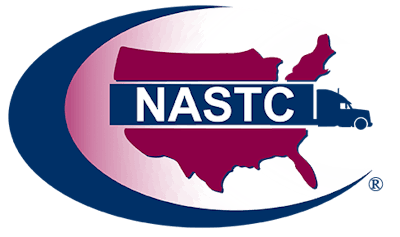 The attention to safety reflects an attention to detail the company passes along in service to its clients.
AZZ Galvanizing Quality Manager Mike Eberling said he's been working with the carrier for at least 15 years, and its service level is unmatched.
"Just their communication," Eberling noted among the things that makes Vickery stand out. "Just getting a hold of somebody, getting things scheduled and, most of all, on-time for pickup."
Vickery hauls away Canton, Ohio-based AZZ's process waste and has found the fleet a valuable partner. "All the drivers, they're a good group of guys. They'll take care of anything you need," he said. "They make it happen. You'll run into quite of a few [haulers] that make promises, but after a few months they can't deliver on them. I like sticking with quality and that's what we get" from Vickery.
[Related: Butterfly Xpress: Small fleet, big benefits with move toward improved stability]