All photos courtesy of Butterfly Xpress
Owner-operator Bill Barhite owns Silt, Colorado-based Butterfly Xpress with his wife, Karen, and does everything he can to offer contracted owner-operators the benefits of a large fleet, despite having just 10 trucks as part of his company.
Barhite himself has been in trucking for 31 years, getting his start in 1992 with Wisconsin-headquartered Schneider. He stayed there for 10 years, along the way becoming a trainer for the fleet, before moving to U.S. Xpress in 2002. During his 10 years with them, also working as a trainer, he met his wife, Karen, who became his last student driver. They began teaming shortly thereafter.
Together, they pulled on a dedicated FedEx lane, but the toll it took on Bill physically led to the Barhites leaving the fleet. Bill said he weighed more than 525 pounds when he left, partly given the nature of the work of constantly driving, sleeping, driving, sleeping ... leaving little downtime for exercise and other pursuits. Restrictions against a power inverter and refrigerator in the truck from the company, too, meant over-reliance on roadside fare -- a diet filled with fast food.
For a short time, he took a job as an operations manager with a bus company working the oilfields in Colorado. When that work dried up, he and Karen got on with Gilco Transportation out of Rifle, Colorado, hauling fuel for a stint before the owner passed and the company shuttered operations. It was during his time there, though, that the company launched an over-the-road refrigerated division, and Bill was asked to head it up. The experience laid the groundwork for where he is today.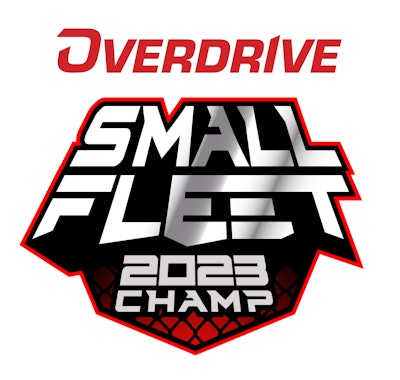 "I cut my teeth with them learning how to run the business, do operating authority, driver qualification files and everything," Bill said. "It was awesome. I learned a lot."
Since 2013, Bill and Karen have grown their own Butterfly Xpress fleet to 10 trucks, with a bevy of other owner-operators leased on. In recognition of their success, Butterfly Xpress is a semi-finalist in Overdrive's Small Fleet Championship in the 3-10-truck division.
The long road ahead: Steady growth with a goal of fair play
Almost exactly one decade ago, on Oct. 15, 2013, Butterfly Xpress (BFX) was minted with its own authority, named after Karen's infatuation with the insects, Bill said. That same year, he came across a 1998 Volvo sitting in a yard at a port-a-potty rental facility and bought it for a cool $5K. He fixed it up and started out hauling reefer freight, running the load boards.
It was a tough stretch getting started, he said. "The first two years were absolutely brutal." His operation was so new, he had to scrounge to find brokers willing to work with him. "We survived it, but if someone told me then I'd be running 10 trucks today," he'd have thought them crazy.
Two years in, one of his friends and past associates from Gilco approached him about leasing on to Butterly. Though the Barhites had no experience in that realm, he decided to give it a go. The Owner-Operator Independent Drivers Association was a resource for ideas on structuring lease contracts, and from there, he added one friend, then another, and another. "It was like, 'OK, here we go!'" he said.
By 2019, BFX was up to nine leased owner-operators until what Barhite calls an "unfortunate situation" hit the fleet. He had been using a dispatch service to take some of the pressure off of himself in getting his drivers loads. His big mistake: not having a non-compete agreement in place with the dispatcher. "He took half my fleet and started his own business," Barhite said.
In what felt like one fell swoop, BFX was back to four trucks. BFX was still getting essentially all of its freight from loads posted to the boards. In 2020 when COVID hit, in a bid to keep business trending up, Barhite bought five trucks to put drivers in.
[Related: A third of small fleets shut down as COVID-19 guts freight markets]
"I broke my cardinal rule," he said, investing so heavily in equipment. "It was a good move at the time. Do I regret it now? A little bit."
Those five trucks were all lightly used (sub-300,000 miles) Volvo VNL 860s. The five, plus a new 2024 VNL Barhite recently took delivery of for himself and Karen, account for the only debt the business carries.
He said the operators who've started the track toward ownership of those trucks, though, seem to appreciate the lease contracts -- engineered such that they will take over the truck title once the lease ends, no strings attached. Known as a capital lease, it's more a purchase than a rental like with some other lease options.
Among those lease-purchase operators is James Loesch -- he's only been with BFX since May of this year, but said Barhite has "been very helpful, very insightful," in helping him learn how to be a successful owner-operator.
"Honestly, he's dedicated to his drivers, which is a phenomenal trait," Loesch said. "Somebody that's willing to work with you and help you out as much as possible -- that's a godsend. I've worked with other people where it wasn't even worth my time." Barhite's given the operator "a lot of good advice ... and I greatly appreciate it."
Apart from the 2019 fiasco with the dispatch provider, BFX has kept turnover very low through the years. Four owner-operators at the company, he noted, have stuck with him for five or more years, though some decamped for other pastures after the post-COVID freight boom cycle.
"When the market flips like right now, the freight is horrible, fuel is horrible, [drivers] get frustrated," he said. "It's not like they're going to another company -- they're getting out of the business completely."
During the COVID boom running reefer freight, his fleet was hours-exempt due to the COVID hours-of-service waiver on many loads, and they were getting astronomical rates. When rates cooled, some leased owners got out.
A move to stabilize the business with dedicated freight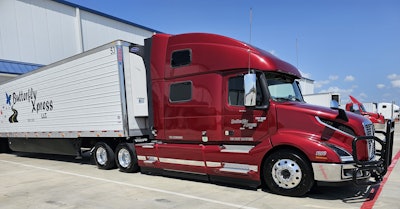 Barhite could see the writing on the wall through COVID -- the boom cycle was bound to turn the other way eventually. When it did, it turned hard. He'd started throughout to move away from purely spot market freight, getting set up with brokers he could trust who partner with Butterfly for dedicated services on lanes the parties can depend on.
He'd worked long and hard -- for six years, he said -- to get set up on one such account. For a small fleet owner who calls freight-lean Colorado home, it perhaps comes as no surprise that today part of BFX's bread and butter is servicing a broker's account with Royal Caribbean out of none other than Miami, Florida. BFX's runs help to supply cruise ships on the West Coast. Barhite also got set up through brokers on a dedicated run hauling apples from Washington state down to Texas. Owner-operators on those accounts now use load boards only to get between Florida and Texas, though Barhite said he's continuing efforts to find a direct customer to complete the triangle and get them consistently between those points, too.
Ryan Roberts, in charge of dispatch at TDM Logistics -- a broker linked to the apple accounts BFX services out of Washington -- had nothing but praise for Barhite and his fleet.
"Bill is one of the more honest people you can find, which is hard to come by in this business," Roberts said. "They provide amazing service and excellent communication. I couldn't speak any higher of Bill and his people."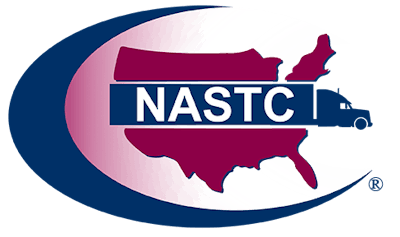 BFX is contracted with Love's for factoring at a rate of just 1% for fees, which Barhite said has worked out well when he and his owners have to venture outside the core customer base. The company spends between $20,000 and $30,000 a year on factoring fees, yet he feels that's less than what he would have to pay someone to do accounts receivable.
He also has an owner-operator based in Ohio that he helped get set up with a dedicated Tyson account, and he runs local. That account has grown from just the one truck to now three, and the truckers are home every night and on weekends. "But local stuff isn't for everybody," he said.
Those solid freight relationships "really protected us" as the spot market flipped from the highs of COVID, he added.
The Barhites' goal, ultimately, is to come off the road to manage the business exclusively for the long term. At the height of COVID, Bill felt he could do that with 10 owners/operators leased. Now, with poor market conditions, he feels he needs 15 trucks running full-time to give him comfort enough to meet obligations and clear a healthy profit if he and Karen aren't running.
Meantime, he hasn't been aggressive about bringing on new operators. It has to be the right fit for both the owner-op and BFX. All he's contracted with have laid down more than a million miles of history in the captain's chair, adding an extra layer of comfort for him when it comes to safety.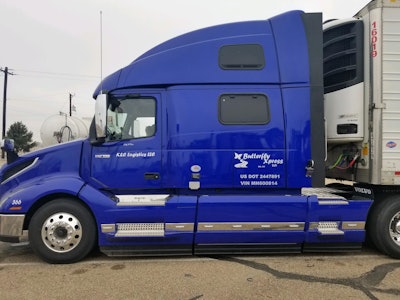 The current fleet benefits from generous pay packages, among other perks. Four of BFX's 10 operators, in addition to Barhite, own their own trucks outright. The remaining five are in lease-purchase contracts with him.
BFX pays all 80% of every load's gross, and an extra 3% if they're self-dispatching. Six of the 10 do just that, Barhite noted, a choice they make. "My senior driver, who's been with me six years, he hates self-dispatching. He doesn't want to play on the load boards" at all, but not so many of the others.
Lease-purchase operator Loesch said BFX is the first carrier he's hauled for that pays percentage, yet even in today's market he noted he's "making a whole heck of a lot more money on percentages than I ever would have on mileage."
In addition to the percentage pay, BFX pays all of its contractors' permits, cargo and liability insurance, and IFTA and highway taxes for states that require it, excluding Oregon. Barhite once did pay Oregon's use tax on behalf of his owners, but at 28 cents now for every mile in the state, it's "just one I can't swallow" now, he noted.
BFX uses Blue Beacon for its truck washes and the required FDA trailer washouts, a national tire account with C.R. England Logistics for 30% off tires, PrePass, a fuel card through the National Association of Small Trucking Companies and a free SiriusXM satellite radio subscriptions. One of the few things BFX doesn't pay for is any tolls the owner-operators rack up.
"Everybody has their own pay package, what they pay for and what they don't," Barhite said of his competition amongst other small fleets. "I'm very proud to say we have one of the highest competitive pay packages in the industry."
Barhite has the fleet set up as an S Corp and pays himself, Karen and one other employee, Tamara Barhite, who handles compliance, as W2 employees. Last year, the fleet grossed around $2.2 million, and after paying all contractor-related expenses, netted just more $150,000 to the business.
[Related: Organic farm grows 12-truck business of Maple Lane Transport]