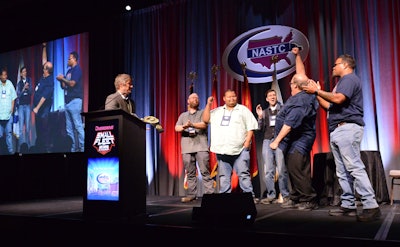 All photos courtesy of Kathy Hendley, NASTC
Thursday, November 2, at the Transportation Trust Forum on the first day of the National Association of Small Trucking Companies' annual conference, Overdrive's 2023 Small Fleet Championship came to a close. Small fleet owner-operator Bill Barhite and 10-truck Butterfly Xpress, of Silt, Colorado, walked away with the title belt in the 3-10-truck division, while 12-truck LNL Trucking came out on top in the title tilt for the 11-30-truck division.
This year's Small Fleet Championship saw some of the closest margins of victory in the recognition program's four-year history, following the judging round conducted by Overdrive editors, contributors Gary Buchs and W. Joel Baker, and others. "We're looking at profitability, for sure, but also other qualities," said Overdrive Editor Todd Dills in his introduction of the four finalists Thursday. "Maybe principally judges are after something that's not always tangible with just a numbers evaluation. In a word, it's stability, such that you get a clear sense that the owner has set things up for success for the long-term."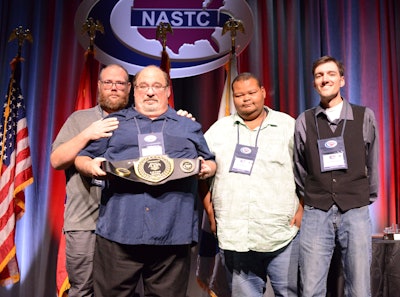 In accepting the Small Fleet Champ award, Butterfly Xpress owner Bill Barhite regretted that his wife and copilot of his 2024 Volvo (from which he and Karen manage the 10-truck business, from the driver's seat to an extent) couldn't be in attendance. Yet with owner-operator members of his team on hand, his strength as a mentor shone through.
"What an honor," Barhite said. And then to his wife and business partner: "If you're seeing this, thank you baby." Barhite then lauded the members of his team on the stage with him, as the very lynchpin of the all-owner-operator fleet's success.
Longtime, well-known owner-operator coach and advisor Kevin Rutherford, who later delivered the keynote at the event, noted small fleet owner Barhite was a past caller to his show and stressed what Barhite told him about all he'd learned through Rutherford's coaching efforts. "Bill pays that forward by teaching his owner-operators how to be better at business," Rutherford said.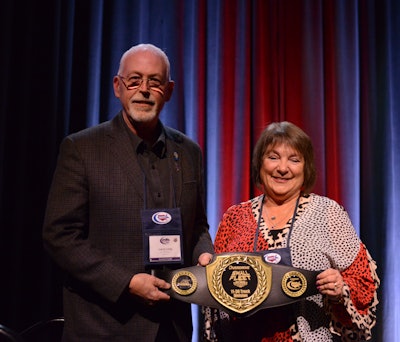 After a very close contest with fellow 11-30-truck finalist Adam Johnson and K&D Transport, LNL Trucking's Larry Limp, in Nashville from his company's headquarters in Bedford, Indiana, accepted the award and thanked NASTC for supporting small trucking companies. "You are a valuable partner in our success," he said.
Off-stage, Limp noted LNL joined NASTC's well-known fuel-discount network a little less than two years ago and, Limp noted, it's helped tremendously with the name of the game over the volatile term since -- shaving costs to maintain profitability.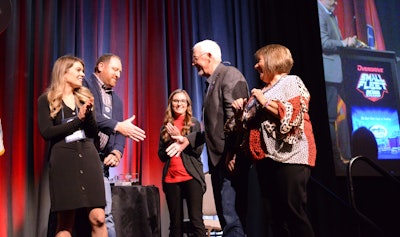 In the end, Dills said, the four finalists recognized Thursday, "I think we can be certain exude the long-term stability factor in spades," in addition to maintaining a profitable operation in a difficult time for trucking companies of all sizes.
"These four are all Champs in my book," he added.
Read about all four finalists via this link, and you can access profiles of 10 semi-finalists, five in each category, via this link.