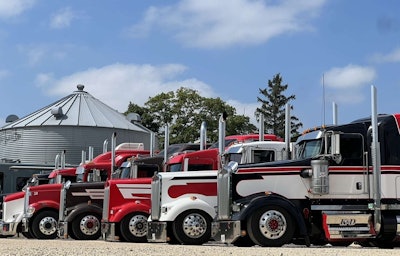 All photos courtesy of K&D Transport
Coming out of the Great Recession's years of soft freight and slow economic growth, owner-operator Adam Johnson and fellow personnel at his family's K&D Transport small fleet had a stroke of inspiration. It had been a long time coming.
Johnson, a fourth-generation truck operator increasingly involved in ownership and management of the third-generation family business, was with his family essentially staring down the barrel of closing their doors in 2012. Over the course of the big economic contraction in prior years, former $6-$7-per-mile oversize contracts with 48-foot flatbeds turned to a paltry $2.50 a mile in many instances. The 2012 year "was probably the worst year we ever had," Johnson said. And as the year began the company just "didn't know how bad it was going to get."
The stroke of inspiration: "I sold all my trailers," he said, which were 48-foot flats and step decks, and "ordered brand-new 53-foot Wilson flats." As shown in the picture at the top, with the company's stretch Kenworths, "we came up with the idea that if we put a steel coil in the center of the trailer," essentially a full load of palletized foam insulation could fit around the coil and still remain under weight limits. Johnson, with two owner-operators leased to the company, implemented the idea, and that outside-the-box thinking allowed the company to thrive when so many other fleets were struggling just to get by.
Since then, Johnson's assumed a greater portion of the management of operations at K&D with his father, who still does a lot of the dispatching. Over four years, K&D Transport doubled in size to 12 trucks as of the end of 2022, adding more operators this year even as freight volumes have softened. It's a testament to creative thinking that K&D is among five semi-finalists in the 11-30-truck division of Overdrive's Small Fleet Championship.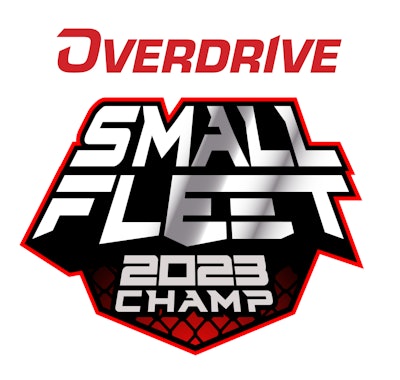 Then-owner-operators Johnson, Dan Laesch and Chris Peterson "ran our butts off" between Chicago and the Minneapolis area, near which K&D is based in Spring Valley, Wisconsin, in the Western part of the state.
"We hauled lumber down to Chicago," Johnson said, loading the coils and insulation there for the trip back to Minnesota.
K&D-leased owners and company drivers don't run quite the same freight today. With growth since that time period, even as they were undercut by other carriers on some of those loads, "we're not going to haul for nothing even though we can put two loads together," Johnson said.
A primary customer, Jeff Wold described K&D as integral to the operation he heads up in Menomonie, Wisconsin, an outpost of structural steel distributor Brown-Strauss. Wold lauded Johnson and company as "the perfect example of doing it right, and doing it smart. They're awesome to work with. If we have a problem and we need something run -- boom, they're here. Good to go. They have phenomenal equipment, and great drivers. Friendly, pleasant, knowledgeable. You can really depend on them and trust them."
[Related: LB Trucking: A right-sized family affair]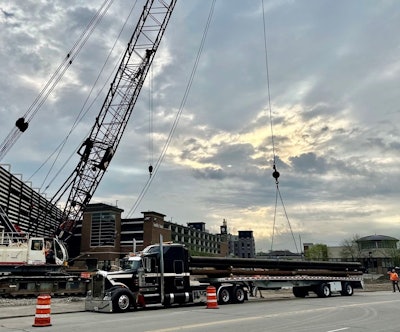 Wold's loads are known for next-day delivery -- as long as sales gets their order by 4 p.m., K&D's there "by 5:30 in the morning to get to where they need to go," Wold said, usually within a 300-mile radius out from Menomonie, though Nebraska and Kansas destinations take some farther afield. And the company's beginning to ship product into Ohio as well. Eventually, Wold noted, "we're going to be going to Michigan," both the Upper Peninsula and lower Michigan as well, for greater distances.
K&D is well-poised to capitalize on expanded business there as the needs arise. Each of the last few years has seen steady improvement in revenues after those difficult prior years, even as they've added equipment to get them up to a total 14 trucks, including owner-operators leased on, and almost twice as many trailers. Johnson's got three more trucks sitting in the yard awaiting rebuild to add to that total. He also operates an associated Johnson Hill Customs business that does anything from big custom projects to basic mechanical work. "I would like to be over 20 total" trucks "by next summer," he added.
Then, he's hopeful to get into the brokerage side of things and make friends with more "one-horse guys with one or two trucks," he said. "I'd love to grow along with those guys." Like the National Association of Small Trucking Companies does with their fuel card, he said (yes, K&D is a member) -- aggregate the buying power of the group toward the success of each individual business.
"If we can stay true to where we are now," with a "quality over quantity" sort of approach to customers, he said, "we can translate that to brokerage over the next five years."
'Nothing to do with trucking' through 'tough love' to ultimate mastery
Brown-Strauss's Wold knew K&D and the Johnson family from long before his tenure at the steel distributor, which began in recent years. Back when he drove for a Menard's distribution center, Wold was familiar with Dwight Johnson, Adam's father. K&D in the early part of this century was contracted on loads for Menard's to the Twin Cities. Yet the company's history goes way, way back. In 1946, Adam Johnson's grandfather and former World War II POW -- "in three different death marches before he was liberated," Johnson said -- started out with a 1946 Brockway tractor he bought without a seat in it.
"Drove it sitting on a milk crate" for the first trips, Johnson said. "The Chicago to Minneapolis turn at that time took a week," a West Coast run from Spring Valley and back more than twice that.
The modern era for the family business then began as so many trucking stories do, around the time of deregulation in 1980. Johnson's dad, Dwight, was by now involved in the family business, and the company hauled product for Brut deodorant/Faberge as a primary customer. After Adam's grandfather had his second heart attack, Dwight Johnson dropped out his second semester of college to keep the contract going. The plant they serviced for Brut closed in 1980, then, and Dwight and his wife, Karen, incorporated as K&D Transport, with their own authority, becoming "one of the biggest grain haulers in our area" up through the late 1990s. By that time, they'd grown to 17-18 trucks.
[Related: From wildcatting to deregulation: A 'Brief history of trucking in America']
"They were plateauing for retirement," then, Adam Johnson said, and sold the grain business and many of the trailers. By the time Johnson graduated high school in 2003, in his heart of hearts he really "wanted nothing to do with trucking," as he told his own story. He went on tour exercising another passion, racing snowmobiles professionally and living out of a duffel bag. From that vantage, the proverbial "white picket fence" started to look like something worth going for, he figured.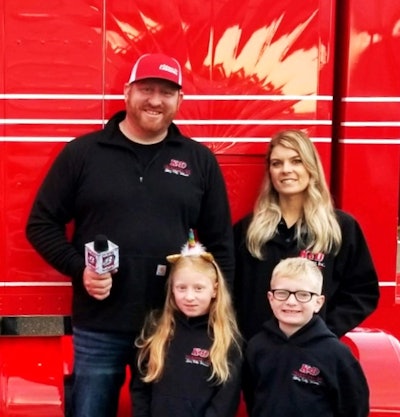 "I begged and pleaded my way back into the business," Johnson said, and made "a deal with the devil." In this case, with his father, who told him he'd work seven days a week for a full year to learn the ropes. Paid for five days' worth trucking, then one day in the shop, one in the office. He drove a company truck up through 2008, when his dad's tough love upped the ante for him yet again.
"He told me he was selling my truck," Johnson said, and "I needed to buy a truck to stay in the business." A pattern was set for the future growth of the fleet when he borrowed $6,500 and picked up a 1999 International 9300 from a junkyard in Vermont. It had just a single drive axle, to which he added a tag, all of it powered by a Cummins N14 with 3.42 rears. He ran cross-country hauling over-length power poles and more.
After the entrenchment of rough condition through the Great Recession, in 2010 he bought his first Kenworth, the 2003 W900 that's still part of the fleet and now with 3 million miles on it -- another driver pilots it today.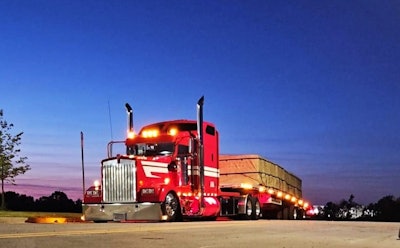 K&D Transport by that time had just a single company truck, maybe two, Johnson said, with eight or nine owner-operators leased on, as he'd increasingly been drawn to flatbed and oversize work. It was a really rough time, as noted, two years into the recession. As rates collapsed, they had to walk away from their power pole contract, Johnson said, which had at that point comprised as much as 80 percent of their business.
What followed was an increasing diversification, led by the stroke of inspiration detailed at the top, and a never-ending close focus on maintenance, more driver-friendly freight and solidifying benefits, all of which transformed K&D to what it is today.
[Related: Poised for longevity, growth: Small Fleet Champ Silver Creek Transportation]
A decade toward stability, growth
The company today owns a step deck and a van and about 22 flatbeds, six conestoga set-ups among them -- "all roll-tarp," said Johnson, a few from the Quick Draw company. It's up to 14 trucks all told, several owner-operated under lease agreements with the company. It's been within the last five years that Johnson has really begun to push the envelope on solidifying the business with growth and operational stability, he said. "I really started buying trucks," in a lot of cases sticking to the playbook he used with his first -- taking old equipment and making it new, including with some models as new as 2012.
While "a lot of people are going to aerodynamics," he said, and "I'm all about fuel mileage, too," Johnson's fleet for the most part features a strong old-school vibe, with a lot of Kenworth W9s. "I want people to be proud of working for K&D with the W9s." While some of his owner-operators use ELDs for hours of service compliance, a lot of the company fleet runs gliders. His personal truck today is a totally rebuilt 1994 model KW, They've got a 1996, 1997s that have been completely rebuilt, too. The 2012s he owns "look like they're 2020s and 2021s" -- fully rebuilt themselves to be "as new as possible as we can. All have aftermarket front air ride" to make those W9s ride "like a minivan," he joked.
In all seriousness, though, the Johnson Hill shop sells those air ride kits -- "what better way to say the product is awesome" than to use it yourself, he said.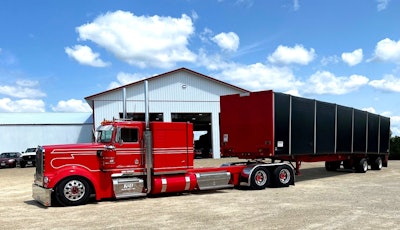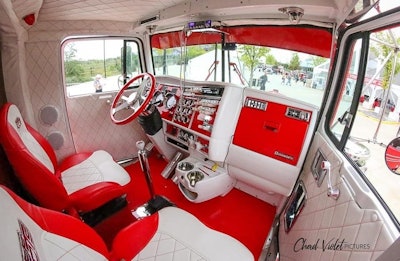 He's increasingly put a focus on delivering schedule predictability for work-life balance to his company operators. Sleepers are factory units, by and large, 60- and 72-inch for regional operators, flattops for a few local guys, all outfitted with headache racks for storage and safety. "We're a Brunner dealer on the shop side," he said, but "have also made our own. Brunner's got a well-put-together rack with the fit and finish."
Eschewing the larger 86-inch studio sleepers featured on many OTR Kenworths helps maximize legal payload for their platform freight. With frame stretches on many of the trucks out to 300 inches and more, "we're already pushing it on weight" a lot of the time, Johnson said.
Drivers carry 30 20-foot straps onboard, enough for any situation they might encounter, plus a variety of other securement equipment for coils and other pieces. Long sleeves, always, safety glasses or sunglasses, 90-inch-wide platforms behind the cab to "step from the platform right up to the trailer," Johnson said.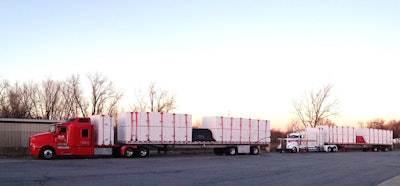 "The more efficient you are, the safer you are, too. Less steps, less movement," means fewer accidents, Johnson said. "I've stepped off a trailer a handful of years ago." It's not a pretty outcome, most of the time. "We implemented hardhats with chin straps if you're around the trailer."
As the pictures you've seen so far no doubt attest, "they use a lot of really nice Kenworths driving down here," said Jesse Eckert, owner of a sawmill that bears his name in Medford, Wisconsin. "They're great people, easy to work with." Eckert noted K&D had been hauling up to three loads a week out of his mill destined for a pallet maker in Indiana and elsewhere. That's how the relationship started, four or five years ago now.
"We were trying to figure out trucking" that far afield, Eckert said, and the pallet company gave him Adam Johnson's number. It was Adam himself that showed up for that first load.
"I didn't know he was the owner" the first few times he showed up at Eckert's place, he said, though the two had of course arranged for the loads on the phone. "I was just assuming they send somebody to help out here. He said, 'I'm the owner.' I guess I didn't know that."
He remains impressed by the service, and particularly the equipment. "I live down a gravel road," he said. "I hate to see them have to come down that road."
Said Johnson of the three-four-mile trip down the path to Eckert's place: "He's just such a good guy I'd drive through a mudhole to get to him."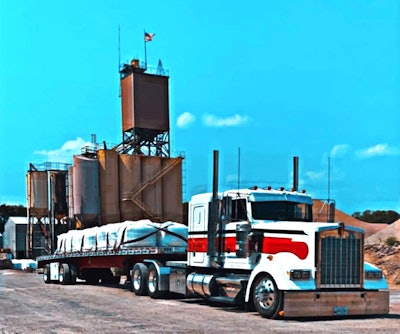 That sense of dedication extends to company employees and owners leased on, all of whom are paid a percentage of the load. Company operators start at 25% of gross, then after six months a 3% bonus (worth anywhere from $80-$350 a week, depending on gross) gets tied to a variety of conditions, including keeping the truck washed. The company Blue Beacon account really gets a workout, Johnson said. "I tell our guys when they're hired, 'I want the truck washed at least once a week on the road -- two or three times is great on the road.'" Get clean at the shop for the weekend in the summer. In winter, spray the salt off at least before you park them in.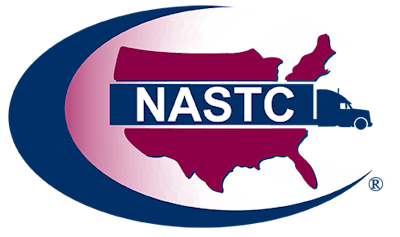 He tries to get everyone home for the weekend, when freight allows, part of a mission that's evolved for him as his own and younger generations of drivers have come into play. "Chicago is our bread and butter, and some other local drivers are home every day -- four-five trucks," he said. The Chicago turns tend to alternate between groups of operators who will do three rounds one week, two the next.
"When I was brought up, if you're not working seven days a week, something's wrong," he said -- it's a mindset built from a farming community background. "Now, folks want to work less -- what can we do to give people" that opportunity?
"I get it, too," he added. "The biggest push for me growing the business was to be home" for his kids, who will be 8 and 7 this year. "The more I can make and set my generation up ... Every generation should be better than the next. I want to be able to have enough there to help them with their dreams."
[Related: Wallace & Sons Transport: Specialized bulk loads, confidence and competence]