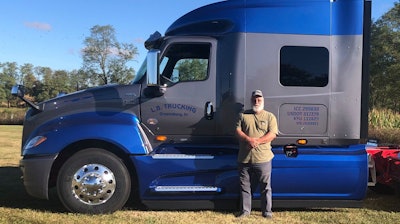 When Larry Bredewater founded L.B. Trucking in the early 1990s, he set out on being a family-run business. With two of his children now working alongside him, he's certainly met that goal.
The family aspect of his business is evident in every conceivable way, as the company was founded in the house where Bredewater grew up. But it doesn't end with immediate family. Bredewater, who bought his first truck in 1978, said he works to maintain a personal relationship with his company's drivers -- and sometimes that means working after hours.
"You just got to be available," he said, "Saturdays, Sundays..."
Bredewater's around-the-clock accessibility comes naturally. His other job, farming roughly 650 acres, also knows no time clock, and it led him to his second career over-the-road. "I grew up on the farm, and was born and raised on a farm," he said. "I went to college for a year but I didn't really know what I wanted to go to college for, so I came back home and a year later I got married. I've been working ever since."
Bredewater started driving part-time while holding down a full-time job.
"I was driving for a local farmer here hauling some grain, and there was quite a bit of grain to haul," he said. "So I decided, heck, I'm going to buy my own truck and haul some grain for a while."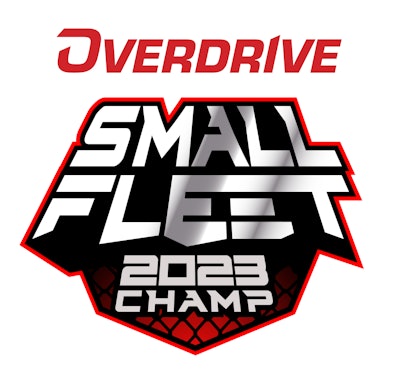 Bredewater teamed up with a few other local owner-operators, formed a corporation and hauled grain and fertilizer before going out on his own a couple years later. Today, the Greensburg, Indiana-based fleet primarily hauls automotive components, food products and farm commodities with its van and hopper trailers, but Bredewater says it's almost impossible to define LB Trucking by a niche.
"We haul everything but livestock and hazmat," he said. "We haul tanker stuff too. We've got five tanks. We haul soybean oil and non-hazmat cutting oil. We've got almost 40 trailers. We can do a little bit of everything and we're not stuck on one thing." Recognizing the value of this diversification, history and other qualities, 13-truck LB Trucking is one of five semi-finalists for Overdrive's 2023 Small Fleet Champ award in the 11-30-truck category.
Capitalizing on freight diversity
For the first four months of the year, five trucks in the business are dedicated to hauling "steel products," Bredewater said. "We deliver to dealers for about four months straight there."
Between April and early June, "we haul seed to Mississippi and Alabama and Louisiana. ... The first half of our year is usually pretty busy and, financially, a good time of year. The last half is where it's a little worse, but we seem to find enough other niches that support us all right. It keeps us going."
"He's got a heart of gold. He'll do anything for you that he can. He's a good guy to work with." --Total Truck Parts' Jim Whitaker about Bredewater, with whom he's done business for 20-plus years
A wide freight diversification strategy has helped the company through the current difficult rate and load economy, and one where the price of parts and trucks have skyrocketed.
"It's amazing what these parts have done since COVID, price-wise, and trucks the same way," Bredewater said.
A truck that, in 2021, he might have paid $125,000 new, he said, "is now $160,000 or better for basically the same truck. So yeah, it's getting a little tighter, but we've been in business long enough that we're kind of financially stable so we can survive the ups and downs a little bit easier."
Bredewater has built LB Trucking from a three-truck operation in its early days to a 13-truck, $2.7 million business currently. Yet it once was even bigger -- maybe too big, Bredewater said.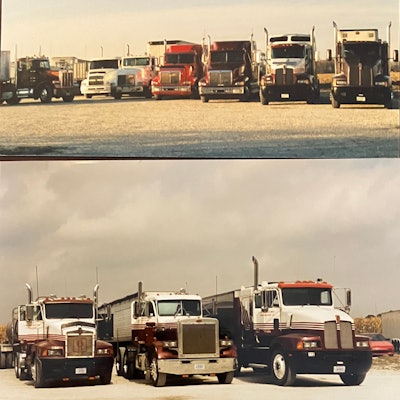 "We used to be up to almost 20 trucks, and I was doing most of the dispatching back then and taking care of the biggest part," he said. He was working with his mother at the time, before also drafting his wife and daughter due to the fleet's growing size. "With the 20 trucks, it just seemed like it was harder to manage and keep track of everything, and it started trying to get away from us a little bit. As we lost a few drivers we settled on keeping around 10 or 12" trucks.
LB Trucking offers its drivers and four full-time employees health insurance, bonuses and vacation and holiday pay, and there's no forced dispatch for its drivers. Drivers are paid a percentage of their load: 28% to start then up to 29% after 90 days. After the six-month mark, that jumps to 30%.
Turnover among drivers is low -- "I've had some here for 25 years," Bredewater said -- but hiring policies are pretty simple.
"I don't hire people unless they're from maybe a 50 mile radius," he said. "I don't hire too many just willy-nilly -- you know, somebody calls up and wants a job. They have to be reasonably local, because I've had, years ago, a couple trucks where I had to go get them. Once the driver just leaves them someplace, you have to find them. That's not a lot of fun either."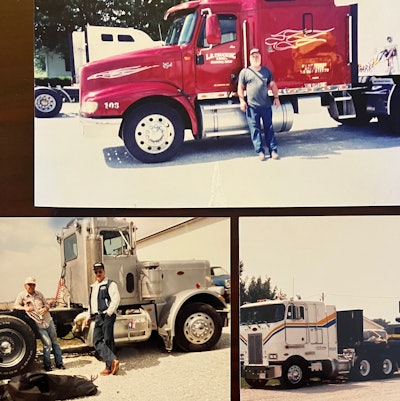 'Driver before the truck' emphasis yields dedication to service
These days, Bredewater spends the bulk of his days working the phones or running parts for the fleet's in-house maintenance shop, but he does still hop in a tractor and tug some grain when the need arises.
Nathan Reding, owner of Langeland Farms, a grain processor, noted that Larry and his team of drivers consistently over-deliver on what they're contracted to do for his company. "The guys look out for us. They've saved us money many times over," he said, "just going somewhere and seeing something wrong and calling us and letting us know and helping us figure it out. They're more than just A to B drivers."
Bredewater has hauled for the family-owned Langeland Farms for 30-plus years, Reding said, and has personally taken on the role of confidant and company liaison. "He'll just come in the office and sit down and ask what's going on, and how's it going, and if we need to come up with a solution for something, we'll sit right there and talk it through," Reding said. "It's just an old-school conversation where you can have a talk with an owner and not hide behind papers and emails."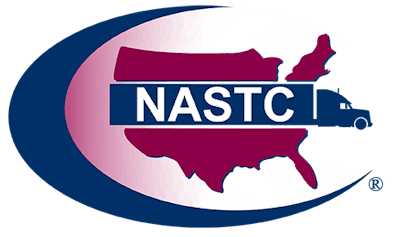 A fleet of roughly a baker's dozen International LTs might fit Bredewater's comfort zone, but he said he'd never rule out expansion for the right candidates.
"I'm really happy where we are now," he said, "but if I'd have somebody that I thought was a local person, a good driver and wanted to work, I'd have no problem with buying a truck for a guy if I think he's gonna be around a while. But he has to convince me a little bit that he wants to work. I'd buy one or two more. We could grow a little bit more if we find the right people."
In the family spirit, LB Trucking supports several local charities and sponsors local youth sports teams. It has also helped start and support the local Tree City Truck Classic truck show for the last 15 years.
"He's got a great reputation in Decatur County," said Total Truck Parts Outside Sales Manager Jim Whitaker. Whitaker's done business with Larry for more than 20 years, he said, and grew up and still lives in the same community. "He's got a heart of gold. He'll do anything for you that he can. He's a good guy to work with. Not hard to get along with at all. He gives you an opportunity, and if you're not in the ballpark he'll tell you where you need to be."
[Related: Til Friday Trucking holds strong in the face of declining rates]