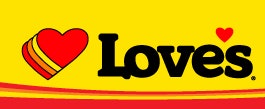 Love's Travel Stops has opened its seventh fast-fill compressed natural gas station along I-40 and its 17th overall.
Love's added fast-fill CNG to its existing location in Williams, Ariz. Other fast-fill CNG locations along I-40 include:
•Oklahoma City, Oklahoma – Exit 140
•Oklahoma City, Oklahoma – Exit 166
•Amarillo, Texas – Exit 74
•Williams, Arizona – Exit 163
•Albuquerque, New Mexico – Exit 158
•Webbers Falls, Oklahoma – Exit 287
•West Memphis, Arkansas – Exit 280
"Our locations are strategically placed on I-40 spanning from West Memphis, Ark., to Williams, Ariz., to make it easier for over-the-road drivers to run on CNG," said Bill Cashmareck, Love's general manager of natural gas. "Our customers can now travel nearly 1,400 miles along one of the nation's major thoroughfares and have convenient and reliable access to seven Love's Fast-Fill CNG locations."
The company also operates 10 other fast-fill CNG stations with plans to open another along I-35 in Guthrie, Okla. this spring.
CNG is available in-lane along with diesel and diesel exhaust fuel. It offers a fill rate of greater than 10 gallons per minute, meaning a driver can fill a 100 gallon equivalent tank in 10 minutes or less, according to Love's.
Drivers can also earn points on their My Love Rewards cards when purchasing CNG.