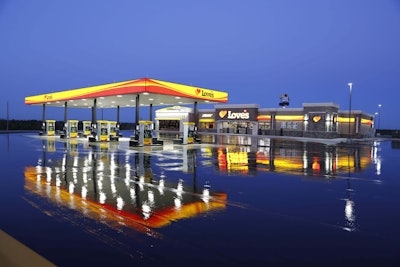 Love's Travel Stops is coming off the busiest year of store openings in company history, opening 27 new locations and adding more than 2,000 truck-parking spaces in 2015.
With plans for more travel stops, as well as growth beyond the stores, 2016 will be even more active, the company says.
"Love's plans to open more than 40 new locations across 28 states in 2016, which will be the most Love's has opened in a given year in our history," said Frank Love, co-CEO of Love's. "We remain committed to providing more safe places for our customers to fuel, park and rest, and these newly constructed locations will add more than 3,200 truck-parking spaces to our network."
In addition to new locations along interstates, Love's plans to open more than 20 locations along state and federal highways to provide services to drivers in more areas.
Love's will begin working with three new restaurant concepts in 2016, bringing Love's total number of quick-service restaurant partners to 19. Love's first Dunkin Donuts will open later this month in Canaan, N.Y.; the company's first IHOP Express is scheduled to launch in Sidney, Neb. this spring; and the its first Taco John's will open in Liberal, Kan. this spring.
Love's interstate hotel business also continues to expand, as the company currently operates four hotels and plans to open 10 additional locations adjacent to Love's stores this year.