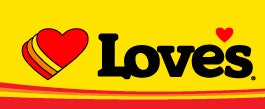 Love's Travel Stops opened its first new location of 2016 in Texhoma, Okla., along U.S. Highway 54.
The new travel stop provides drivers in the Oklahoma Panhandle a new place to buy fuel, snacks and more. The 24-hour location offers gourmet coffee, fresh fruit, gift items, name-brand electronics, Subway and Chester's restaurants and more. It also offers two showers, 35 truck parking spaces, RFID cardless fueling and CAT scales.
"We are happy to begin the year with a great location in Texhoma that will serve countless residents and drivers who use the busy stretch of U.S. Highway 54," said Greg Love, co-CEO of Love's. "With a rapidly expanding network of stores in Oklahoma, we now have even more opportunities to provide items, services and restaurants for our loyal customers."
For a limited time, professional drivers can earn up to five points with their "My Love Rewards" loyalty cards at all Love's locations.