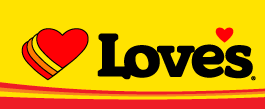 Love's Travel Stops has opened two new locations – one in Kentucky, and one in Oklahoma.
The Kentucky location is along Interstate 75 at exit 136 in Sadieville, and the Oklahoma location is along Interstate 35 at exit 157 in Guthrie. The opening of these locations brings Love's total number of travel stops to more than 300. Love's also operates 61 convenience stores.
The 24-hour travel stops each feature seven showers, RFID cardless fueling and CAT scales. Drivers can also purchase gourmet coffee, fresh fruit, gift items and name-brand electronics at both locations. The Sadieville location has 82 truck parking spaces and features a Hardee's restaurant. Guthrie has 106 truck parking spots and a Carl's Jr. with Green Burrito restaurant.
"We're committed to finding new ways and new areas to serve our customers," said Greg Love, co-CEO of Love's. "Expanding to nine locations in Kentucky and 23 travel stops in Oklahoma will provide a safe place to rest and access to various driver services for our customers."
For a limited time, truck drivers can earn up to five points with their "My Love Rewards" loyalty cards at all Love's locations.