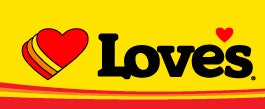 Love's Travel Stops has announced the opening of three new locations: One each in Plymouth, Ind., Burlington, Colo., and Nowata, Okla.
The Plymouth store, located along U.S. 30, features 59 truck parking spaces, a Love's Truck Tire Care Center and a Hardee's restaurant. The Burlington store includes a Carl's Jr. restaurant, Love's Truck Tire Care Center and 73 truck parking spaces. The Nowata location includes 38 truck parking spaces and a Subway restaurant.
All three stores feature showers, RFID cardless fueling and CAT scales.
A 78-room Fairfield Inn & Suites will open adjacent to the travel stop in Burlington this summer. Truck drivers with a valid CDL will be eligible for discounted room rates, Love's says.