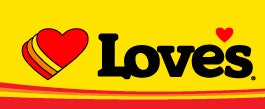 Love's Travel Stops has announced the opening of three new locations in Midland, Texas, Scott City, Kan., and Sikeston, Mo.
The Midland location along Interstate 20 includes 107 truck parking spaces, a Love's Truck Tire Care center and Subway, Chester's Chicken and Godfather's Pizza restaurants. An 81-room Suburban Extended Stay will open adjacent to this location later in the year. Truck drivers with valid CDLs will be eligible for discounted room rates.
The Scott City location on U.S. Highway 83 includes a Sonic Drive-In with indoor seating, a drive-thru and drive-in stalls, as well as 53 truck parking spaces.
The Sikeston store, along U.S. Highway 60 and U.S. 61/62 features the first Dunkin' Donuts restaurant to open in a Love's location. This location also features a Chester's Chicken restaurant and 67 truck parking spaces.
"We're excited about opening our first Dunkin' Donuts location in Sikeston, Missouri," said Greg Love, co-CEO of Love's. "We are especially interested in providing high-quality food and beverage choices available all day that include an array of breakfast sandwiches, famous coffee and of course the donuts."
All three locations feature showers, RFID cardless fueling and CAT scales.